Ultimate guide to things to do in Launceston with kids
A small riverside city in Northern Tasmania, Launceston punches way above its weight in terms of activities for kids. An ideal destination for families wanting to explore the great outdoors with kids and teens, there's also plenty of indoor entertainment and to activities for little ones.
The best place to start your explorations is at pretty City Park, which offers open spaces, playgrounds and a flying fox as well as resident ducks and Japanese Macaque monkeys.
Head just 15 minutes from the City Centre to see the stunning rock formations of the Cataract Gorge Reserve and First Basin, a natural swimming hotspot that's popular with locals and visitors alike. Cross the iconic Alexandra Suspension Bridge, hike one of the many trails or ride the scenic single-span chairlift, the world's longest.
If you're feeling the chill and would rather swim indoors, head to Launceston Aquatic Centre for state-of-the-art heated indoor pools and fun facilities for kids.
Spot a Tasmanian devil in the middle of native bushland, more than 100 rare, exotic and native species or one of 40 life-size dinosaurs at family-run Tasmania Zoo. Immerse the kids in culture at the range of museums and galleries in the city. Experience science hands-on at the Phenomena Factory, race in to see the vehicle packed National Automobile Museum of Tasmania, ride a 1940's tram at the Launceston Tramway Museum, visit the planetarium or peruse the collections at the Queen Victoria Art Gallery and Museum.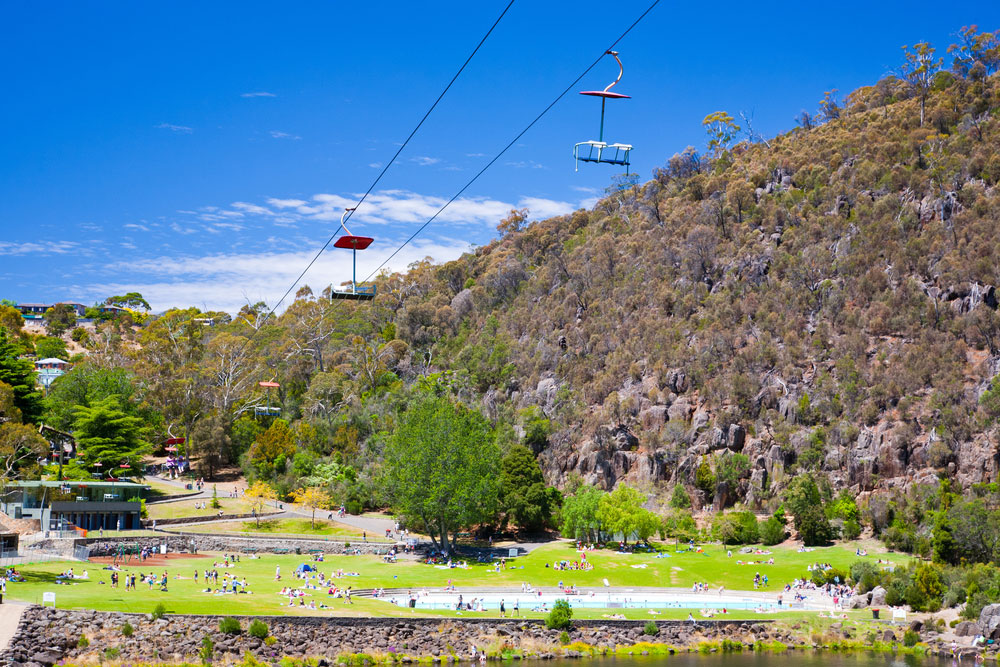 Top things to do in Launceston
From its history, wildlife, abundant parks and walks, Launceston has plenty to do for all ages. Here are ten sights that are a must see.
Meet a Tasmanian Devil at the Launceston Zoo.
Enjoy hands-on science at the Phenomena Factory.
Explore spectacular Cataract Gorge.
Learn about science, art and history at the Queen Victoria Musuem and Art gallery (QVMAG).
Wonder at the night sky at the Planetarium.
Pick raspberries and indulge in ice-cream at Christmas Hills Raspberry Farm.
Soak up the views on the longest single span chair lift in the world.
Stroll around Grindelwald Swiss Village.
Have a splash at the Launceston Aquatic Centre.
Ride the tram at Inveresk.
Things to do in Launceston with…
Home to over 200 parks and reserves, Launceston's pretty City Park is one of the absolute best. Young ones will love stretching their little legs running about in the expansive green space, playing in the playground or spotting ducks in the pond. There's also a train ride around the park and Japanese Macaque monkeys to see. If the weather isn't on your side, Kids Paradise is an indoor playground with a maze and interactive play rooms, inflatables plus a special room for under-fives, where little ones can play and develop their motor skills in a safe space. And Launceston Aquatic Centre is a watery playground with heated indoor pools, BBQ area, a waterslide and a shallow area for little ones. If all that play isn't enough, head to nearby Evandale Markets on a Sunday for pony rides, face-painting, jumping castles and tasty treats.
Kids will love getting up close and personal with the feathered and furry residents of Launcetson. They can meet the Japanese Macaque monkeys and resident ducks at City Park. And at Tasmania Zoo, a privately owned, local family run zoo situated 18km from Launceston CBD in the picturesque Tamar Valley, they can view more than 100 rare, exotic and native animal species. There are also animal encounters available with some of the zoo's more popular critters including meerkats, ring-tailed lemurs, wombats, koalas, snakes, and of course, Tasmanian Devils. Seahorse World is another unique Launcetson attraction dedicated to protecting and celebrating different species of seahorses with first-hand encounters with marine life in the touch pool. And just out of town, nestled on the water in the beautiful Tamer Valley, Platypus House is another top spot for animal lovers, offering a once in a lifetime opportunity to watch live Tasmanian Platypuses and Echidnas in daylight conditions.
It's all about experiencing a different side to the great outdoors in Launceston. Experience the sweeter side of farming by picking strawberries, raspberries, loganberries and blackberries at one of Launceston's farm gates. Take the Cataract Gorge chairlift, the longest single-span chairlift in the world, for an impressively long ride, or find Swiss bliss in Grindelwald. A 15-minute drive north of Launceston in the Tamar Valley, the enchanting Swiss-style village is like something out of a children's fairy story. All the buildings in Grindelwald have been built in Swiss style, with wide eaves, flower boxes and window shutters. But beyond the fairytale vibe, self-contained family chalets mean you can stay to play in, on and around its glassy lakes. Test your putting skills on the18-hole, par 54 mini-golf course, get on to the lake on an aqua bike or canoe, or take a leap on the world's longest bouncing pillow.
If you're seeking an adventure, and have a head for heights, Launceston is just the place for you. You can soar off an eighteen-metre cliff with cable hang-gliding or zip through the trees from around 30 metres above the forest floor on a thrilling tree top adventure at Hollybank Treetop Adventure. The longest continuous cable ride in Australia, this series of ziplines is an exciting, fun and eco-friendly way to discover Tasmania's natural landscape. Even inclement weather needn't hamper your desire to get airborne in Launceston if you take the leap at Airtime 360, the city's only indoor trampoline centre. Or if you prefer chills to thrills, discover Launceston's deep and dark convict past on a ghost tour in and around the alleyways and inner laneways of Launceston where Petty thieves, rapists, murderers and ill-treated servants and slaves used to roam.
Best time to visit Launceston as a family
With four distinct seasons, there's never a bad time to explore Tasmania's second largest city.
During summer, from December to February, the average day time temperature is around 21 degrees Celsius, though it has been known to hit the low 40's. It's also Launceston's busiest time so you may need to book ahead to secure suitable family accommodation.
Autumn marks the close of the summer tourist season and comes with better deals on accommodation. It is actually one of the better times for touring and walking with moderate temperatures and parks, gardens and roadways ablaze with colour as the trees turn from green to vibrant shades of yellow, orange and red.
Winter, while cooler, and a bit wet, is worth rugging up and packing an umbrella for because great accommodation and travel deals can be found during this time.
When spring has sprung, Launceston is lush and lovely, and if you're lucky, you may still a little hint of snow.
Family-friendly places to eat in Launceston
With the changing seasons, the sea nearby and surrounded by fertile farms, the produce in Launceston is fresh, clean and delicious so good food is guaranteed.
Some of our favorites include Maple Café in East Launceston, the Pizza Pub, Levee at Seaport and the matter-of-factly named Fish 'n Chips. For those visitors with a sweet tooth, a visit to Gourlay's Sweet Shop in the Quadrant Mall – an old fashioned sweet shop with old fashioned service – is an absolute must.
Food vans are popping up all around Launceston. Head to High Street, which is affectionately known as "Eat Street" to sample wares from vendors including sumptuous Black Angus burgers, great vegetarian variations and delicious sweet treats. Some even provide picnic rugs. There's heaps of parking, a playground and good coffee. And don't miss the chance to taste fresh raspberries and all things raspberry-infused at the fabulous Christmas Hills Raspberry Farm.
Things to do for free in Launceston
You don't need to spend money to enjoy the finest the city has to offer. Enjoy culture and art at the majestic Queen Victoria Art Gallery and Museum, QVMAG. There are two sites, A museum at Inveresk which is home to the preserved railway workshops and social history and natural science collections, as well an Art Gallery at Royal Park.
Venture to City Park, with its beautiful gardens and grassy lawns that are perfect for a picnic, you'll find something to keep the family occupied.
Rather than walking everywhere, ride the Tiger Bus operated by the city council. It's free and it may lead you to another local treasure worthy of exploring.
Cataract Gorge and First Basin is a great family space. While there is a charge for parking, the swimming pool is free and there are various walking trails for all sized legs, as well as a suspension bridge and café.
Related Stories
Ultimate guide to things to do in Launceston with kids A small riverside city in Northern Tasmania, Launceston punches way above its weight in terms of activities for kids. An ideal destination for families wanting to explore the great outdoors with kids and teens, there's also plenty of indoor entertainment and to activities for little …
Janeece Keller is the founder and editor of Family Travel. She mostly travels with her husband and two young kids. She has a large blended family that lives in Australia and Europe. She has visited 52 countries and lived on 3 continents. From camping to luxury resorts Janeece tries to make sure her family has diverse holiday experiences each year. She is an avid hiker and ocean swimmer who loves good food, margaritas and heading off the beaten path.
* Affiliate Disclosure: This post may contain affiliate links, which means we may receive a commission if you make a purchase through the links provided, at no additional cost to you. Thanks for supporting the work we put into FamilyTravel.com.au!