For nature-loving families, Costa Rica is one of the most magical destinations to travel with kids. Travel Agent Roshan Lewis from NSW took her 10-year-old daughter on a 7-day Globus tour of Costa Rica in September. Here is a rundown of what she experienced.
Why is Costa Rica a great destination to visit with kids?
My daughter and I wanted to visit Costa Rica to see the rare and endangered animal species. If like us, you're keen to see the big three – capuchin, squirrel and howler monkeys – the Hanging Bridges walk in the Arenal rainforest is one of the best places to go.
If you keep your eyes peeled and look deep into the jungle you're also likely to spot hummingbirds, friendly coati, toucans, and the industrious ants that carry green leaves in a long conga line.
For animal-loving kids, Costa Rica's big drawcard is, of course, sloths. You'll find both the two and three-toed sloths in Costa Rica, but be sure to set realistic expectations with your little people because seeing sloths (or any wild animals) in the wild is not guaranteed.
Before you go, why not give our collective nouns for animals quiz a try?
Costa Rica is well known for its beautiful beaches, up and down both the Pacific and Caribbean coasts. Little surfers, kite surfers and windsurfers will be in heaven.
A great national park on the Caribbean coast to visit with kids is Tortuguero because it's home to five species of turtles and the manatee.
Sticking with the aquatic theme, older kids will love diving with whale sharks, you can take kids of most ages exploring the mangroves and rivers by kayak, or put on your hiking boots and head to the highlands. To help you out, here are some tips on how to get the most out of outdoor adventure activities with kids.
There are plenty of activities for children of all ages in Costa Rica. But if you're looking for more inspiration, here check out the top 15 tropical destinations for families – the complete list
When is the best time for families to travel to Costa Rica?
The best time to visit Costa Rica with kids is the dry season, from December to April (but remember, it's a tropical destination so it may still rain at this time). In exchange for the best weather of the year, a visit to Costa Rica with kids over the Australian summer holidays means you're travelling in peak season – at home and when you're away. This means it's the most expensive time for flights and accommodation. Plus you're likely to experience big crowds at the the top tourist destinations.
Thinking of where to go when? Here's a list of where to go each school holidays in Australia.
If you can travel to Costa Rica outside school holidays in the shoulder season (November and May), the weather should still be relatively good. If you can schedule your Costa Rica family tour during shoulder season, you will enjoy fewer crowds and more affordable accommodation.
What's the accommodation like in Costa Rica for families?
Much of the country's deforested land has been reforested and the government is focusing on creating better access to their natural wonders. With a national focus on eco-tourism, there is no excuse not to get out of the city, recharge and enjoy the natural beauty of the country.
The natural environment is Costa Rica's main attraction and tree houses and eco-lodges are popular, sustainable accommodation options, which kids will love.
Another family-friendly, eco-travel destination is Africa and this list of 5 kid-friendly luxury safari lodges in Africa with Ker & Downey© Africa will help whet your appetite.
What is San Jose, the capital of Costa Rica, like?
The Costa Rican capital, San Jose, is a pleasant and bustling post-Spanish colonial city. If your family likes architecture and culture, San Jose is home to numerous churches, the national theatre and various museums, such as the Jade Museum.
The city provides plentiful people-watching opportunities – we saw someone feeding their dog in a pram in a modern cafe, next to a family selling lollipops outside the central market.
For Australian kids, busy Central American cities such as San Jose can feel quite different to the cities at home, and kids may feel a little out of their comfort zone. Thankfully, green spaces, such as La Sabana Park, provide respite from the busyness.
As with any major city, crime can be a problem, so take sensible safety precautions and be aware that there are bike gangs and the mafia operating out of the city. Take care and be vigilant with your money as there are plenty of pickpockets around.
One tip is to change big notes at supermarkets for smaller local currency and spread the notes around your bag and pockets so it's not all in one place. Thinking of money, here are some ideas on how to pick the best travel money option before you leave home.
Will kids like the food in Costa Rica?
The food in Costa Rica is of a Mexican bent – think rice, beans, corn chips and guacamole – so most kids will find it fairly familiar and easy to eat. There are also lots of places to buy delicious tropical fruit smoothies (a great way to sneak in extra vitamins).
Make sure that you educate children not to drink the tap water. Even if it's treated, the chemicals can be different to the ones you have back at home and can upset little tummies. Buy bottled water in supermarkets and keep hydrated in the humidity.
One of the things I try to teach my daughter when travelling is to steer away from fast food chains, and towards eating in the local cafes and restaurants. This approach is especially important in countries such as Costa Rica where tourism is so important, and by eating local you're supporting the local people instead of large multinational corporations.
What are the people like in Costa Rica?
The locals in Costa Rica are typically very friendly, so let the kids know that there is no need to fear everyone. Just be prepared for service to be slower as they take the time to serve one person at a time. Not as slow as island time, but still slower than what they may be used to.
A peace-loving nation, Costa Ricans have strong national pride, evident in the big flags that can be found lining the streets of every city and town.
"Pura Vida" is a way of life here- everything is pure, simple, positive and good. What kid won't relate to that? Living simply is what they do. With Pura Vida, Costa Rica is one of only five countries in the world where people live over the age of 90, so they must be doing something right.
What are 3 quirky experiences for families in Costa Rica?
1. Visit La Fortuna village
La Fortuna village is the main centre of Arenal – a small town that sits at the foot of Arenal volcano. The volcano last erupted in the 60's, but you can see the lava flows on the side of the volcano. Take the opportunity here to teach children about volcano's and their role in shaping environments around the world.
Around the town, there is also Arenal Lake, La Fortuna waterfall, which rages from all the rain, and butterfly farms. Traditionally farming land, there are many coffee plantations and sugar cane fields.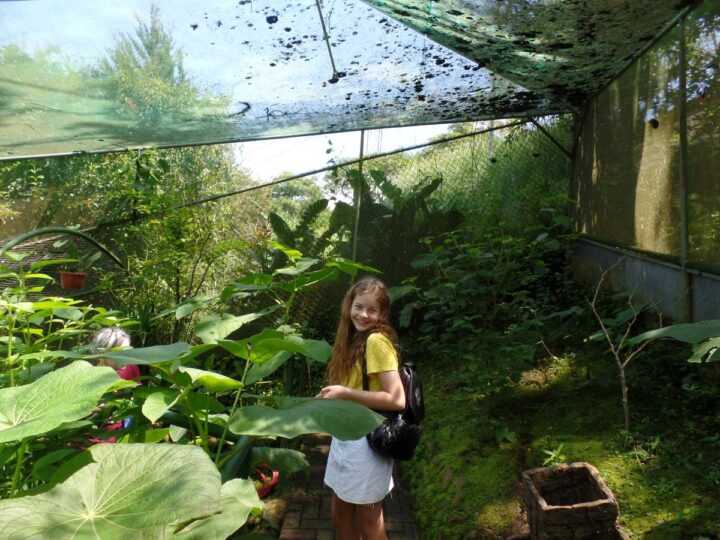 Here's a fun fact: Costa Rica has the only coffee plantation that Starbucks own, due to the expense and quality of the product here. And here are some tips if you want to know how to find a good coffee while travelling.
2. Check out the Santa Elena cloud forest
Get the kids to put on their raincoats and gumboots because there will most likely be rain in the Santa Elena cloud forest. It's one of only five cloud forests in the world, so it's a pretty good reason to visit when you're in Costa Rica.
The area gets so much rain that all the trees have moss and ferns growing on them, so get ready for selfies in front of a verdant background. The forest here is the main attraction, but in keeping with the animal theme for this trip we did see frogs and crabs.
Catch the sky tram above the cloud forest canopy and put out positive vibes for a good view. If the clouds are in, the chocolate cake and friendly server at the top still make the journey worth it. There are also some gnarly zip lines over large chasms for more adventurous kids.
(If zip lines are your thing, this Las Vegas zip line will get your heart pumping)
3. Take a trip to an ox cart factory
Want the kids to experience a bit of local culture in Costa Rica? Schedule a visit to an ox cart factory in Sarchi. More artistry than farming equipment these days, ox carts are still an important part of the Costa Rican heritage, some are even run completely by giant water wheel.
By visiting you support the artists that work on the carts and other pieces of painted handicrafts. You might even catch sight of the world's biggest oxcart – it's pretty hard to miss!
* Affiliate Disclosure: This post may contain affiliate links, which means we may receive a commission if you make a purchase through the links provided, at no additional cost to you. Thanks for supporting the work we put into FamilyTravel.com.au!