Award winning travel writer Flip Byrnes shares her favourite animal encounters around Australia for kids.
The lions' roars are deep and guttural. They invisibly swell though the floorboards of the glamping platform and slide their way up the canvas sides of the tent before ripping through the ceiling with the decrescendo of dying thunder. Each raw roar elicits a visceral reaction, simultaneously exciting and terrifying. Beneath the mosquito netting, my own cubs are exhausted after a day roaming Taronga Western Plains Zoo Dubbo, and while swaddled in slumber, the sounds of a savannah click and whir outside.
If you can't make it to Africa this year (and chance are you won't), an overnight stay at the Zoofari Lodge at Dubbo is the next best thing. But the beauty of being in Australia is that this wide and diverse land, packed with ultimate experiences from snow dusted mountains to reefs encircled by Avatar blue waters, Mediterranean-feel vineyards to Namibian-style deserts and Costa-Rican-esqe tropical jungles, almost has the entire globe packed into one traversable country.
If the early events of 2020 have a silver lining, one would be a realisation that what we have been looking for overseas has been underneath our noses all along. And now we have the opportunity to appreciate what wide-eyed, wonder-filled tourists have been exclaiming for years – Australia, you're amazing.
If your family is like ours, we're collectively dreaming of wide-open spaces, fresh air and nature nourishment. We're also keen to cling to an adopted simpler and slower life. So where to go apart from Dubbo to hear the (literal) call of the wild? Luckily, Sydney has one of the best zoos in the world, Dubbo's sibling, Taronga Zoo Sydney.
On my first foray, (actually first outing from my postcode with two kinders under 18 months) was I excited about going to the zoo? Oh yes. If you have small kids, you'll know the drill. The evening prior all bottles were sterilised. Clothes laid out. Breakfast on the table. Pram already in the car. Nappy bag packed. Handbag packed. Phone charged. BOOM. It was with deep-seated satisfaction that we arrived at 8.56am and discovering that turning 50 metres before the zoo are free side street car spots. A tip for new players (me). I was having a whale of a time and we hadn't even been inside.
So which animals are the winners? Any visible at knee height. The meerkats having a rumble next to the glass window. The elephants (hard to miss). The splash-y Seal Show (arrive 15 minutes early) and currently with my tribe, The Reptile House.
But now, with almost school aged kids, we're seeking a more immersive experience beyond the city limits. And it's ironic that to escape cabin fever, high on my hit list is… a cabin. More specifically, the Shearer's Quarters at Rathmore (with three new ensuite bathrooms replacing a shared bathroom), located on 37 acres an hour from Tasmania's Hobart.
This is the real bucolic ideal, with host Cally Lyons the distilled experience of generations of pastoralist ancestors, providing slow living and slow food as her mother, grandmother and great grandmother have. There are no crowds here, unless you count the child-pleasing calves, chickens, ducks and sheep. Campfires at night with embers sparking, a dam of unusually friendly platypus (hop in the rowboat and they may pop up to say hello), make it a one-shop nature appreciation stop.
It's possible to wax lyrical about Tasmania and it's opportunity for solitude. Wilder experiences include staying on Picnic Island in the pristine Freycinet National Park – one of the only places in the world to sleep within a seabird colony. The tiny (one hectare) private island is home to hundreds of fairy penguins and shearwaters (and can be very noisy at certain times of the year – which children love) and is just a 10-minute boat ride from Coles Bay (3-hours from either Launceston or Hobart).
This is a zoo without bars – and being on your own island (my dream 'shack' here is actually a 4-bedroom stylish copper-clad cottage by architect John Latham), you get to know the neighbours well. Curious seals and dolphins visit, little skink lizards bask in the sun deck-side and the tides, wind, sun, stars and moon provide a rhythm to connect with the elements. It could be still as glass inviting dives for abalone, or a crashing symphony of waves under the bedroom windows – that's Tasmania.
If not pining open fires and multi-layers, but rather kids running around in sunscreen and little else, think North. Way, way north to tropical Queensland. Fitzroy Island is a firm favourite, with a recent renovation, rainforest trails, Turtle Rehabilitation Centre and an easy 45-minute ferry ride from Cairns. But for nature-arama, Lady Elliot Island, a coral cay 80km north-east of Bundaberg will make snorkel-age kids go wild. In the wild.
Located in a "Green Zone" in the Great Barrier Reef, the Lady Elliot Island Eco Resort is smack-bang mid sanctuary for over 1200 flourishing species of marine life. Committed to sustainability, a quarantine-like situation has always existed here (in good way) – capped numbers, minimal impact and conservation efforts make it a prime place to meet the world's only pink manta rays, diverse corals and in summertime witness turtle hatchings with scurrying fresh little flippers hopefully aqua-bound.
But if there's one bullseye, it's Western Australia. For so many reasons. All the reasons, from epic campervanning and empty beaches to wildlife like… quokkas! The bonus is these friendly critters are on Rottnest Island, a bike-only island that time forgot. And also fulfils the cabin itch with a plethora of cabin-esque retreats from actual heritage cabins to lighthouse keeper cottage. But don't stop there, find kangaroos at Lucky Bay dolphins at Margaret River, majestic whale sharks at Ningaloo reef and playful puppy sea lions at Jurien Bay. And as the State spans the length of Australia, there's always a perfect season to go. And the time to get wild in Australia is right now.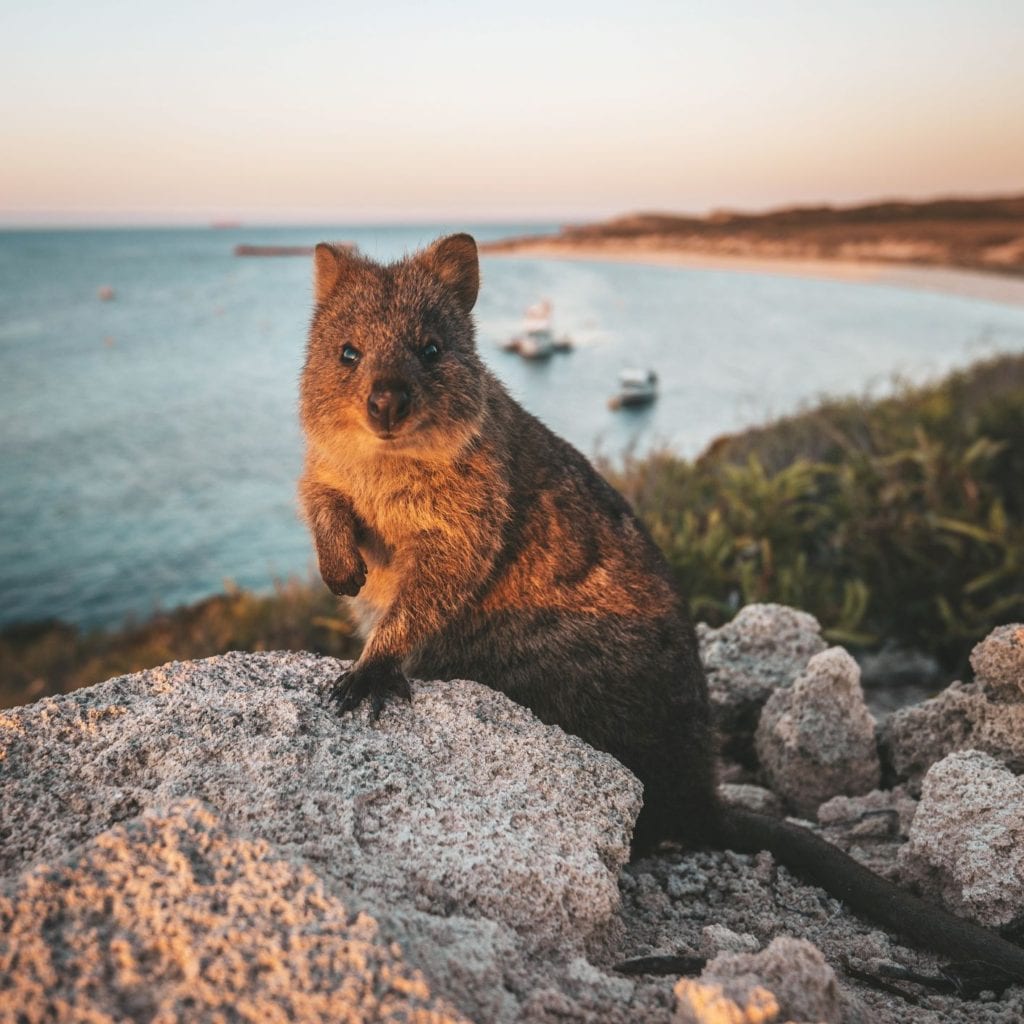 More incredible animal encounters around Australia for kids
There are so many great animal encounters around Australia for kids, it's hard to include them all. No matter where you are in this vast country, you're sure to find an opportunity to get up close and personal with incredible animals.
Farm Stays
We're huge suckers for farm stays – and Tommerup's Farm Stay in Queensland (75 minutes from the Gold Coast) is one of the few working dairy farms (6th generation no less) in Australia that allows farm stays. Who can forget cuddling a lamb, collecting fresh eggs or helping milk a cow?
Sleep at the Zoo in Canberra
No nature article is complete without award wining Jamala Wildlife Lodge. In some nifty planning, the African inspired luxury suites lie in the heart of the National Zoo & Aquarium. Stay in a Giraffe Treehouse and feed giraffes from your balcony, in the Jungle Bungalows, a glass wall is all that separates you from a pride of lions, tigers or Malaysian bears, or stay in uShaka Lodge to be whisper-close the lions and lemurs.
Splash in the Northern Territory
From desert plains to monsoon tropics, the Top End has room to move. Plus make your own splash, paddling in the waterfall swimming holes like Gunlom Plunge Pool, or for luxe head to newly opened Tiwi Island Retreat on Bathurst Island, north of Darwin.
All-Around wildlife winner
South Australia. The entire state. From the fresh produce, to swimming with sea lions in Baird Bay, dolphins off Port Lincoln and beaches like Maslin. For a 'please everyone' situation, head to Woodstock winery in McLaren Vale, and visit their Wildlife Sanctuary, with rescued western grey kangaroos and koalas.
READ MORE:
Iconic Aussie animals and where to find them
Running wild at Taronga Western Plains Zoo
'The Adventure Mamma' is just that – a travel journalist who happens to be the first Australian woman to climb and snowboard descend Mt Elbrus (Europe's highest), kite skied 500km across Greenland, walked across Spain and climbed Kilimanjaro. But now she's on the biggest adventure of all, motherhood. Join her and her mountain munchkins as they make daily life an adventure, big and small. @theadventuremamma
* Affiliate Disclosure: This post may contain affiliate links, which means we may receive a commission if you make a purchase through the links provided, at no additional cost to you. Thanks for supporting the work we put into FamilyTravel.com.au!