Ultimate guide to things to do in Cairns & Port Douglas with kids
Whether you're hankering for a relaxing break or a wild adventure, Tropical North Queensland, where the rainforest meets the reef, is a perfect holiday haven for little adventurers. Great weather, incredible swim spots, wild adventures, a pretty-as-a-picture backdrop of jungle-clad mountains and loads of family-friendly activities all add up to a holiday the family will never forget.
There are few places on earth that can boast the diversity of natural attractions and experiences as Tropical North Queensland. Though Cairns and Port Douglas are best known as two of the most popular gateways to the wonders of the Great Barrier Reef, both are fantastic holiday destinations in their own right.
The heart of Tropical North Queensland, Cairns is an exciting city that takes pride in its cultural heritage and its tropical climate. Take a dip in the Esplanade lagoon, taste up a storm at a farmer's market, or head out to explore the World Heritage Listed Great Barrier Reef. Port Douglas, an hour north, offers all the conveniences of the city but with a laid-back village vibe. Four Mile Beach stretches the length of town and beyond and there are netted areas for swimming, though it's important to take caution during stinger season.
Further north is the lush Daintree Rainforest and Cape Tribulation, home to the largest variety of plants and animals of any rainforest on the planet. The best place to experience this firsthand is at the Daintree Discovery Centre where you can access the rainforest from forest floor to lush canopy.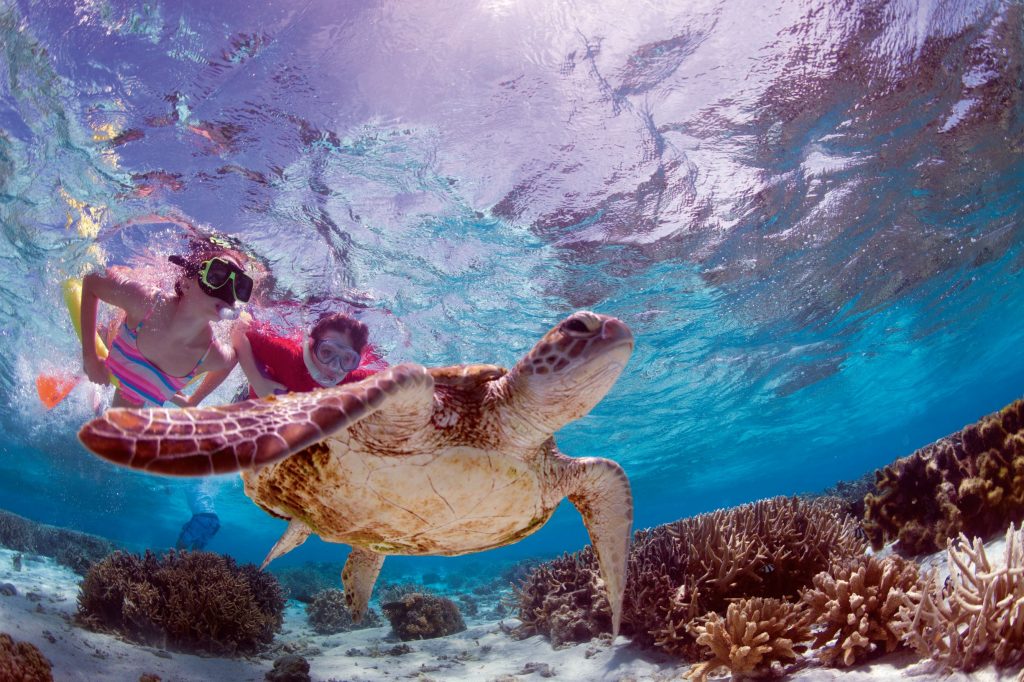 Top things to do in Cairns & Port Douglas
It's almost impossible to pack all this region has to offer in to a list of 10 items but here are our favourites.
Things to do in Cairns & Port Douglas with…
There's no shortage of fun for little ones in Cairns and Port Douglas and the best place to start is the Cairns Esplanade and its enormous, man-made saltwater swimming lagoon. The patrolled lagoon has sandy shores and shallow water making it perfect for tots, and there are deeper areas for older kids. Further along the Esplanade is Muddy's on the Esplanade, which is one of Australia's best playgrounds. You'll find everything here from a splash park, climbing nets and rope bridges to slides and see-saws, and an on-site café will keep the hunger pangs at bay. At Port Douglas, there's no better spot to take your bucket and spade than to the pretty golden sands of Four Mile Beach. And the littlies will love Wild Life Habitat where they can lunch with the lorikeets or hand feed the free-range kangaroos and wallabies.
It is Tropical North Queensland's finned, furry, fluttery and feathered adventures that seems to get most kids excited, and there is certainly no shortage of them. At Kuranda, you'll find the walk through the Australian Butterfly Sanctuary, get up close with the cute and cuddly cuties at the Koala Gardens or the feathered residents of Birdworld. And lovers of all things creepy and crawly can head to at the Australian Venom Zoo.
Hartley's Crocodile Adventures is quite literally crawling with crocs and you can head out on the lagoon to see the prehistoric beasts by boat. But it is home to other animals too. Their Ultimate Wildlife Encounter gives kids an opportunity to cuddle and hold koalas, wombats and pythons as well or feed a fearsome salt water crocodile. The Rainforest Habitat Wildlife Sanctuary offers families a chance to enjoy breakfast with the birds and explore three unique environments packed full of local critters.
Take a hike to Mossman Gorge and one of Australia's most beautiful natural swimming pools. Watch the cool river tumble its way over and around huge granite boulders on the way to the rainforest shrouded freshwater swimming hole before taking a dip in its cool depths. If you want to see more of the region's natural landscape, the Kuranda Scenic Railway and Skyrail Rainforest Cableway is a fun way for the family to travel through lush and lovely world heritage rainforest. If you'd prefer to explore the water, take a tour to the Great Barrier Reef for snorkelling or take the trip to pretty Green Island, only 45 minutes from Cairns. This beautiful coral cay offers trails though unique island rainforest, as well as bone white beaches and magnificent coral reefs full of a fascinating variety of marine life, straight off the beach.
Action seeking teens won't want to miss the trip to Reef World, on stunning Hardy Reef, where they can snorkel or dive amongst a kaleidoscopic array of marine life and coral. For the ultimate reef encounter, why not grab a swag and a stay overnight, sleeping under the stars on the pontoon with Reef Sleep? Or get the adrenaline pumping rafting along the river through the breathtaking Barron Gorge. If you would rather hit the heights, Jungle Surfing Canopy Tours offer one of the most heart thumping ways to explore the rainforest in in Cape Tribulation along a series of fast zip lines and flying foxes. But for the ultimate thrill of all head to Cairns ZOOM and Wildlife Dome – an indoor high ropes challenge course, complete with a zip line that flies directly over the top of a live and hungry 4.5 metre crocodile named Goliath.
Best time to visit Cairns & Port Douglas as a family
The gateway to Australia's Tropical North, Cairns, and its surrounding islands and hinterland regions, have two distinct seasons, wet and dry.
The dry season, from April to October is peak tourist time so expect to pay more, and you may need to book early to secure suitable family accommodation. With crystal blue skies and calm seas, it is perfect weather to investigate all the activities on offer above and below the water. At this time of year, the sight of Humpback whales playing and colourful tropical fish frolicking in and out of vivid corals, are just a few of nature's special seasonal treats.
Summertime is the wet season and it is hot, humid and sticky. With an average rainfall of around 1992 millimetres, it is also the time of year that the rainforests, including the spectacular Daintree and Cape Tribulation, are at their very best. Waterfalls are flowing, creeks are gushing, fungi are blooming and the forest bursts into life.
Family-friendly places to eat in Cairns & Port Douglas
The food scene in and around Cairns and Port Douglas is vibrant and ever-evolving with plenty of good wholesome food for families. With an extensive coastline offering a bounty of produce from the sea to the hinterland, you can expect nothing but fabulous and fresh.
Casual is king in the local cafes and pubs, with many offering kid-friendly activities and menus. Try to time your stay to coincide with one of the local produce markets. The Cairns Esplanade Markets and the Mossman Markets are held every Saturday morning and The Palm Cove Market is held on the first Sunday of the month, each is a buzz of entertainment and tasty local treats. From Friday to Sunday don't miss Rusty's Market in Cairns, a colourful cornucopia of fresh locally grown fruits and vegetables, including more varieties of banana than you can poke a Minion at, plus Indigenous, Chinese and Italian favourites and locally caught seafood.
Things to do for free in Cairns & Port Douglas
From swimming in the Cairns Lagoon to wandering along a mangrove boardwalk, taking a hike to Mt Whitefield, or testing your strength on the walk and gym equipment along the Cairns Esplanades walk, and playing in the wet and dry playgrounds at one of Australia's best playgrounds, Muddy's, there's plenty of free fun to be found in Cairns.
Walk along the Reef Marina in Port Douglas to check out the multi-million dollar boats and leave loads of time to explore, swim and splash along Four Mile Beach, voted one of Australia's best beaches year after year. Other free local favorites include Spring Creek swimming hole and Rex Smeal Park in Port Douglas, a public park with a playground, amenities and loads of space for little ones to roam free.
For those with a more energetic crew in tow, you'll also find world-class walks such as the Goldfield Trail and the tranquil Babinda Boulders, an hour south of Cairns.
Related Stories
Ultimate guide to things to do in Cairns & Port Douglas with kids Whether you're hankering for a relaxing break or a wild adventure, Tropical North Queensland, where the rainforest meets the reef, is a perfect holiday haven for little adventurers. Great weather, incredible swim spots, wild adventures, a pretty-as-a-picture backdrop of jungle-clad mountains and …
Janeece Keller is the founder and editor of Family Travel. She mostly travels with her husband and two young kids. She has a large blended family that lives in Australia and Europe. She has visited 52 countries and lived on 3 continents. From camping to luxury resorts Janeece tries to make sure her family has diverse holiday experiences each year. She is an avid hiker and ocean swimmer who loves good food, margaritas and heading off the beaten path.
* Affiliate Disclosure: This post may contain affiliate links, which means we may receive a commission if you make a purchase through the links provided, at no additional cost to you. Thanks for supporting the work we put into FamilyTravel.com.au!