Two things I know for certain. The earth is round and Aussie kids love an awesome hotel pool, which means Aussie parents are choosing their next family holiday spot around a property with a next-level pool.
We are spoilt for choice in Australia. And there's loads of competition for the title of 'best hotel pool' no matter where you're heading.
If you're looking for the best hotel pool in Sydney or the best hotel pool in Melbourne you'll be spoilt for choice. And if Queensland is where you're heading, you might end up deciding where to go based on if your crew thinks that the best hotel pool in Brisbane is more epic than the best hotel pool on either the Gold Coast or the Sunshine Coast.
We know Australia has loads of incredible pools – but anything on this list had to pass our family-friendly test. We are "Family" Travel after all.
So here you have it, our roundup of the best hotel pools for kids around Australia.
Queensland
With all that sunshine – it makes sense that pools in Queensland are epic. If you're off to Brisbane, the Gold Coast, Cairns or the Whitsundays you're sure to find an incredible pool that will keep everyone in the family happy.
Here's a list of the 10 best hotel pools in Queensland when you're travelling with kids.
Daydream Island, Whitsundays
Our vote for the overall best hotel pool in Queensland for families is the pool on Daydream Island in the Whitsundays. To be honest, you have to see it to believe it.
Daydream Island was completely refurbished in 2019 and that means the pool was brand new then too. Children love the lagoon, but the sheer size of this resort pool means there's plenty of room for everyone if you're looking for a moment away from the kids too.
What makes this pool such a standout is the Living Reef experience. Kids have the change to go on an interactive snorkelling experience through the dedicated lagoon, this eco-friendly, educational, and protected pool features 200m of coral, baby stingray, starfish and over 100 unique species of marine fish.
If your family wants a hands-on experience to balance your relaxation, this hotel pool with a difference is a beautiful way to see, touch, and learn.
Read more: A day trip to Daydream Island
Palazzo Versace, Gold Coast
Palazzo Versace on the Gold Coast has a huge pool. It has shallow areas for little ones and deeper sections for older kids. The large cabanas provide a lovely place to rest in the shade.
Turtle Beach Resort, Mermaid Beach
This may not looks as pretty – but it is a HUGE hit with kids under 10. Try getting them off those waterslides. The mushroom fountain is great for toddlers.
Want to know more? Watch our YouTube kids review Turtle Beach Resort video.
JW Marriott Gold Coast Resort & Spa, Surfers Paradise
The JW Marriott hotel pool on the Gold Coast is a big favourite with kids. It has waterfalls and cave and it even has a section where you can see fish. This is a hotel pool that we've rated highly for a long time, and no matter when we visit, it always impresses.
Q1 in Surfers Paradise
The sheer size of this hotel pool is one of the reasons Q1 in Surfers Paradise made the list. Kids love the wow factor of a massive hotel pool. Q1 on the Gold Coast also has a great waterfall section the kids can dunk their head under.
Paradise Resort, Gold Coast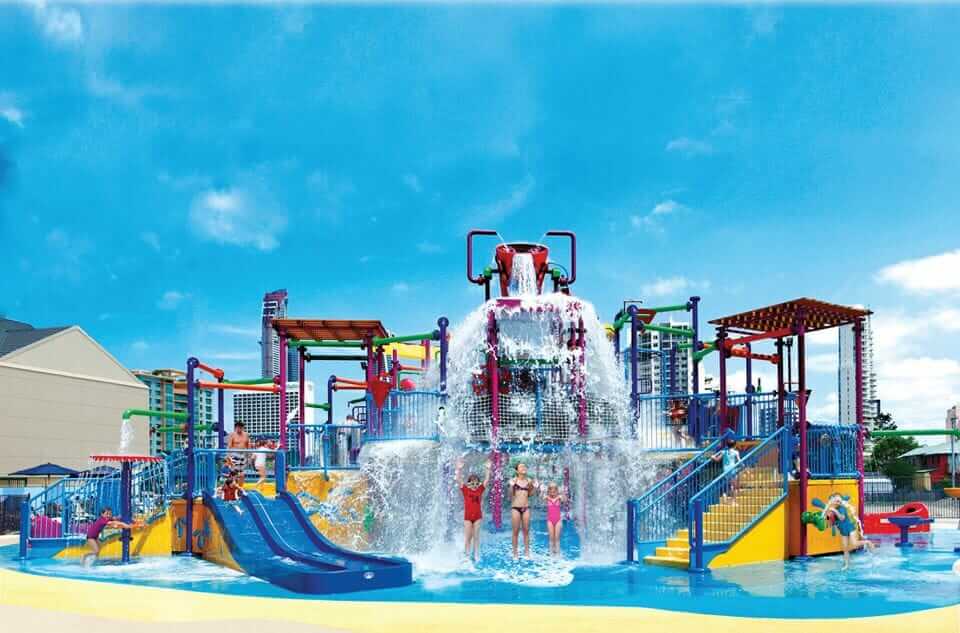 Paradise Resort was a big winner in our Family Travel people's choice awards. Families rave about the pool and the massive waterpark, which is why it makes our list of the best hotel pools in Queensland. The only downside is that families who visit want to keep coming back to the hotel rather than explore the Gold Coast. Yep, this hotel pool is that good.
Read more: The best things to do on Gold Coast with a baby or toddler
RACV Noosa Resort, Sunshine Coast
This is another vote from the kids. Many hotels with fantastic pools will cost a load of cash to stay for a night. Not RACV. This place is an affordable, super fun option.
The Sheraton Grand Mirage, Port Douglas
We wish we could move into this place. If you have a kid that loves tropical holidays – you don't need to go all the way to Fiji. Just head to Port Douglas. The pool at the Sheraton Mirage is huge and is a winner with kids of all ages. With swim-up rooms, this pool almost took out the title for the best hotel pool in Queensland.
Read more: Laid back luxury at the Sheraton Grand Mirage Resort Port Douglas
Sheraton Mirage, Gold Coast
This huge pool certainly has the wow factor. It's just across from Main Beach and really close to SeaWorld. Just look at that view.
Intercontinental Sanctuary Cove, Gold Coast
There's more than one pool at the Intercontinental Sanctuary Cove, but it's the 1km lagoon beach pool that's our firm favourite. The sandy bottom and views of the Coomera River make this a pool that appeals to kids of all ages. Borrow a beanbag and float across the saltwater. Put on your goggles and head out for a more energetic swim. Or splash on the sandy edge. The choices are endless and all super relaxing.
Best hotel pools in Victoria
Victoria may be colder than Queensland – but this southern state still has some cracking hotel pools. Here is our list of the best hotel pools in Victoria if you're travelling with kids.
Crown Metropol, Melbourne
This hotel pool has views to die for. There's not so much for for younger kids in this sleek, stylish and oh-so Melbourne hotel pool, but teens will love it for the Instagram factor alone.
Adelphi Hotel, Melbourne
It may not be huge – but this pool really packs a punch. The glass-bottomed, cantilevered swimming pool extends two metres beyond the building's periphery, to hover above Flinders Lane. Yes, you can watch the pedestrians walking below.
From here the Adelphi looks like any other hotel pool – but swim to the end and you can go over the edge.
The Chen, Box Hill
Outside the Melbourne CBD, the rooftop pool of The Chen, part of the Art Series Hotel group is another spot to wow travel weary teens. This is one of the best hotel pool views in Melbourne, so head on up at sunset for some Insta-worthy pics with the Melbourne skyline in the background.
Read more:
NSW
From top to bottom, New South Wales has loads of incredible hotel pools for kids. These
Fraser Suites, Sydney
The Fraser Suites has a huge indoor pool with three glass windows in the bottom. You can see down into the shopping centre below.
Peppers Salt Resort and Spa, Kingscliff

Rock gardens, beach areas and large lounge chairs. This pool is the ultimate place to relax.
The Elements Of Byron, Byron Bay
In the sticky heat of Northern New South Wales the huge pool at Elements of Byron is a welcome relief. Kids love the over-water swing, but in our family they have to fight the adults for it.
For adults looking for a kid-free dip, there's an adults only pool in the resort as well.
Read more: The ultimate guide to Byron Bay & Hinterland with kids
The Langham, Sydney
Lie back and look at the roof when you are in the Langham's indoor pool. The tiny lights look like the night sky.
Wolgan Valley Resort, Blue Mountains
The main pool at Emirates One & Only Wolgan Valley is small but mighty. But it's the in-room pool with each villa that puts this ultra luxury resort on the list of best hotel pools in Australia.
The fact that the resort is one of the only ultra luxury resorts in Australia that welcomes kids (and one of even fewer that welcome babies and younger kids), gives this property extra kudos.
We visited with a four-month old baby in early winter. Temperatures dropped below zero at night and the days were in the single digits celsius. But the in-room pool was heated enough for this cold-water scaredy cat to get in. And I even let the baby have a swim.
Oaks Pacific Blue Resort, Salamander Bay
You could swim for days in this pool and still not reach the end.
Sofitel Darling Harbour, Sydney
The Sofitel is one of Sydney's newest hotels and it is incredible. The pool overlooks the city skyline and parents can grab a cocktail while the kids have a swim.
NT
Bamurru Plains, Kakadu National Park

This is Australian wilderness at its best. The infinity edge pool at this resort is simply stunning.
Sky City, Darwin

You can't see it in this picture, but the other side of this HUGE pool overlooks the ocean.
South Australia
Arkaba Hotel, Flinders Ranges
This hotel pool is the perfect place to relax after a day in the Aussie bush.
Western Australia
The Lake Argyle Resort, The Kimberleys
We have no words for this hotel pool. The picture speaks for iteslf. Incredible.
COMO The Treasury, Perth
Try swimming laps in this glass box. The kids will think it is awesome.
Crown Towers Hotel, Perth

From the centre cascading waterfalls to the family cabanas – you will love this pool.
Tasmania
MONA Pavillion, Hobart
Anything with an infinity edge and little bit of luxury is a winner in our books.
READ MORE:
Daydream Island is back bigger and better than before
Go all out at Australia's luxury all-inclusive resorts
Janeece Keller is the founder and editor of Family Travel. She mostly travels with her husband and two young kids. She has a large blended family that lives in Australia and Europe. She has visited 52 countries and lived on 3 continents. From camping to luxury resorts Janeece tries to make sure her family has diverse holiday experiences each year. She is an avid hiker and ocean swimmer who loves good food, margaritas and heading off the beaten path.
* Affiliate Disclosure: This post may contain affiliate links, which means we may receive a commission if you make a purchase through the links provided, at no additional cost to you. Thanks for supporting the work we put into FamilyTravel.com.au!