The ultimate guide to things to do in Byron Bay with kids
A colourful, charismatic surfing town located on the far north coast of NSW, Byron Bay has long been a haven for surfers, but in recent years the region has also become a holiday hotspot for families.
The beaches are still a popular drawcard with Main Beach, Clarkes Beach, Belongil Beach and Wategos Beach amongst the most popular for families. There are also brilliant surf beaches and an excellent surf school for kids who want to learn to tackle the waves. If you'd prefer to stay above the water, take a kayaking tour to spot dolphins, turtles and whales between June and November as thousands of Humpbacks travel past Byron Bay during their annual migration.
Take the Cape Byron Walking Track, explore World Heritage-listed Nightcap National Park and walk up to the Cape Byron Lighthouse, the most easterly point in Australia, for the sunrise and stunning views over the ocean, Tallow Beach, Mount Warning and the green hinterland behind Byron.
There are plenty of popular attractions for families including Macadamia Castle & Animal Park where, along with nuts, you will find an18-hole mini golf course, miniature train, playground and an animal park where the kids can get up close and personal with some native animals.
Read more: Beyond Byron Bay: NSW north coast towns you should try
Crystal Castle is another, with sculpture and crystal dotted gardens, labyrinth, bamboo forest and children's playground.
And a visit to the weekend markets in Byron, Bangalow, Lennox Heads or Nimbin is a must for great bargains, fresh food, free entertainment and plenty of colourful local characters.
Read more: How to do a Pacific Coast road trip with kids
Top 10 things families must do in Byron Bay
Byron Bay and its hinterland provide an array of attractions to visit. Here are a few of our favourites.
Things to do in Byron Bay with…
The Farm is a working farm where kids can see firsthand how food is grown and produced on a tour of the facility and learn about their sustainable farming methods, or stop to visit the pigs, cows and chickens. There's also plenty of fresh farm produce and an incredible timber playground for the kids to play in.
The Macadamia Castle and Animal Park will be a huge hit with younger kids. Along with an 18-hole mini golf course, there's a miniature train and a Tree House Playground. Kids can also get up close and personal with native animals at the Animal Park which offers a daily programme of interactive activities including opportunities for kids to get up close and personal with an assortment of cuddly, and not so cuddly, critters. There are also fun and fascinating reptile talks and bird shows.
At Crystal Castle and Shambhala Garden, kids will be thrilled by the sight of some of the world's biggest crystals, including the glittering purple walls of the enchanted amethyst cave and a towering pair of amethyst geodes. In the subtropical garden, kids can explore the bamboo forest and spot impressive stone statues, as well as twinkling crystals, that dot the Buddha Walk. Visit the World Peace Stupa, the only one of its kind in the southern hemisphere, and get lost in the cool labyrinth and playground.
Maybe you'd rather run away to the circus? Located just four minutes north of the town, Circus Arts HQ is a sprawling indoor centre that boasts a climbing wall and a play space complete with jumping castle. There's also a variety of exciting casual and school term circus classes including lessons on a 10-metre high flying trapeze.
Lovers of the great outdoors wall enjoy the walking track to Minyon Falls, which offers a variety of forests to explore, as well as pristine creeks and a spectacular lookout. But the coolest way to explore it is after dark on a Night Vision walk using military grade night vision goggles to observe some of the park's fascinating nocturnal residents, which include quolls, bandicoots, frogs and possums.
For a tour with a twist, explore the mysterious Yowie Trail. This curious tour with Australia's most renowned Cryptozoologist, Gary Opit, comes complete with pictures and tales of mysterious yowie encounters and even the opportunity to hold the cast of a yowie footprint.
Add a few thrills to your Byron bay chills with a cruise of the region on a three-wheel custom motorcycle tour, or head to Paintball Skirmish Ballina Byron for awesome paintball activities and gaming.
Adventurous teens will love all the great outdoor activities to be found in and around Byron Bay. Learn to surf like the pros with lessons on one of the many great beaches, head out on a sea kayak tour to spot wild dolphins, or glide above the water with Byron Bay Kite Surfing.
Julian Rocks Marine Reserve is one of the few dive sites in Australia where you can swim with tropical species found on the Great Barrier Reef, as well as marine life from the deep Southern Ocean.
For maximum thrills take to the sky to see the sea from above on a tandem sky dive with the Skydive Australia crew, float above Byron on a hot air balloon ride with Byron Bay Ballooning or take the leap with Pro Flyte on a 30-minute hang gliding adventure launching from Byron Bay and Lennox Head.
Read more: Everything you need to know about Aussie whale-watching
Best time for families to visit Byron Bay
Byron Bay and its hinterland boasts a mild year-round climate with temperate conditions even in winter, allowing for plenty of fun all year round.
Summer (from December to February) is ideal for lazy days on the beach with the ocean at its most welcoming and warm. It's also crowded and accommodation prices do increase, so be prepared and book early. For better deals, look at the shoulder season and outside of school holidays if possible.
Spring (from September-December) and Autumn (March-May) can be a good time to visit as the crowds are thinner and the temperatures still extremely pleasant.
The coldest month is generally July, with a maximum temperature of around 19 degrees Celsius – which is the ideal weather for hiking in the nearby national parks.
No matter what time you plan to go, its best to plan ahead for your visit to this delightful coastal town and hinterland as it is always popular.
Byron Bay family-friendly places to eat
With a location by the sea and fertile volcanic soils on its western boundary, Byron Bay and the hinterland is home to some of Australia's freshest and best produce. The markets in Byron and the neighbouring hinterland towns are a great place to taste everything from fresh food straight from the farm through to delicacies from the multi-cultural community.
Families will enjoy a meal at the Beach Hotel, a long-time local favourite. If you feel like pizza, Paradiso Restaurant is just a short walk from the Broken Head Holiday Village and makes delicious pizzas for every taste, as well as offering a range of craft beers and tasty pasta. Fans of baked goods should check out Suffolk Park Bakery, one of the area's best.
The Farm is another big hit with all ages – a working farm housing several micro-businesses including Three Blue Ducks which serves up fabulous breakfasts and lunch.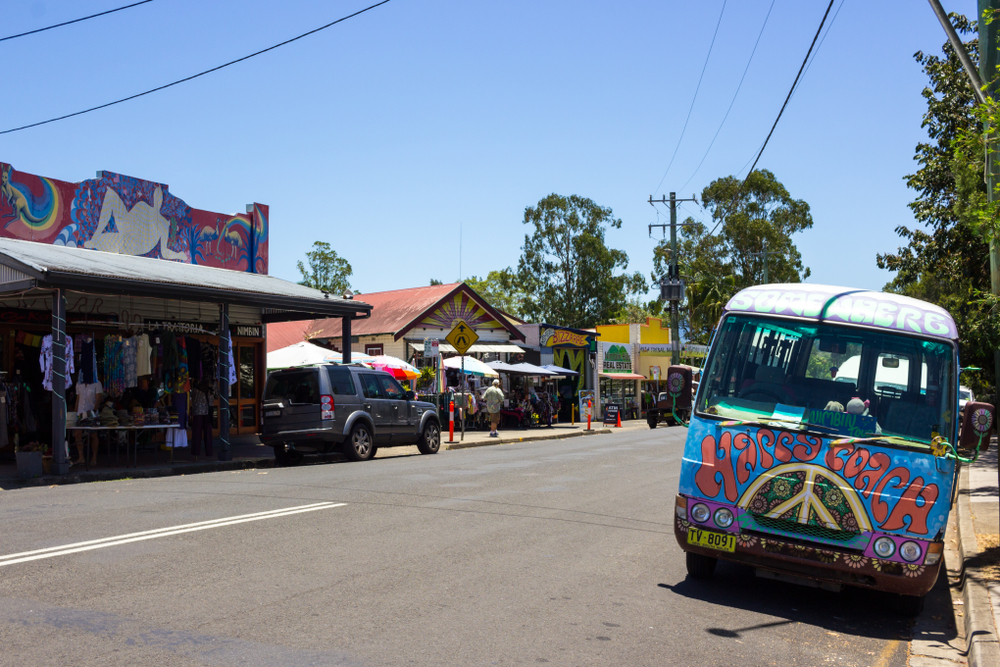 Free fun in Byron Bay for families
Byron Bay and its picturesque hinterland offer plenty of free fun for families. Start your day with a spectacular sunrise at the Cape Byron Lighthouse, perched high above Byron Bay's glorious coastline at Australia's most easterly point. If you are not an early riser, it is worth a visit any time of the day for the amazing views over the ocean and across the hinterland.
A day at the beach is a must. Main Beach is directly in front of the town and patrolled, Clarkes, Tallows and Watego's (where you might spot dolphins) are some of our other favourites for families.
Take a drive away from the coast to the hinterland. Visit the hamlets of Bangalow and Nimbin to explore their quaint main streets, markets, food stalls, beautiful scenery. And a wander around the Byron Community Market, with over 300 stalls and plenty of entertainment, is always a fun way to while away a few hours.
Read more: 51 sensational FREE things to do with kids
What's on?
The best Byron Bay annual events for families
March/April – Bluesfest
This internationally renowned event held in the hinterland over the Easter long weekend features more than 200 artists, stalls and activities.
March/April – Splendour in the Grass
A great weekend with on-site camping and a mix of contemporary performing arts, and incorporates Little Splendour – a dedicated space designed exclusively for big and little kids.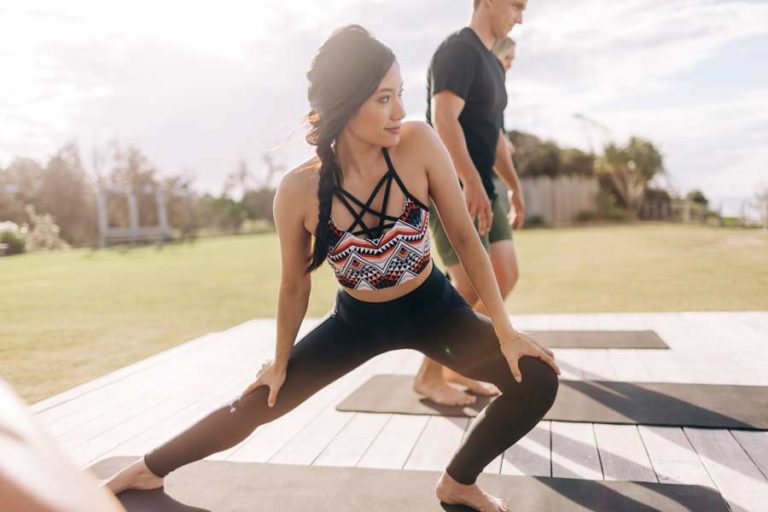 April – Byron Spirit Festival
Three days of yoga to music, dance and healing and everything in between.
May – NFR harvest Food Festival
Northern Rivers Food (NFR) brings you the farmers rewards straight to your plate.
August – Byron Writers Festival
Like to pen a tome? Or listen to great authors and poets talk? This is a vibrant literary festival with something for all ages. If you're heading to Byron Bay with kids you should check who will be here and see if it's on the school reading list.
Related Stories
Maitland is a great place to base yourself for a weekend of family fun in the NSW Hunter Valley. Here are 10 fun things to do in Maitland with kids.
Janeece Keller is the founder and editor of Family Travel. She mostly travels with her husband and two young kids. She has a large blended family that lives in Australia and Europe. She has visited 52 countries and lived on 3 continents. From camping to luxury resorts Janeece tries to make sure her family has diverse holiday experiences each year. She is an avid hiker and ocean swimmer who loves good food, margaritas and heading off the beaten path.
* Affiliate Disclosure: This post may contain affiliate links, which means we may receive a commission if you make a purchase through the links provided, at no additional cost to you. Thanks for supporting the work we put into FamilyTravel.com.au!