Covid 19 has changed a lot of things about your 2020 family ski trip to the NSW Snowy Mountains. But it hasn't changed its beauty. Or what an incredible winter playground it is for the whole family, with something to offer everyone of all ski or snowboard abilities. Whether you are all beginners, experts or a group of mixed snow experience, you can all holiday together and everybody will have an amazing time.
Jindabyne
Just 5 hours from Sydney, or 2 hours from Canberra, and you are in the picturesque town of Jindabyne. Sitting proudly on the edge of Lake Jindabyne, this bustling ski town is ready to welcome you this season, with a few Covid 19 precautions. There is an abundance of accommodation available from Hotels, to Airbnb, even camping. Visit www.snowymountains.com.au for a comprehensive accommodation and restaurant guide.
Jindabyne is the gateway to the Snowy Mountains and just 45 minutes from the ski resorts of Thredbo, Perisher and Charlottes Pass. Now all you need to do is choose which resort best suits your family.
All you need to know about your snow trip in 2020:
All resorts in NSW are opening later than usual this year. Thredbo's lifts will start turning on Monday June 22nd, with Perisher kicking off their season on Wednesday June 24th, and Charlottes Pass opening on-snow accommodation from Thursday June 25th.
All resorts will only operate at 50% capacity, with strict social distancing measures in place. Booking is essential, including accommodation, ski lift access, and restaurants.
Thredbo
With its gorgeous European style village, and the longest ski runs in the country, Thredbo has been voted Australia's best ski resort by the World Ski Awards for the last 3 years. Thanks to plenty of on-snow village accommodation and restaurants, it is a great spot for a family holiday.
This year sees the opening of the Merritts Gondola, Australia's first alpine gondola. It will make accessing the popular Cruiser ski area much easier for everybody. There is something to offer the whole family, from gentle beginner slopes to the resorts more challenging runs, including Dream run. The new gondola will transport guests from the Village to the Cruiser area in 6 minutes, with a mid-way stop at the base of the High Noon Supertrail. This enables access to Friday Flat, a gentle slop designed for beginners.
This year, you need to pre-book all lift tickets. Only day passes are available. If you were a season pass holder, you are entitled to a significant discount.
Thredboland childcare centre and group ski school lessons will not be available at the beginning of the season. This could change as restrictions lift. The much-loved animals hidden among the trees for the children to find are all eagerly awaiting your arrival.
The Supertrail, when skied from top to bottom, is a real leg burner. It is worth setting the alarm and getting in the early morning corduroy before the crowds pick up. If you or your kids are just finding your ski legs, the Village Trail is a gentle green run. It goes from Karels, Australia's highest lifted point, all the way back down to the Village. That's 5 km and a great accomplishment for those new to the sport.
For the thrill seekers in your group, there are some great Black runs and open terrain off of the top of the Kosciuszko Chair. These include the 3.2km Funnel web black run, and the ungroomed Bluff area, which annually holds a Freeride competition. There is also lots of untracked back country to enjoy, but please go with a guide and tour group.
Perisher
Australia's largest resort has made the decision to keep their Epic season passes for 2020, however numbers are restricted and booking is necessary before July 12th. The ski tube will still run, but day tickets will need to be bought in advance. On-snow accommodation and lodges will be open but with social distancing, so check ahead. Ski school group lessons will run for adults and children over 6. Book these directly with the resort area.
All ski areas will be open when conditions allow, so your family can access a whole range of terrain to suit all abilities. Smiggins is a great area to start your holiday if your children are young and beginners. The ski runs are easy to access, and the resort amenities and Smiggins Pub are close by. The car park is just a stone's throw away, removing the stress associated with that first ski holiday. Once you all find your ski legs, it is very easy to access the rest of the resort.
For those looking to add miles to their ski odometers, the areas of Blue Cow and Guthega are well-linked. They have lots of cruisy long runs and some more challenging areas to ride too.
The great news for the jibbers in your family is that Perisher will be opening their terrain parks this year. The Leichhardt park, aimed at intermediates, now has snowmaking. The main terrain park on Front Valley is arguably the best in the Southern Hemisphere. If that is your thing, Perisher caters well to you too.
For the more advanced skiers in your group, North Perisher and Interceptor have a lot to offer, as does a quick trip up the Mount P triple chair to get to Eyre and International. Either ski area has some longer steeper runs, and if you are lucky some epic powder to bash.
Whatever the level of rider in your group Perisher has plenty to offer.
Charlotte Pass
Charlotte Pass offers an incredibly unique ski experience and one I urge all lovers of Australian skiing to experience. This resort sits alone, and access is only by oversnow vehicle from the Perisher Main Terminal, which is an adventure in itself. Even prior to COVID-19, you must purchase Charlotte Pass tickets in advance as they are limited. There are no queues and no crowds; just great outdoor fun. You can visit Charlotte Pass for a holiday, with a great selection of on-snow accommodation. You can also go for the day on a Daytripper pass, which includes your trip to the resort, your lunch and either a ski pass or snow shoe experience.
The ski area is a large bowl, with lots of groomed green and blue runs just a skid from the grand old Kosciuszko Chalet Hotel. It is also near the untouched steep challenging terrain of the Guthries high speed poma. Sitting at 1765 metres, the resort gets great snow.
The key to making this year's ski experience a successful one is to plan everything. You must book all of your passes, accommodation, resort travel and even restaurant reservations in advance.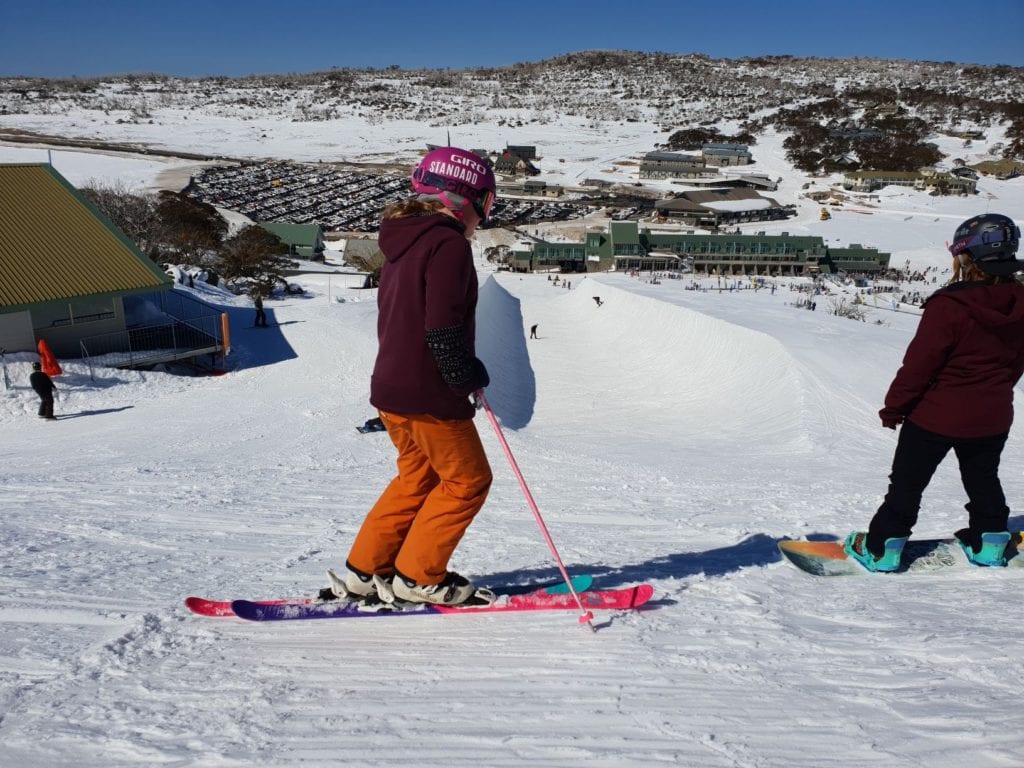 Have fun shredding!
READ MORE:
Aussie family escapes post-COVID
11 ski Instagram accounts to follow
Best of the Snowies for non-skiers
* Affiliate Disclosure: This post may contain affiliate links, which means we may receive a commission if you make a purchase through the links provided, at no additional cost to you. Thanks for supporting the work we put into FamilyTravel.com.au!