As far as Spring scenic road trips go, it's hard to beat Central NSW, where paddocks turn to green and gold as wheat, barley and canola blooms. Central NSW Tourism has announced its 'Great Outdoors' bucket-list with some of the best things to see and do on a day trip or short break.
Central NSW begins two-hours' drive West from Sydney and is renowned for its wide-open spaces, big night skies, fresh country-air, and natural attractions. Check out the Central NSW Great Outdoors bucket list for your next adventure.
Read more: 60 NSW Artisans to put on your list
New 'Cowra Canola Touring' Routes
This new guide to Cowra's 'fields of gold' aids travellers to self-drive four different touring routes to see the best canola in Cowra, Canowindra and Grenfell. Choose your sensory experience along the way including Grenfell's Silo Art, Iandra historic castle, Rosnay Organic Farm, the Quarry Restaurant and Cellar Door, boutique shops or hot-air ballooning.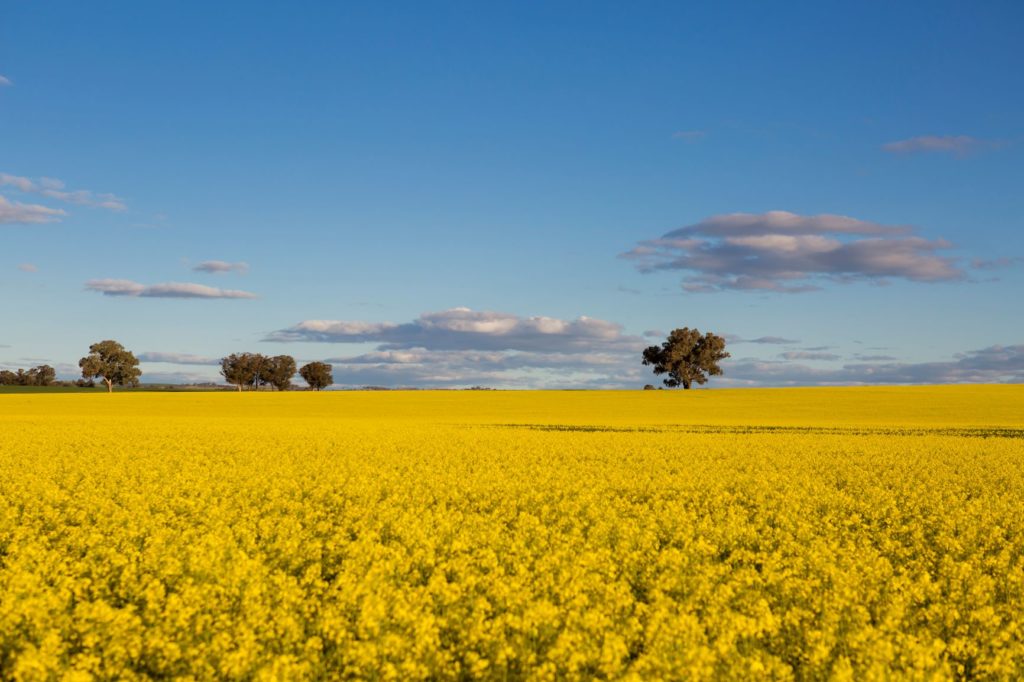 Hot air ballooning flights in Canowindra
For the best birds-eye view of Spring's spectacular fields of gold, float though the sky on a hot air balloon flight from Canowindra. Aussie Balloon Trek's deluxe 30-minute twilight flight costs $200 including breakfast. Balloon Joy Flights Sunrise Flight costs $300 and is a 3 to 4-hour experience over the picturesque Belubula Valley. It includes champagne, hot breakfast and pick-up from your accommodation.
Detour Adventures and Simmo's Off-road Tours
Go off the beaten track and explore Oberon and Bathurst's Spring flowers and mountain high forest lookouts on a 4WD adventure tour. Detour Adventures 'Seclusion and Tranquility Tour' or 'Silence in the Bush' are true escapes from the city exploring Sunny Corner and Kanangra-Boyd National Park's rivers, gully's and history. Simmo's Off-road 'Wine and Food Safari' Tours visits wineries, orchards, cheese makers and farms. While in Bathurst, drive a loop around Mount Panorama for incredible valley views.
Mayfield 'Spring Open' Garden in Oberon
The Mayfield Garden is a special event from 26 September to 25 October. Book your ticket to explore 65 hectares including the Mayfield Maze, take a row-boat out on Mayfield Lake, see the Croquet Court, the Hawkins' Family Chapel, the Chook Hilton, and the 80-metre Cascade & Temple.
Sculpture Down the Lachlan Culture Trail
In Spring, Forbes' parks are alive with floral blooms and bird life. Visit Gum Swamp Wetlands with the new Varanus or Gugaa in Wiradjuri – a 6-metre high goanna – the first sculpture on the Sculpture Down the Lachlan art trail. Continue out the Lachlan Valley Way to see the truly amazing sign, a 3-metre high bright red sculpture, along with a collection of other sculptures and murals around town.
The Dish in Parkes
A must-do on any Aussie road trip is a photo in-front of the iconic 'Dish', star of the (2000) movie, and standing 64 metres high. Then explore the world of astronomy and discover what role The Dish plays in 'listening to the stars' at the Discovery Centre and 3D theatre.
Picnic by the Belubula River in Carcoar
Picnic on the wide banks of the river in the heart of historic Carcoar, just off the main highway. The serene setting under the Belubula River Bridge, built in 1856, evokes the history of this village with its museums, antique and boutique shops.
Utes in the Paddock at Condobolin
This quirky bush exhibition features around 20 ute vehicles used as the canvas by a series of renowned outback artists in developing this road-side creative installation. Using the ultimate Aussie icon – the Holden ute – as a medium, Utes in the Paddock is a fun and colourful attraction.
Camping at Weddin Mountains National Park
A bird-lovers paradise just outside of Grenfell, this Park offers colourful Spring walks, scenic lookouts, and Ben Hall's Cave Walking track where the history of this bushranger comes alive.
Lake Canobolas in Orange
At the foothills of Mount Canobolas, this pristine lake is a haven for birds and native wildlife. It has a circular cycle or walking track, adventure playground and a chance to paddle, sail or swim in the warmer months.
Central NSW includes Oberon, Orange, Blayney, Cabonne, Cowra, Bathurst, Forbes, Lachlan, Weddin and Parkes. There are a variety of places to stay from luxury boutique hotels and farm stays to camping and B&Bs.
Visitors must follow the latest NSW Health advice in terms of physical distancing, practicing good hygiene, and staying home if feeling unwell. Please call ahead to tourism operators for bookings.
Unearth your Central NSW experience at www.visitcentralnsw.com.au. Support us at #unearthcentralnsw #LoveNSW #wewantyouback.
READ MORE:
The best wineries in Orange with kids
Where to go each school holidays in Australia
* Affiliate Disclosure: This post may contain affiliate links, which means we may receive a commission if you make a purchase through the links provided, at no additional cost to you. Thanks for supporting the work we put into FamilyTravel.com.au!