Can you do the Great Barrier Reef on a budget? Yes, you can. We've found a bunch of Great Barrier Reef island camping spots that cost less than $30 per family.
These are basic island camping options. But hey, for this price, why not get back to nature with the kids for a weekend? What more do you need than a beach, your swimmers and a towel?
Whitehaven Beach camping area, Hamilton Island
Why spend a fortune on a fancy hotel on Hamilton Island? You can stay right next to the pure-white silica sand of Whitehaven beach for next to nothing.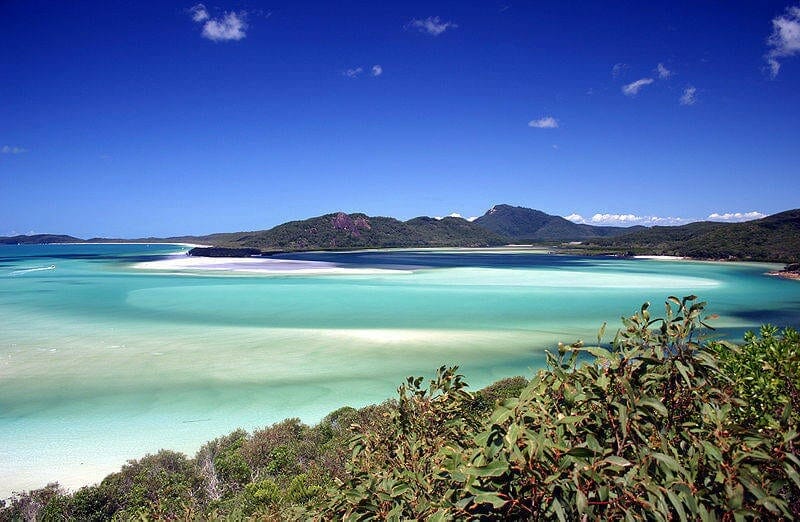 Explore the island eco-system of Hamilton Island. Catch a boat out the heart island and the Great Barrier Reef. Grab a kayak and paddled the Whitsunday Ngaro Sea trail which winds through several of the islands. Keep your eyes open for lace monitors here – make sure you lock all food away.
Getting there: Fly to Hamilton Island and get a taxi or Uber to the picnic ground
Staying there: The campground has flushable toilets and picnic tables. The site surface is sand and dirt. Space for tents only.
Essentials to bring: food, rubbish bags, insect repellent.
Price: $26.20 per night for two adults and up to six children.
Boat Port, Lindeman Island Whitsundays
Lindeman Island was once home to Club Med. A new luxury resort is due for completion in 2021. But you can camp there now for next to nothing. The Boat Port campsite is basic, with picnic tables and toilets. But what it lacks in facilities it makes up for in nature.
Walk along the stunning white sandy beaches at sunset or sunrise. Hike across more than 20 kilometres of walking tracks linking grassland and rainforest. Our favourite track is through Butterfly Valley. It offers stunning views from the top of Mt Oldfield. The best beach is Gap beach. It's fantastic for snorkelling and has colourful reefs close to shore.
Getting there: Access is by private or commercial boat from Airlie Beach or Shute Harbour. Some commercial transfer companies drop off and collect campers.
Staying there: This is true beach camping on the sand. There are toilets and picnic tables but not much else. Open fires are prohibited.
Essentials to bring: Drinking water, rubbish bags, insect repellent.
Price: $25.40 per night for two adults and up to six children.
Watsons Bay Camping Area Lizard Island
Pass on the luxury resort and get stunning views for just over $25 a night.
Coral reefs, mangroves and white sandy beaches surround Lizard Island. Inland you'll find grasslands, woodlands and wine-sheared heaths.
Watson's Bay is one of the best beaches on the island. When the tourists from the luxury resort hike over to this bay – they can't believe how beautiful it is. And that you can stay here so cheaply.
Expect to see loads of wildlife in the sea and on land. The Lizard Island Info website has a list of wildlife that can be seen each month.
This campground is 1.2 km from the airstrip at the northern end of Watsons Bay on Lizard Island. It's a superb spot for snorkeling and swimming.
Getting there: Flights to Lizard Island operate from Cairns. Keep in mind you will have to carry your gear from the airstrip about 1.2k to the campground. Or you can hire a private boat to get you there.
Staying there: This sand campsite is behind the beach on Watson's Bay. It's basic but has toilets, picnic and barbecue areas. Camp fires are prohibited and you will need to be careful of stingers in season. Campers are also welcome at the Marlin Bar at the Eastern end of Anchor Bay - a 40 minute walk from the campsite. You will need to bring everything you need -food, water, pots and pans, shelter and first aid equipment.
Essentials to bring: rubbish bags, insect repellent, insect-proof tents, tarpaulins for extra shade and pots and pans to use on the barbecue. Water containers and water-treating equipment are also required.
Price: $26.20 per night for two adults and up to six children.
Lady Musgrave Island
Lady Musgrave Island is heaven for environmentally-minded and adventurous families. Turtles laying clutches of eggs in the sand on this southern Great Barrier Reef Island between November and March. If you visit between January and March, you can see the tiny baby turtles making their first trip to the ocean.
More than 1500 fish species inhabit the crannies of the corals that surround the island. Take an inland walk and you'll soon discover it's the birds that own this island - be careful of the poo.
Getting there: Catch the boat from Bundaberg or 1770.
Staying there: Up to 40 people can camp on the island at any one time. A reliable mobile phone service is not available. National Parks offices recommend the use of VHF marine band radios.
Essentials to bring: water, stoves, food, emergency food, AM/FM radio, spare batteries and medical supplies.
Price: $26.20 per night
Orpheus Island
Most people know Orpheus for its super fancy elite resort. But you can actually camp in three places on this island for next to nothing.
Fringing reefs around the island offer incredible snorkelling. Echidnas, birds and reptiles live in the rocky headlands and dry woodland interior.
You can only reach the three Orpheus campsites - South Beach, Yanks Jetty and Pioneer Bay by boat.
Open fires are prohibited but you will have mobile phone reception. Once here you will find pure white sandy beaches. The best time to go is from May to September when the weather is warm. Beware stingers and crocs in the hotter months.
Getting there: Access to Orpheus Island is by charter or private boat.
Staying there: Toilets and picnic tables are provided at bush camping spots. Yanks Jetty has a gas barbecue. Families can book a tour of Orpheous Island research station, run by James Cook University, by phoning 07 4777 7336.
Essentials to bring: food, water, stoves, insect repellent, gas stoves (fires are prohibited) AM/FM radio, spare batteries, bags to remove rubbish and medical supplies.
Price: $26.20 per family per night
READ MORE:
I banned devices on my road trip and survived
Top snorkel spots around Australia
* Affiliate Disclosure: This post may contain affiliate links, which means we may receive a commission if you make a purchase through the links provided, at no additional cost to you. Thanks for supporting the work we put into FamilyTravel.com.au!