Ultimate guide to things to do in Thailand with kids
Just one hour's drive north from Sydney, the Central Coast – from Broken Bay at the mouth of the Hawkesbury to just south of Newcastle – is famous for its surf beaches, lakes and national parks, some of the best fishing and surfing spots on the NSW coast and a great kid-friendly atmosphere.
The Entrance offers patrolled swimming, ocean baths, coastal boardwalk, a children's playground and daily pelican feeding. Other surf and swim favourites for kids include Terrigal, Toowoon Bay, Shelly Beach and Copacabana. And with all that coastline, wherever you roam, you're bound to find a bounty of cafes and fish and chip shops the kids will love. The monthly Avoca Beachside Markets is another family favourite, loved for its charming bohemian vibe, live entertainment, healthy snacks and 'enchanted craft circle' for littlies.
If your family prefers bush to beach, Wyrrabalomg National Park at Bateau Bay is intertwined with easy walking trails that lead to stunning lookouts where you may even be lucky enough to spot a passing whale or two during the migration season. More native wildlife can be found at the Australian Reptile Park and Australia Walkabout Wildlife Park at Calga.
Thrill-seekers can get their skates on at The Entrance skate park, hire a bike and hit the 12-kilometre cycle way around Tuggerah Lakes or take to the trees at Ourimbah's Treetops Adventure Park. Here you'll find 115 rope challenges including 20 flying foxes and four children's courses with junior flying foxes.
Best time to visit Thailand as a family
Although the climate varies throughout Thailand, you can visit all year round.
Thailand's high season is from December to March during the cool and dry season, though like any tropical destination, short bursts of rain can strike even on the sunniest of days.
Weather on the country's east coast is pretty good for most of the year, with the lowest rainfalls recorded in January and February. In less humid northern Thailand the dry season stretches out longer, between November and May. Islands in the Gulf of Thailand, including Koh Samui, are at their best from the end of January until mid March and in southern Thailand, temperatures tend to remain fairly consistent throughout the year. Central Thailand heats up from February to April with highs of 40 degrees Celcius and the countrywide wet season tends to arrive in May and stays until October and is punctuated by frequent bursts of rain and the occasional storm.
Things to do in Thailand with…
While it may have a reputation of being a bit of a party island, Phuket offers an idyllic tropical escape for families. Away form the party towns, there are warm inviting waters and patches of toddler friendly shoreline. And best of all, many of the best resorts in Phuket are realising that tired parents of babies and pre-schoolers need holidays as much as the next person and have begun offering special customised services from baby equipment, special meals and babysitting services, through to designated baby and toddler kids clubs.
If you can tear yourselves away from all that relaxing beachside resort bliss there are plenty of attractions, activities and events in and around Phuket to keep younger kids, and their mums and dads, entertained. From water parks with designated patrolled areas for younger kids to aquariums, bird parks, interactive museums, paddleboats and even mini golf, there is no shortage of kid-friendly fun to be found.
Water babies will love Krabi, a ridiculously beautiful paradise of islands erupting dramatically from the turquoise waters of the Andaman Sea. But along with its stunning scenery, secluded beaches and amazing snorkelling, there are gorgeous national parks, soothing hot springs and the mystical Tiger Cave Temple. Krabi is also an ideal base for island hopping and a day trip to Koh Phi Phi and its stunningly beautiful Maya Bay are a must.
Koh Samui, is yet another southern island paradise for families seeking days of sand, sea, sun and fun. There are sandy beaches and warm, fish filled waters ideal for safe snorkelling and swimming right on the doorstep of most of the region's resorts. And, if you're prepared to head a bit further afield, head to Ang Thong National Marine Park, just an hour from Samui by speedboat, for snorkelling, swimming and kid-friendly sea kayak tours around the spires of James Bond Island.
Young adventurers will love exploring Thailand. The UNESCO world heritage listed ruins of the capital of the Ancient Kingdom Ayutthaya are just 90 minutes from Bangkok in Central Thailand, and there are dozens of ancient ruins, magnificent temples and colossal Buddhist monuments in and around the city just waiting for your explorers to take them on. Two hours from Bangkok, Kanchanaburi is another great area for families who enjoy exploring. Though the area is best known for the River Khwae, and the notorious bridge that crossed it, it is also a place of incredible natural splendour. While you can still visit the reconstructed bridge and Second World War monuments, there are loads of activities more likely to appeal to adventurous kids including rafting, kayaking, mountain biking and jungle trekking.  For the ultimate family adventure stay at a floating raft hotel on the river, where you may even spot an elephant or two, bathing happily with their mahouts.
Surrounded by mountains, northern Thailand holds an almost mystical appeal. In Chiang Mai, Thailand's second largest city, you'll find heaps to see and do. The city is home to more than 300 fascinating temples and eye opening traditional practices, plus the fascinating Walking Street Markets, where teens can stock up on trinkets and cheap clothes. And while the pretty moated city offers rich history, culture and tradition, it is also home to some of Thailand's most teen friendly resorts. It is also an excellent base for visiting the mountains and for exploring neighbouring forests, rice fields and national parks for bamboo rafting, white-water rafting and trekking.
Not too far from Chiang Mai is Chiang Rai, a culturally diverse region that is home to Thailand's minority Hill Tribes. Here you'll find a more traditional Thailand, and visiting families can even enjoy a homestay with a hill tribe family for the ultimate in cultural immersion.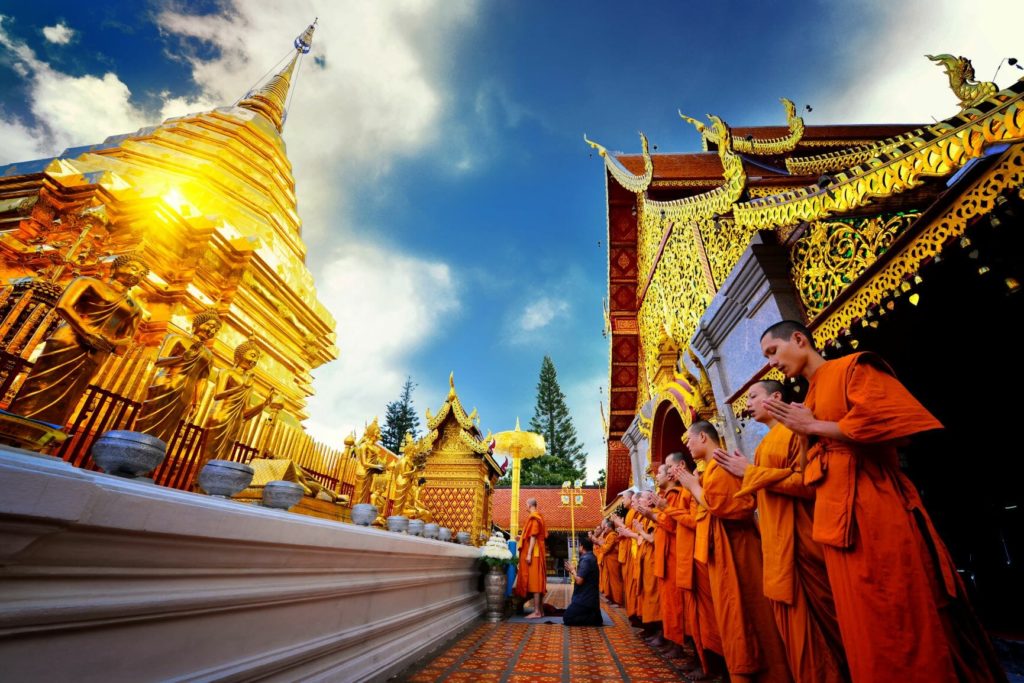 Getting around Thailand 
The hardest thing about getting around Thailand is choosing how as there are no shortage of transportation options, especially in the busy capital, Bangkok. You can hop on a tuk-tuk or hit the subway, Skyrail, bus and ferry to explore the city. Taxis work on a metred system but occasionally fares are set in advance and require a little negotiation. Uber is also readily available.
Trains connect major cities and bus and coach services are also available. Speedboats and ferries operate between the islands and there are also plenty of daily interconnecting domestic flights linking cities and all the major tourist destinations.
Health
Mosquito borne illnesses including malaria, Japanese encephalitis and dengue fever a risk, especially in the wet season. Confirmed cases of Zika Virus means that pregnant women should avoid travel in Thailand as infection can cause birth defects. Families should pack child-safe insect repellent (with no more than a 20% concentration of DEET) and apply regularly. Rabies is another risk so avoid contact with animals, even the cute ones.
Check with your family medical practitioner for recommended travel vaccinations and make sure every member of the family is up-to-date on routine vaccinations.
To avoid stomach upsets, only drink bottled water with an intact safety seal and avoid food that may have been washed in untreated water. Stick to well-cooked food that hasn't been allowed to cool or reheated.
Thailand's health care is very good and most of the major tourist destinations have hospitals or clinics staffed by well-trained doctors.
Souvenirs
They're cheap, they're cheerful and they probably wont last, but you can't leave Thailand without a couple of cool t-shirts.
Take home an elephant. Not a real one, they're best left to enjoy their days in the jungle, but likenesses of the popular pachyderms are everywhere from stuffed toys to wooden carvings.
Thailand's triangle Cushions are essentially a stack of triangular strips arranged in a pyramid shape with a sleeping mat and make a great alternative to a bean bag chair for kids to lounge on at home.
Thailand is renowned for its silk so be sure to pick up a few colourful scarves and sarongs.
Elaborate soap carvings are found throughout Thailand and make lovely gifts.
Food
Where do we start? Thailand's cuisine is one of the world's favourites and though you'll find delicious curries, stir fries, noodles and rice dishes throughout, flavours do vary tremendously from North to South. Southern Thai food is seafood heavy, greatly influenced by Malaysian and Chinese cuisine and tends to be rich, spicy and creamy. Northern Thai cuisine isn't as reliant on coconut milk, so is less creamy, and pork and vegetables are more popular staples, as is anything deep-fried. Even the rice is a little different as the people of Northern Thailand prefer to accompany meals with sticky rice.
Thai food tends to be spicy but if your kids are picky eaters don't despair, they can start with simple noodle dishes like pad thai or pad see ew and rice dishes. Many restaurants serve a selection of western food along with local favourites and there are plenty of western food chain outlets.
Local Customs
The wai, pressing your palms together at chest or nose level and bowing your head slightly, is the traditional form of greeting and should first be given by the person of lower status to the person of higher status. It is an integral part of Thai life and denotes respect and reverence when performed in front of a Buddha image.
Thai people are predominantly Buddhist and are devout so visitors must be respectful of their beliefs. Shoes must be removed before entering temples and people should dress modestly, covering up knees and shoulders during their visit. Never raise your feet or point them at Buddha images and do no touch religious displays, Buddha images or a person's head, as it considered highly offensive. It is also forbidden for a woman to touch a monk.
Another thing to keep in mind is that in Thailand, squat toilets rule, so be sure to dress with these in mind.
Costs
Thailand is popular tourist destination and, because of this, tends to be one of the most expensive countries in Southeast Asia. But prices are still quite cheap and much lower than what one would expect to pay in western countries.
Accommodation, even at the luxury end, is extremely affordable so families can plan to linger longer on their holidays. Public transport is reasonably priced and tuk-tuks and cabs cost just a few dollars for shorter trips.
Food is extremely cheap with northern cities tending to be the cheapest and tourist mecca, Phuket, the dearest. Still you should be able to feed the family at a night market for under $20, though restaurants located in tourist areas tend to be more expensive.
The costs of tours, particularly to the islands, as well as attraction entries and adventure activities are where costs pile up, but Thailand's glorious beaches, jungle treks and national parks offer hours of free fun.
Popular stories
Maitland in the NSW Hunter Valley is just a two-hour drive from Sydney or a 40-minute drive from Newcastle. Jam-packed with farm animals, history, and foodie delights, Maitland is a great place for families to base themselves on an NSW country minibreak. Here are our top 10, family-friendly things to do in Maitland. 1. Maitland