Ultimate guide to things to do in Bali with kids
Indonesia's most popular holiday island makes for a fantastic getaway for the whole family. Bali has a great variety of beaches to choose from, all with individual attractions and activities for the whole family to participate in. Some areas offer non-stop entertainments and exciting expeditions, while others embrace a low-key island atmosphere.
Young children are loved in Bali, welcomed everywhere and a hit with the locals. Easy to get around, effortlessly entertaining and a uniquely welcoming atmosphere – Bali truly is a wonderful destination for families.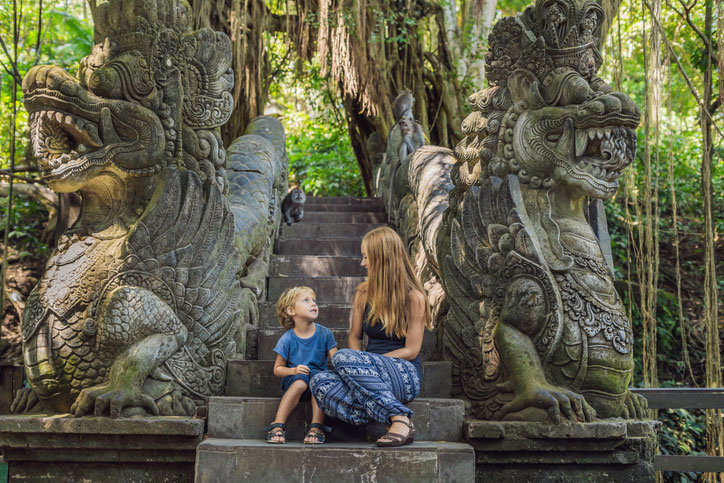 Ubud
Ubud is full of activities for children of all ages to keep entertained – visit monkey-filled temples, dance and explore around Ubud Palace, take guided eco-tours and bird watching walks, spend time in Ubud Monkey Forest, tube ride down the Siap River and zipline across the treetops.
Seminyak
Seminyak offers a unique villa experience for families. With private pools, organised activities for kids and quieter beaches, Seminyak is a great beach for a more relaxed vacation. Pura Luhur Ulu Wata is a beautiful and important Hindu temple often shrouded by friendly monkeys. About an hour south of Seminyak Beach, the temple makes a worthwhile day trip.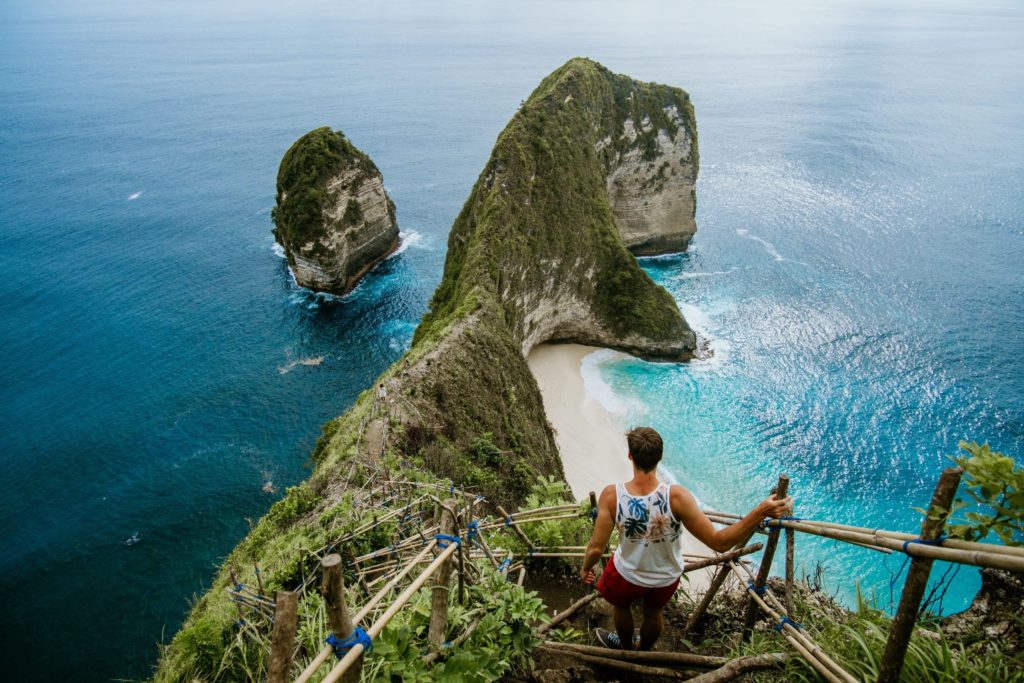 Nusa Dua
With sprawling family resorts across the beachfronts, Nusa Dua is an activity-centric hub. Many resorts are luxurious and expansive with several playgrounds, water parks and programs for kids. Most spill onto the beach and incorporate beach sports and activities as part of these programs, all well supervised.
Sanur Beach
Mostly low-key resorts dot the shoreline of this uncrowded and serene destination. The surf is low and gentle – perfect for young children to wade and swim across the 5km shoreline. Among Sanur's attractions are snorkelling for young kids, Sindhu flea and street markets and authentic Balinese cooking classes.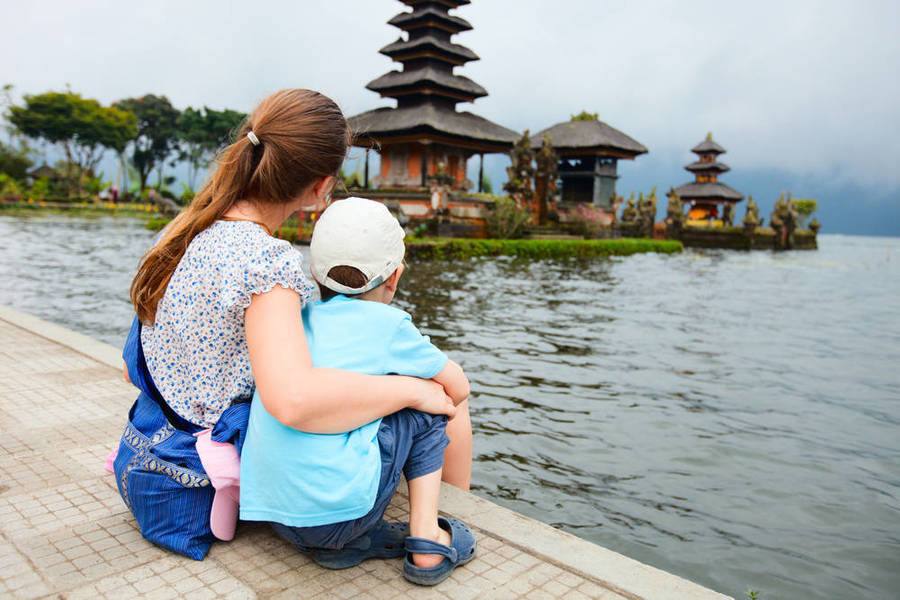 Best time to travel
Bali is a fantastic destination throughout most times of the year. The best times to visit Bali are the shoulder seasons, May to June and September. This is the best time for many activities such as diving, snorkelling and other water-sports, and has some of the best weather the island experiences, bringing a welcome drop in humidity. Good accommodation deals are available during these months.
Low season, lasting late January to April, and October to November, is a beautiful time to visit. The rainy season means the island is particularly lush and green – rainfall is not often too intense and travel during this season is still recommended, with the majority of activities still running. There are impressive deals to be made on accommodation and airfares.
High season coincides with peak holiday times in Australia – July to August and December to early January. Accommodation and flight rates increase by approximately 50% and many hotels book out well in advance. The Christmas and New Year period is the busiest time.
Things to do in Bali with…
Young children are cherished in Bali. It is considered polite and usual for strangers to introduce themselves and ask young children's age, sex and name. Young kids will feel very welcome across all areas of the island and be treated kindly by the locals.
Family resorts in Bali are great options for keeping kids endlessly entertained. Resorts in Ubud and Nusa Dua are great for organised beach and water-sports activities and children's programs. Ubud is the most activity-filled area for kids with river tube-riding, palaces home to inquisitive monkeys and evening dances for kids.
A villa in Seminyak can be a fantastic option for teenagers. These offer great independence away from the throngs of younger children that populate the busier beaches. Seminyak offers a more relaxed atmosphere where older kids and parents can relax by the beach and take interesting day trips to temples and other sites.
Getting around Bali
Bus travel is convenient for getting around Bali. The island is relatively small and all destinations are accessible via bus routes. Tourist buses are the most affordable and convenient for most destinations, run by the two major companies Kura-Kura Bus and Perama. Services are offered from most tourist areas. For destinations not scheduled by these companies, public buses are available. There can sometimes be longer waits for these buses but they are generally reasonably efficient and very affordable for longer routes.
Car rental is very affordable in Bali and makes travel between destinations, including those less popular, particularly convenient. Good deals can be made with walk-in rentals and there is no need to book pre-departure. Vehicle insurance is often included in the price of the rental, always check upon booking.
Hiring a driver is a fantastic, and affordable, way to travel with bigger groups – great for large families. Local drivers can offer a wealth of knowledge on the best sites and tourist destinations across the island. Hotels and resorts can offer advice on the most reliable driver-hire companies.
Taxi travel is convenient and relatively cheap. Taxis are common in areas such as Seminyak and Sanur, but less common in Ubud. The best company is Blue Bird Taxi and it is widely recommended to only travel with this taxi company. Keep aware of taxi scams such as faked broken metres, 'fixed fare' claims and long detours.
More about Bali for families
Accommodation
Beachside hotels and resorts are great options for families at most beaches in Bali. Most hotels offer family packages, offering rooms for four or more, and in many hotels kids under 12 stay for free.
Resorts are particularly family-friendly. Many have kid's games and activity rooms, children's programs, supervised pool and beach zones and offer babysitter and childcare services.
Villas, particularly in Seminyak, offer a more independent option for families. Often self-catering, villas create a vastly different environment of a quiet and relaxed holiday. This is great option for older kids or teenagers.
Homestays with a Balinese family are another option – great for kids making friends with locals and for immersing the family into the island's culture.
What to pack
A baby carrier and portable changing mat are recommended – Bali's streets and beachfronts are largely unsuitable for strollers, and baby changing facilities are uncommon.
Portable children's car seats are an essential if you are intended to hire a car or driver. Car seats can be very difficult to find in Bali.
Good sun protection – sunscreen and hats are essential, as well as insect repellent particularly for nature walks and in the evenings.
Standard baby and child essentials – nappies, baby food and other supplies – are available throughout most areas from supermarkets and stores such as Carrefour.
Planning
Vaccinations for Hepatitis A and Typhoid are recommended before travel to Bali, as well as checking that all regular childhood vaccinations are up to date.
Ensure to talk to your children about not drinking or brushing teeth with any untreated tap water in Bali. Bottled water is widely available in most areas. Check with resort and hotel staff about whether the water is safe to drink and use in their facilities. Whenever in doubt, it is best to stick to bottled water.
Popular stories
For nature-loving families, Costa Rica is one of the most magical destinations to travel with kids. Here is a rundown of what to expect.
Janeece Keller is the founder and editor of Family Travel. She mostly travels with her husband and two young kids. She has a large blended family that lives in Australia and Europe. She has visited 52 countries and lived on 3 continents. From camping to luxury resorts Janeece tries to make sure her family has diverse holiday experiences each year. She is an avid hiker and ocean swimmer who loves good food, margaritas and heading off the beaten path.
* Affiliate Disclosure: This post may contain affiliate links, which means we may receive a commission if you make a purchase through the links provided, at no additional cost to you. Thanks for supporting the work we put into FamilyTravel.com.au!