Singapore – safe, clean and fun – is one of the best destinations in Asia to travel with children! Young kids are welcomed and loved throughout the city, often greeted with adoration and enthusiasm by the locals.
Spend adventurous days on the kid-centric adventure island Sentosa, visit the city's art spaces and museums and be wowed at their impressive programs for kids, then take time in nature at the main island's Gardens by the Bay and old-fashioned island, Palau Ubin.
There's plenty to keep a family entertained for a week, but if you've only got time for a stopover, here's How to do a Singapore stopover with kids.
The kids will love
Museums
Many of Singapore's museums and galleries have dedicated interactive exhibits for children. Among the best for kids are – The Singapore Art Museum, National Museum of Singapore, Science Centre Singapore & National Gallery Singapore.
Parks and gardens
Singapore has several green areas for kids. Gardens by the Bay is a top pick with a botanical garden dedicated to children, water play parks, tree houses, bio domes and a Skyway with impressive sights over the city. The Treetop Walk at MacRitchie Reservoir full of forest canopies is great for adventurous older kids.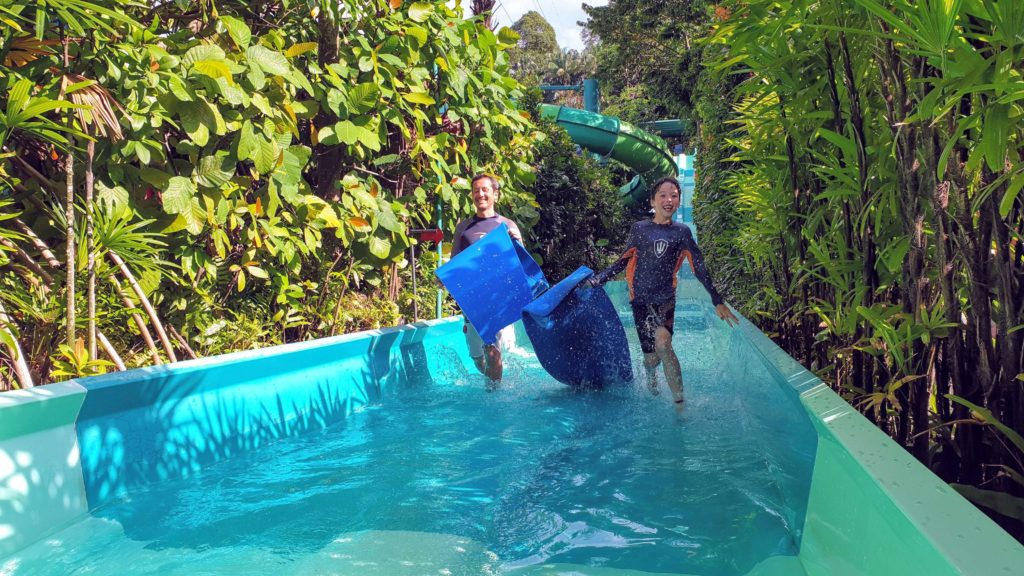 Sentosa Island
This sunny island is an adventure theme parks haven with Adventure Cove Waterpark, Universal Studios Singapore, Sentosa 4D Adventureland, Butterfly Park and Insect Kingdom, Port of Lost Wonder and KidZania Singapore. Your kids will be entertained and occupied for days on this attraction-heavy island.
Pulau Ubin
This quirky island is full of fun wildlife explorations and bike trails. Sensory Trail is a great one for kids, full of native plants and animals to spot. Older kids can embark on the bike trails to Chek Jawa, Singapore's Wetland Reserve. Upon arrival, trail the quiet boardwalks and take in the serenity of the open shoreline.
Best time to travel
Singapore experiences a hot and humid climate year-round and sightseeing activities run through all seasons. Other factors such as crowds and events can be more important to consider when deciding what time to visit, as Singapore travel doesn't necessarily follow the usual parameters of high, low and shoulder seasons.
The largest crowds coincide with school holidays in Australia and New Zealand during June to July, and November to early January. May and June experience the highest levels of humidity and this can make sightseeing less enjoyable. However, there are some interesting festivals that fall around this period, such as the Great Singapore Sale and the Singapore Food Festival, both in July. November to January, despite crowds, is a good time to visit as the somewhat less intense humidity is more comfortable for sightseeing.
Late January to April and August to October, experience lower crowds (with no major holidays), besides the Singapore Grand Prix event in September. Some better accommodation deals can be made during this time, however this is no significant drop in rates during any particular period. Southwest parts of Singapore experience some heavy rainfall during monsoon season in August and October.
Things to do in Singapore with…
Young kids will love Sentosa Island and its adventure-like atmosphere. Best sights for kids include waterplay at the Port of Lost Wonder, Butterfly Park and Insect Kingdom and KidZania Singapore.
Central Singapore's wealth of interactive museum and arts exhibits will appeal to kids of all ages and the sprawling green parks across the city make for great energy-burners.
Pulau Ubin is a fun island for older kids – the bike trails and island wildlife will appeal to more advanced adventurers and make for a serene escape from the bustling main island.
Older kids might like to head to Lake Eppalock, a vast manmade lake around 30 minutes from Bendigo, for boating, swimming and waterskiing. Golden Nugget Discovery Tours offer adventure tours for those visitors who like a little action with their sight-seeing. Don overalls, a hard hat and a miner's lamp to venture to the heart of a mine, 85 metres below ground to hunt for gold. Their Night Eco Spotlight Walk showcases the Australian Bush as it comes to life with local nocturnal wildlife including Kangaroos, Possums, Gliders, Owls, Frogs and Bats.
Speaking of things that go bump in the night, take a ghost tour of Ballarat, Australia's most haunted city, with Eerie Ghost Tours. Travel through underground buildings, alleyways, and even the remains of the old Ballarat goal, the location of many an execution, on a paranormal quest that's not for the faint of heart.
Getting around Singapore
Mass Rapid Transit (MRT) is the Singaporean subway system and often the best way to get around the city. The Singapore Tourist Pass provides unlimited rides on all public transport (subway, bus and train) for $10 per day or $20 for 3 days. Information is available at available at thesingaporetouristpass.com.sg
Bus travel around Singapore is an efficient, affordable and easy way to get around. The main companies SBS Transit and SMRT have routes to all destinations across the island with fares approximately $1 to $3.
Taxi cabs are notoriously difficult to find during busy periods around Singapore, though they are reasonably priced and efficient. Meters start at $3 and charge approximately 22c for every 400m.
Ferry routes run regularly between Singapore's Changi Point Ferry Terminal to Pulau Ubin and other islands from the Marin South Pier for fares of approximately $3.
Car travel is an efficient way to get around Singapore, though more expensive. Smaller companies are often more affordable than international ones, particularly for local driving. Car rental rates begin at approximately $60 per day. Pay attention to restricted zones and heavy tolls, in operation around central Singapore area.
More about Singapore for families
Accommodation
Hotels in are very family-oriented, often with family rooms and the option of cots and fold-away beds.
Family hotel resorts abound on Sentosa Island.
What to pack
Singapore is a very child-friendly city. Strollers are suitable for most areas and can be taken onto the MRT subway system (though must be folded up for buses).
Baby and child essentials – baby food, nappies, wipes – are easily purchased from grocery stalls and pharmacies. High chairs, cots, strollers and other essentials are also available from most hotels.
Light clothing suited to the tropics is recommended year-round, as well as some warmer layers for the well air-conditioned shopping centres, museums and other indoor areas.
Insect repellent and rain gear are recommended essentials year-round, though particularly during the 'wet season' from September to February.
Planning
No pre-trip shots are recommended for visiting Singapore.
Dengue fever is a concern so be sure to use insect repellent well.
Popular stories
For nature-loving families, Costa Rica is one of the most magical destinations to travel with kids. Here is a rundown of what to expect.
Janeece Keller is the founder and editor of Family Travel. She mostly travels with her husband and two young kids. She has a large blended family that lives in Australia and Europe. She has visited 52 countries and lived on 3 continents. From camping to luxury resorts Janeece tries to make sure her family has diverse holiday experiences each year. She is an avid hiker and ocean swimmer who loves good food, margaritas and heading off the beaten path.
* Affiliate Disclosure: This post may contain affiliate links, which means we may receive a commission if you make a purchase through the links provided, at no additional cost to you. Thanks for supporting the work we put into FamilyTravel.com.au!