Ultimate guide to things to do in Merimbula and Pambula with kids
Merimbula is the heart of the Sapphire Coast region, famed for its sparkling beaches, bays, lakes, cliffs, caves and national parks – most of which are easily accessible via walking tracks and coastal drives.
With its gorgeous coastal location, family holidays to Merimbula and Pambula generally gravitate towards sand and sea and there is loads of fun to be found on and below the water. Try snorkelling, scuba diving or a variety of fun watersports on Lake Wallagoot and Merimbula Lake. Keen fishermen can take to the water to hook whiting and mullet, and during prawning season, from November to May, gather buckets of fresh prawns.
Animal loving kids can pat a koala or enjoy a close encounter of the slithery kind at Potoroo Palace native animal wildlife park. Merimubla is a great place to go whale watching during the migration so head out on a whale-watching tour and see these magnificent animals up close. And for flippers of a different kind, visit the little penguins and seals that call nearby Tathra Wharf home. You can even meet some of the local marine life without getting wet at the Merimbula Wharf and Aquarium.
Visit Bega, which is just a 20-minute drive away, to explore historic buildings surrounded by lush dairy country and the Bega Cheese Heritage Centre, or follow the food, wine and art trail along the pretty Tathra-Bermagui road.
Those kids seeking a few more thrills can head to Magic Mountain for roller coasters, watersides and go-karting.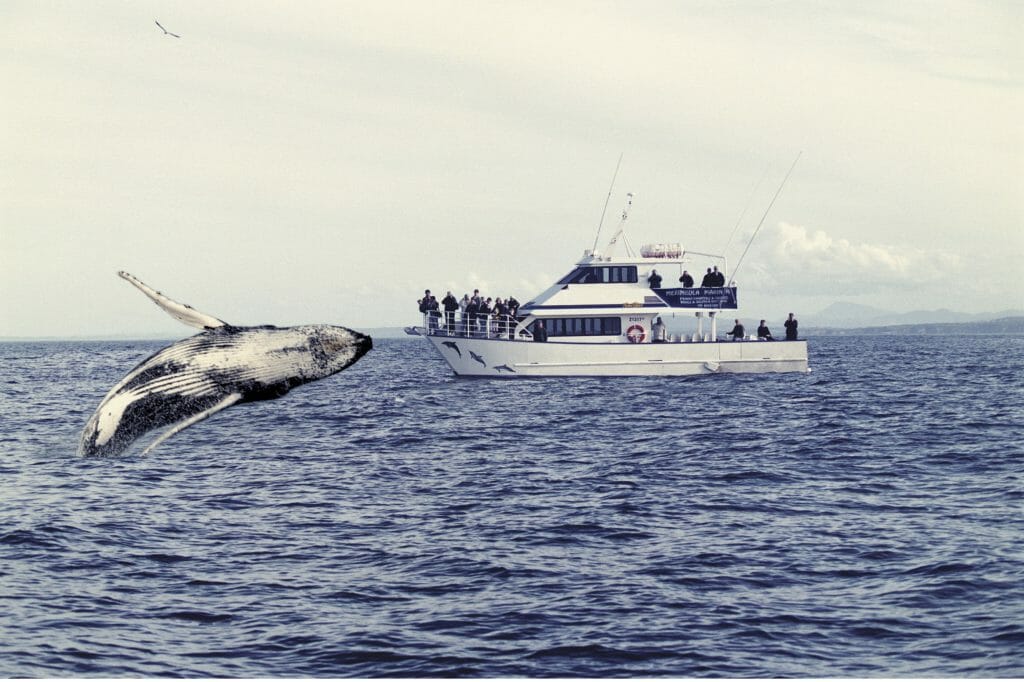 Top things to do in Merimbula and Pambula
This region is a true gem in the crown of New South Wales' coastline with something for everyone in and out of the water. Here are a few of our favourites.
Explore the picturesque rivers and waterways by kayak
Learn to surf on one of the excellent beaches
Head out on a whale watching tour during the migration season
Explore Mimosa Rocks National Park
Enjoy the thrills and spills of Magic Mountain
Play for a day at Mandeni Family Fun Park
Head under the sea without getting wet at the Merimbula Wharf Aquarium
Get up close with the critters at Oaklands Barn
Pat a koala at Potoroo Palace
Get cheesy at the nearby cheese-making town of Bega
Things to do in Merimbula and Pambula with…
You'll find plenty of tranquil lakes and beaches that are just perfect for little ones to paddle about or play in the sand, and if you'd rather, you can even take them to swim indoors at the Sapphire Aquatic Centre where there is a shallow play pool.
Animal loving little ones will love Oaklands Barn & Garden Centre's Animal Barn, where they can meet and greet a variety of farm animals including pigs, goats, cows, sheep, alpacas, chickens, cats and dogs and camels.
Or head to Potoroo Palace, a not-for-profit organisation, for the chance to get up close and personal with many species of Australian animals. Perfect for younger kids, there are opportunities to pat a koala, wander amongst free roaming kangaroos, touch a slithery snake, feed an emu or visit the birds in the walk-through aviary or catch the train around the park.
Visit the nearby cheese-making town of Bega, where you'll find historic buildings surrounded by the greenest countryside. Be sure to pop in to the Bega Cheese Heritage Centre to learn how dairying has shaped the culture of the region. And be sure to stock up on nibbles.
Or immerse yourself in the local marine life without getting wet at The Merimbula Wharf and Aquarium, where you'll find everything from sharks to shrimp on display in the sprawling 27 tank aquarium.
If you prefer feathers to fins, take a short drive north to the award-winning On The Perch bird park in Kalaru, where you will find more than 80 species of native and exotic birds on display. At the popular park, kids can get up close with the birds in their walk-through aviaries while they learn all about bird conservation during keeper talks.
The Montreal Goldfield offers a fascinating, educational outing for the kids. At the former goldfield, the only goldfield in Australia that extends into the sea, take a guided tour through regenerated rain forest right to the edge of the mine shafts while listening to historical accounts, watching water divination demonstrations and then visit the museum.
Those looking for adventures that are a bit more down and dirty should head to Mudd Monsters obstacle park in Bega Valley for a day of physically and mentally challenging obstacles targeted at kids aged under 15.
Kids will love Mandeni Family Fun Park, where they can enjoy a round or two of golf on the 9 Hole Golf Course, 18-hole Mini Golf or 9 Hole Pitch and Putt. For those not looking at working on their handicap, there's also archery, paddle boats, mountain biking and bocce.
The sandy beaches of Merimbula, Tathra and Pambula are ideal for stand-up paddle boarding paddling and surfing, whether you are experienced or just a beginner. For those who want to learn the ropes, you will find several excellent surf schools. And for even more thrills on the water, try heading out on a sea kayak tour, or maybe take a small group wilderness tour by kayak on the Towamba River, just south of Eden.
For thrills out of the water, get back to nature exploring the cliffs, sea caves and rock stacks at Mimosa Rocks National Park.
For man-made thrills, teens will definitely want to spend a day at Meribula's iconic Magic Mountain to take on the Diamond Python Rollercoaster, drive Mini Grand Prix Cars, slide down the Doom Tube and Black Hole Waterslides or fly down the Toboggan Mountain Slide.
Best time to visit Merimbula and Pambula as a family
This is a region suited for visiting all year round. The winter months are the coolest and best for enjoying the longer hiking trails and relaxing walks along the area's beautiful beaches. If it is too windy for the beach, visit the lake as it's secluded and well protected.
Being one of the best locations on the eastern coastline of Australia to view whales on their annual migration from June to November, we recommend visiting from September to November as during this time the mothers return with their calves and are often seen close to shore.
Summer is beach time and the weather is superb for spending days enjoying the water and water sports. Along with NSW school holidays, it is the peak season for the region, which can mean a hike in prices, but it also has the advantage of plenty of other families to mingle and have fun with.
Family-friendly places to eat in Merimbula and Pambula
Visitors can enjoy tastes from in and out of the sea in this area, which is all about succulent seafood and amazing produce from the hinterland. And only being a short distance from Bega, there's also great cheese and dairy products too.
Oysters and mussels are a local speciality. Wheelers Oyster Farm and Restaurant offers some of the best. Delcie's Cottage, located in a cute weatherboard cottage in the main street of Merimbula, is another good place for fresh oysters as well as burgers, which may hold more appeal to little tastebuds.
Kids will love eating at On the Perch, a bird park where the café opens every day except Wednesdays. Oaklands Barn also has an excellent café as does the Merimbula Aquarium at the Wharf Restaurant. If your family prefers more upmarket dining, head to the Ritzy Wine and Tapas Bar and Waves Restaurant.
Things to do for free in Merimbula and Pambula
The area's beaches and lake are a big drawcard. From swimming to surfing, kayaking and canoeing or simply taking a relaxing stroll along a beach or the lake's foreshore, there are plenty of excuses to get wet. Main Beach is great for family fun in the surf, while Bar Beach offers a more sheltered swimming space. Mitchies Jetty and Spencer Park on Merimbula Lake are another two of our favourites.
The river mouth at Pambula is brilliant for families. It borders Ben Boyd National Park, has a patrolled swimming beach in peak summer months, children's playground, picnic areas and an off-leash area for your pet. Keen anglers – including amateurs – are often rewarded with catches of whiting and mullet.
There are short and long walks as well as national parks to explore. Visit the National Parks and Wildlife office for more info.
Related Stories
Ultimate guide to things to do in Merimbula and Pambula with kids Merimbula is the heart of the Sapphire Coast region, famed for its sparkling beaches, bays, lakes, cliffs, caves and national parks – most of which are easily accessible via walking tracks and coastal drives. With its gorgeous coastal location, family holidays to Merimbula …
Janeece Keller is the founder and editor of Family Travel. She mostly travels with her husband and two young kids. She has a large blended family that lives in Australia and Europe. She has visited 52 countries and lived on 3 continents. From camping to luxury resorts Janeece tries to make sure her family has diverse holiday experiences each year. She is an avid hiker and ocean swimmer who loves good food, margaritas and heading off the beaten path.
* Affiliate Disclosure: This post may contain affiliate links, which means we may receive a commission if you make a purchase through the links provided, at no additional cost to you. Thanks for supporting the work we put into FamilyTravel.com.au!