Ultimate guide to things to do on Kangaroo Island with kids
Deserted beaches, wild animal encounters, pristine wilderness and surreal but stunning landscapes make Kangaroo Island (or KI as it is affectionately known by the locals) a magical destination for explorers of every age.
Just two hours off the coast of South Australia, Kangaroo Island is a natural paradise of soaring cliffs, epic sand dunes, lush wetlands and endless stretches of bone white beach.
When you have your fill of swimming and playing in the sparkling blue waters encircling the island, take a trek to one of the island's signature landmarks. Remarkable Rocks, a cluster of enormous, weather-worn granite boulders, is like a visit to mother nature's sculpture gallery. The Admirals Arch is another landmark that is a must visit with its stalactites dangling from its rocky ceiling and awesome views of a New Zealand fur seal colony that lives below.
Along with fur seals, visitors to KI will be in wildlife heaven with plenty of opportunities to spot sea-lions, koalas, penguins, sea-lions, whales, pelicans and, of course, kangaroos in their natural habitat. You will also find several wildlife parks and rehabilitation centres where you can enjoy up close and personal experiences with native animals and birds.
Foodie families will love visiting KI's impressive farm gates where you can taste some of Australia's best cheese, lamb, honey and more.
And adventurous clans can head to the Little Sahara to go sandboarding on the dunes, swim with dolphins or immerse themselves in the natural world at one of the many camp sites on the island.
Top things to do on Kangaroo Island
There's something for everyone on KI – from wildlife to fabulous bays and beaches. Here are a few of our favourite things.
Visit hauntingly beautiful Admiral's Arch
Spot the Australian sea lions at Seal Bay Conservation Park
Enjoy the magnificent sight of Remarkable Rocks
Explore Flinders Chase National Park
Head to Little Sahara, a rare desert on an island
Surf the dunes
Enjoy sun, sand and sea at one the island's brilliantly blue bays and beaches
Take a hike along one of the island's many brilliant hiking trails
Swim with the dolphins
Kayaking along the Harriet River
Things to do on Kangaroo Island with…
If you can convince them to stop building sandcastles and splashing in the clear blue waters of the island's epic beaches, there's plenty for little ones to explore on Kangaroo Island. At Parndana Wildlife Park they can hand-feed kangaroos and wallabies, and pat koalas. For an animal encounter of a different kind, take a pelican feeding tour and talk down at Kingscote Wharf with The Pelican Man, or visit Paul's Place, a family run business that rescues injured and orphaned animals. You'll be able to get up close with some of the wildlife including some friendly snakes just waiting for a cuddle.
And for farmyard fun, head to one of the many farm gates. And make sure you leave time for the kids to stop and smell the flowers at the fabulously fragrant Kangaroo Island Lavender Farm. Just don't leave before stopping for a sample of their yummy honey ice cream.
Kangaroo Island is like a who's who at the zoo of native animals and kids will love spotting the furry, feathered and fearsome critters that you'll find everywhere you go! From the Australian sea lions lounging lazily at Seal Bay Conservation Park and New Zealand fur seals in Flinders Chase National Park to the Tammar Wallaby, Short-beaked Echidnas and (of course) Kangaroos to native Sand Goannas.
When the kids aren't strolling along the island's pristine beaches and paddling in sheltered rock pools they might enjoy a dolphin cruise to spot the different types of dolphin that live around Kangaroo Island.
Bird lovers should definitely head to Raptor Domain, a wildlife rehabilitation centre at Seal Bay that offers a fun, interactive and educational environment for kids. The Raptor Domain cares for orphaned, injured and sick Birds of Prey, including the rare White Goshawk, Black-breasted buzzard and Sooty owl, and houses them in safety if they are unable to return to the wild.
A wildlife lover's paradise, active kids can hike through Seal Bay Conservation Park to watch the Australian sea lions sunning themselves on the sand. Take a tour to make the trek as educational as it is fun. Or head to Flinders Chase National Park to see New Zealand fur seals as well as the Remarkable Rocks, surreal rock formations that are definitely as advertised. Or for a more immersive wildlife experience, take a coastal safari to spot seals, whales and dolphins doing their thing in the water. If you dare, you can even suit up and jump in for a swim with the dolphins.
Active kids will also enjoy kayaking along the Harriet River, just off Vivonne Bay, which is teeming with wildlife, especially native birds. Wilderness loving kids will also enjoy getting back to nature camping at one the great sites along American River, Browns Beach, Duck Lagoon, Emu Bay, Vivonne Bay and Western River.
Sandboarding on the Little Sahara sand dunes offers unbeatable thrills. While it is a bit of a workout to climb up the dunes, once you get there it's all downhill and you'll be hooning down the sand with glee. Head for the most untouched dunes as the more pristine the sand, the faster you'll go. When you've had your fill of sand surfing, head to gorgeous Vivonne Bay, home of the King Island SurfPro and Music Festival for a surfing lesson on water with the excellent teachers at KI Surf School. Or hire a quad bike to fly around the dirt tracks, across green fields, sandy dunes and along rocky tracks.
The waters off Kangaroo Island offer some of the best diving in Australia, with brightly coloured coral and schools of fabulous fish swimming amongst accessible ship wrecks. Those who haven't learned to dive can learn the ropes with Kangaroo Island Dive and Adventures, a PADI 5 Star Dive Centre.
Best time to visit Kangaroo Island as a family
Kangaroo Island sits around 112 kilometres south of Adelaide, the capital of South Australia, and has four very distinct seasons, each bringing a certain something special to visitors.
During winter, from June to August, the island is covered in lush green grass and the rivers are flowing. The first of September marks the beginning of spring and wildflower season, and is one of the best times to spot the islands birds.
Summer officially starts on the 1 December and is optimum beach time while Autumn, from March to May, is also a popular time to visit thanks to the mild weather.
Visiting off-peak means better deals with accommodation, tours and car hire. The island is only accessible by ferry or plane, so you do need to plan and book ahead for your arrival and departures whatever time of year.
Family-friendly places to eat on Kangaroo Island
Surrounded by the ocean and offering rich, lush grazing grounds, Kangaroo Island is home to some of Australia's best produce.
All around the island you'll find quaint places to eat where you can taste the local goodies. The farmer's markets are perfect for tasting and topping up supplies from the farm gate. Cheese lovers will be in heaven and for those that like their lamb, Kangaroo Island lamb is some of the most succulent you'll ever taste. Then there's the oysters, Marron, honey… we could go on and on.
Kid friendly Dudley Wines on Willoughby Road is a favourite for families with free wine tasting, an amazing view and food that will have everyone raving. We especially love the whiting pizza.
Do remember Kangaroo Island does run on 'island time' so it's always best to double check if venues are open.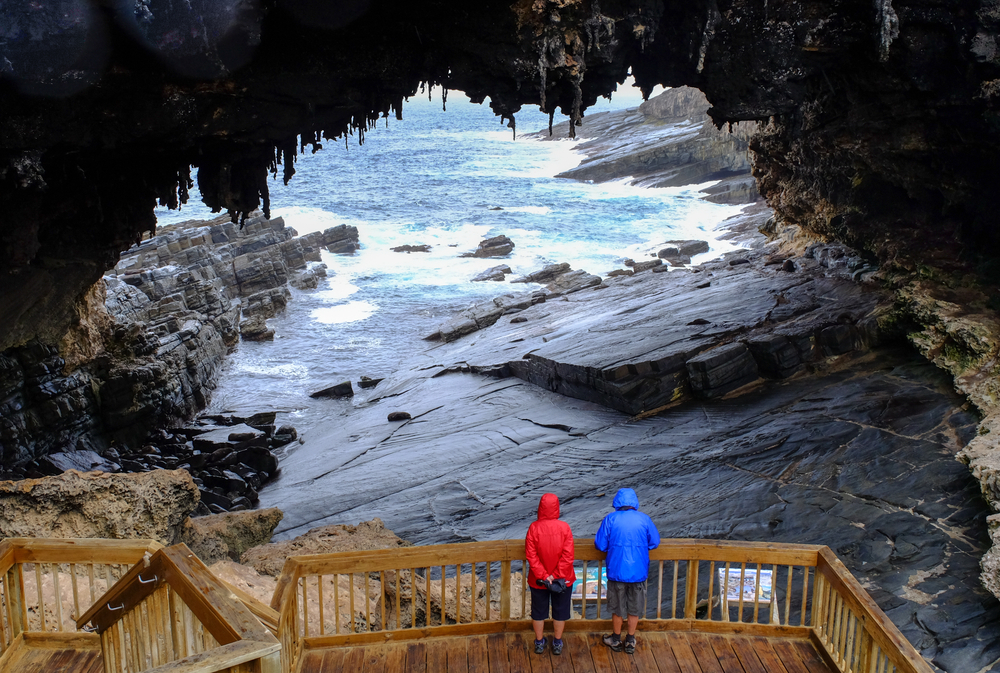 Things to do for free on Kangaroo Island
One of the best things about Kangaroo Island is the abundance of free stuff to do. It is sometimes considered to be an expensive destination to get to, but once you arrive, that all changes.
Walk around Clifford's Honey Farm and taste some of the local honey, visit Kangaroo Island Spirits for a free tasting.
Visit Admiral's Arch in Flinders Chase National Park, which is not only a marvel of nature, but also an ideal place to observe the New Zealand fur seal colony flopping about on the rugged rocks. It's also the location of the historic Cape du Couedic Lighthouse. Remarkable Rocks is another marvelous piece of handiwork by Mother Nature and is a must see at sunrise.
Explore Vivonne Bay, Stokes Beach, Cape Willoughby Lighthouse (guided tours are available up and into the lighthouse for a small cost) and the Old Wisanger School, opened in 1884.
Related Stories
Our ultimate guide to Brisbane for families covers what to do, where to eat and where to sleep with kids of all ages.
Janeece Keller is the founder and editor of Family Travel. She mostly travels with her husband and two young kids. She has a large blended family that lives in Australia and Europe. She has visited 52 countries and lived on 3 continents. From camping to luxury resorts Janeece tries to make sure her family has diverse holiday experiences each year. She is an avid hiker and ocean swimmer who loves good food, margaritas and heading off the beaten path.
* Affiliate Disclosure: This post may contain affiliate links, which means we may receive a commission if you make a purchase through the links provided, at no additional cost to you. Thanks for supporting the work we put into FamilyTravel.com.au!