Location
Overlooking the Yarra River, The Langham has undoubtedly some of the greatest views of the city. From the Club Lounge (where breakfasts, afternoon teas and afternoon cocktails and hors d'oeuvres are served to those with access), you can watch iconic trams pass through the Arts District, the Australian flag flying proudly atop Flinders Street Station and the city glistening in all of its glory.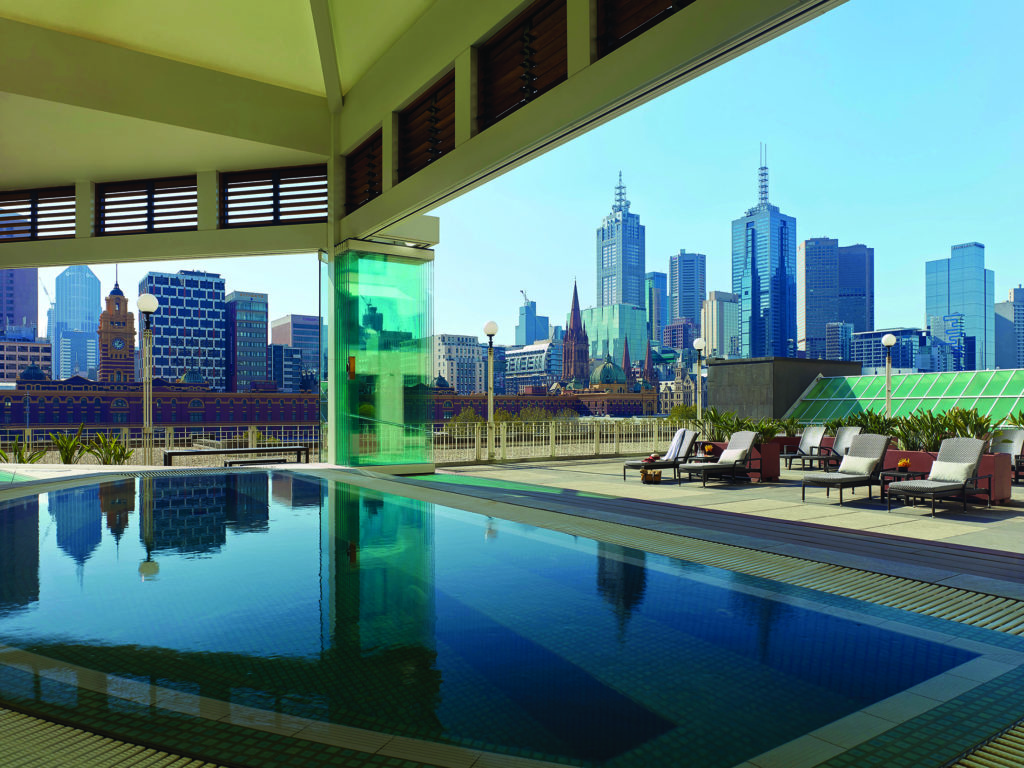 Why we stayed here
Many other parents I know would never even think of staying at a five-star hotel with children. I, however, would rather show mine the finer things in life – and teach them how to act appropriately – than completely dismiss the lifelong lesson altogether. And besides, it's not like The Langham doesn't encourage young patronage; they've recently hosted Trolls- and Alice In Wonderland-themed high teas (and I hear there's another very popular character visiting in the upcoming summer school holidays).
Accommodation
Upon entering The Langham, you'd be forgiven for thinking you'd just strolled in to one of the finest hotels in Italy. A grandiose staircase (or escalators, for those of us with kids) leads you to the lobby, complete with a sparkling chandelier and glasses of complimentary fruit-infused water.
We stayed in a 32sqm Deluxe River Room, which offered enough space for the three of us. It was affordable as far as five-star hotels go, yet we didn't go without; it was equipped with a fully stocked mini bar (just keep a close eye on little ones or it could become a surprisingly expensive trip), tea- and coffee-making facilities, and a speaker in the bathroom that allowed us to listen to the TV while we were in the tub.
Food & Beverage
Don't feel guilty about ordering room service for hubby and the kids so you can pop up to the Club Lounge on level 24 for some alone (wine) time. It offered the longest break I've had to myself in a long time – and having friendly waitresses wait on me for a change was divine! I can personally vouch for the moreish De Bortoli Shiraz and the filling Langham Club Sandwich, which I ordered from the room-service menu to be delivered to the lounge. Thankfully, hubby was quite happy to stay in and watch TV while our little one drifted off to sleep.
As someone with coeliac disease, I'm often averse to dining in buffet-style environments – however my fears were laid to rest when the head chef of Melba walked me through all of the things I could eat (almost 90 per cent of the predominantly local offerings!). Charcuterie from Daylesford, cheeses from the Yarra Valley, an array of meats from the Gippsland region, in-season vegetables from the Mornington Peninsula, the freshest seafood from Port Phillip Bay… The abundance was overwhelming in the most pleasing way, however our young one was most interested in the chocolate fountain and ice-cream selections – thankfully she dined for free as she is younger than 3!
Explore
Thanks to The Langham's proximity to the city's key drawcards, we could have spent five full days exploring – but since breaks are vital with a little one in tow, we had to choose the best of the best.
The Royal Botanic Gardens are a short Uber ride away. It's a beautiful place to enjoy a picnic if you're there on a sunny spring day. It's where the Moonlight Cinemas are held – though perhaps I'll save that luxury for when bub is a bit older and more likely to sit still. For now, the on-site Ian Potter Children's Garden brought sufficient delight. For more inspiration, print the '50 Things For Kids To Do' checklist from their website.
Tram route 58 towards West Coburg from Casino East/Queens Bridge Street (a five-minute walk from The Langham) took us to Melbourne Zoo. What a magical place – even more so when I met the meerkats for an extra $32; little one was a bit freaked out by them, which is good because the Meerkat Close-Up has a minimum age of 6. The zoo is easy to navigate and has plenty of pitstop locations on site – perfect for dealing with toilet or hunger emergencies. If you'd prefer to pack your own lunch, set up a picnic on the grass near the Japanese gardens or MPavilion, which is close to two playground sets. Go early on a weekday – there'll be just you and a few groups of schoolkids sharing the grounds.
Sarah was a guest of The Langham, Melbourne. 1 Southgate Avenue, Southbank.
READ MORE:
Looking to get out of Melbourne? Read about weekend getaways in Victoria.
Keen on trying another hotel? Check out our review of the Pan Pacific Hotel, Melbourne.
* Affiliate Disclosure: This post may contain affiliate links, which means we may receive a commission if you make a purchase through the links provided, at no additional cost to you. Thanks for supporting the work we put into FamilyTravel.com.au!