Maybe you've heard of Hosier Lane or Johnston Street in Melbourne, made famous for their graffiti and street art designs. Your teenagers on Instagram almost certainly have. Thanks to the likes of Banksy, mural art is becoming an increasingly widespread medium. Until recently, it was a predominantly urban phenomenon relegated to hipster, coffee-drinking arts precincts in capital cities.
In 2015, huge geometric patterns and intricately painted steampunk contraptions appeared, seemingly out of nowhere, on the side of an enormous silo in Northam, Western Australia. Since then, an entire movement has brought large-scale mural art to grain silos, transformer boxes and water towers in regional Australia.
Bringing surprising and frankly enormous splash of colour to the middle of nowhere, regional mural art feels secret and thrilling. It also happens to be a great excuse to explore country Australia, whether on a day trip from a city centre or a stop on a longer itinerary. That's the idea. This far-flung art is telling local stories, celebrating Aussie artists and bringing tourism to the most unexpected places in our wide, brown land. What's more, it is free and in the open air. Check out our top regional mural art picks below.
Western Australia Public Silo Trail
Arguably the birthplace of the Silo Trail, the idea behind this arty road trip is to expose the stories of the wildlife and people hiding behind WA's big industrial reputation. Follow the trail from Northam, Merredin, Katanning, Pingrup, Newdegate and Ravensthorpe, all the way to Albany. Here, encounter a Ruby and Leafy seadragons, two seahorse species found in south-western Australia.
Western Victoria's Silo Art Trail – Wimmera-Mallee
This 200-kilometre Silo Art trail in the Wimmera-Mallee region takes a little over 2 hours to complete in its entirety. Depending, of course, on how many photos you take for social media. Don't want to conquer it all? The Rupanyup silo, painted by Julia Volchkova, is the closest to Melbourne, Horsham, Ballarat and Bendigo.
North East Victoria Silo Art Trail
Start this 2-hour itinerary from Benalla, which is about 2 and a half hours' drive from Melnourne. There's definitely lots to look at, but be sure to check out the dancing brolgas and kookaburra on the Tungamah silos. These were painted in 2018 by Sobrane Simcock, the first Australian female artist to join the silo art project.
South Australian Silo Art Trail
The Coonalpyn silo was the first of the SA trail to be completed in March 2017. It now extends to Kimba or Tumby Bay, with stunning images of local children, local legends and native animals.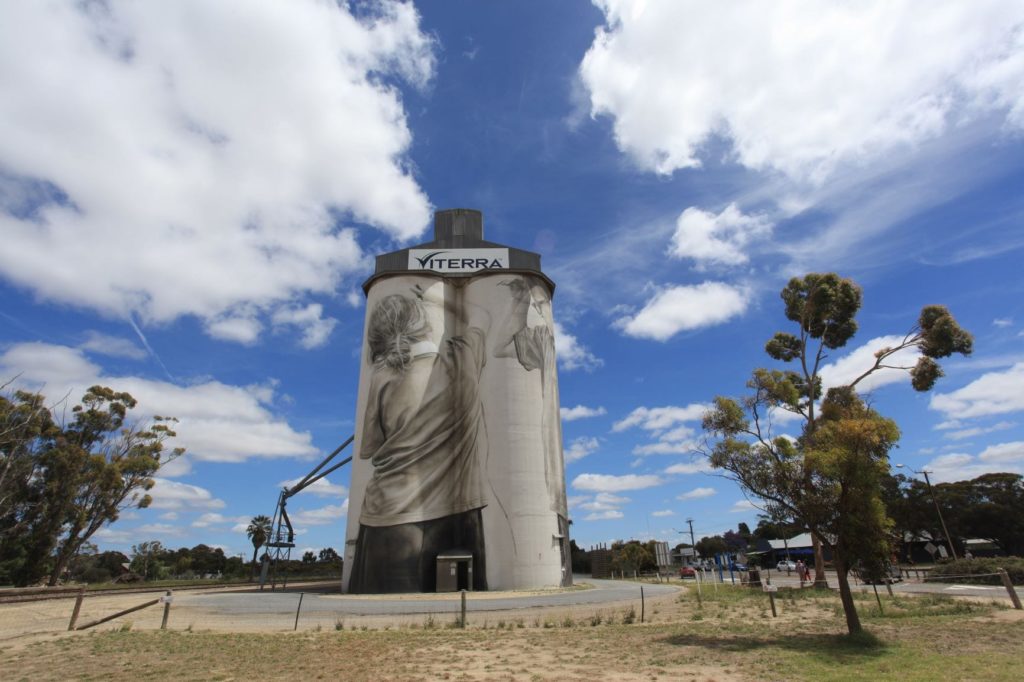 Queensland Silo Art
Two Queensland silos are decorated thus far. A Thallon silo was painted with a sunset vista in July 2017, and Yelarbon boasts a little boy playing in the Yelarbon Lagoon against a brilliant blue sky.
New South Wales
The theme of New South Wales' silo art centres on its agricultural histories, with images of drought, resilience and plenty of sheep in the shearing country. Stop in Barraba for a mural of a water diviner, then head on to Merriwa, Portland, Grenfell and Weethalle.
Water Tower collections
Silo Art is certainly getting loads of coverage as more and more people discover regional trails. But beautiful mural art has for years been springing up on water towers. Keep your eyes peeled in your own region because water tower murals tend to pop up out of nowhere, with three new known works completed so far in 2020. There are too many to mention, but in NSW we love the mural art of Ballina, Katoomba and Gulargambone. You can see imagery of Australia's military history on a water tower located on ANZAC Hill in Gunnedah, which also happens to be the site of the Water Tower Museum.
Look out for brumbies, emus and roos on the four South Australian water tower murals, and the bright colours of Broome and Port Headland in Western Australia. Queensland has a whopping thirty, with some dating back to the 90s. These include water towers at Biloela, Bowen, Charleville, Goondiwindi and Mt Isa. Make a start at Warrnambool, Werribee or Falls Creek in Victoria. And in Tassie, play I-Spy a mural in George Town and Kingston.
Street Art Towns
Still haven't got your outdoor art fix? Luckily for you, there are entire towns in regional Australia dedicated to street art. Some host art festivals or painting competitions, while others simply have a high concentration of murals to be found. See what you can find on a stroll around Tumby Bay, SA, Yarram, VIC, Gulargambone, NSW and Townsville, QLD. Shepparton's Aboriginal Street Art Project Murals demonstrate the important social impact such a visible, unapologetic and beautiful medium can have. Artist Adnate is responsible for Shepparton's paintings of past local elders including Aunty Margaret Tucker, one of Australia's first female Indigenous rights activists, and Nora 'Nanny' Charles, a much-loved local midwife. The name of the project in Yorta Yorta language translates to 'proud, strong Aboriginal people.'
READ MORE:
15 Instagram-worthy destinations for Aussie teens
Best street art around the world
Travel inspo – 11 travelling families on Insta
* Affiliate Disclosure: This post may contain affiliate links, which means we may receive a commission if you make a purchase through the links provided, at no additional cost to you. Thanks for supporting the work we put into FamilyTravel.com.au!