Laid-back, casual and packed with easy entertainment options, it's no wonder Santa Monica is the first choice for families heading to LA.
Santa Monica's heart is the beach. The sand here is so wide that the city laid down paths to get you to the water without burning your feet on a hot day.
We know, it's hard to impress Australians with a beach. But trust us, what Santa Monica lacks in natural beauty it makes up for in people watching.
All manner of tribes converge here. Bulked up blokes and fitness-lovers test their metal on ninja warrior-style gyms and volleyball courts. Girls in bikinis and flowing capes zoom by on rollerskates. Buskers line the beachfront dancing, singing and doing comedy acts. You may even stumble onto a film set.
Santa Monica Pier
At the centre of it all is Santa Monica Pier, built in 1909 as a way to dispose of sewerage. (Fortunately, that practice was discontinued in the 1920s.) The pier quickly became a favourite fishing spot – post sewage. You can still fish from the end today – grab some bait and a rod from Pier Bait and Tackle.
In 1915, Charles Looff, a famous amusement entrepreneur began to build a new wider pier adjoining the existing pier to the south, creating two piers in one. The amusement park, now known as Pacific Park opened shortly after.
Pacific Park is one of the most famous sights in Santa Monica and a must-do for families. The rides here are super-gentle. The roller coaster has a few slow turns and one fast hill so it is OK for little ones. The Ferris Wheel offers an incredible view of the coastline and the ocean.
If you're brave enough, try the trapeze school which runs from Monday to Sunday between 8.30am and 10pm.
Santa Monica Pier is also the end of Route 66. Be sure to snap a photo with the famous sign. For a great view, head up to the rooftop at Seaside on the Pier at sunset. The restaurant does incredible cocktails and fresh, healthy meals – typical of LA's clean food culture.
Get on your bike
The best way to see Santa Monica is by bike. You can hire one at Perry's on the beach. (Perrys also hires beach wheelchairs). You can choose a cruiser, mountain bikes, and even low riders.
Ride south and you'll wind up in Venice, home to Muscle Beach, where Arnold Schwarzenegger worked out al-fresco. Venice has a pumping skate park, great beachside markets, dozens of basketball courts and some of LA's best street art.
Take a small detour inland from the beach and you will find Venice's gorgeous canal district – it even has a floating library.
Ride north and you can cruise through lush Palisades Park which offers stunning views all the way up to Malibu.
Try beach yoga
Head down to the beach early in the morning with Beach Yoga SoCal. This has to be the best way to start the day.
Instead of a mat, you have a beach towel. The best part of this class is doing a downward dog and looking through your legs at the ocean. It's even better when the salt water swirls around your toes.
My instructor Vee quickly gauged the levels of our small class and gave us each modifications to suit our fitness. This is an activity the whole family can do, kids under 10 are free. They can roam down to the water or build sandcastles in between downward dogs and warrior poses. Otherwise, it's a great way to escape for an hour, leaving your partner in charge of the brood.
Sustainable travel
More than anywhere else I have been in LA, Santa Monica has a focus on sustainability. If you head to the Santa Monica Farmers on Wednesday you will usually run into local chefs making their ingredient runs. Resturants proudly list their farmers market ingredients on their menus and most make a big effort to reduce plastic. The produce here really is top-notch and largely organic. The strawberries are to die for – you can smell them before you see them.
Miguel Ferreira was one of the original farmers to set up a stall in Santa Monica in 1989. Every week he travels from his farm at Paso Robles, three hours north of LA, to sell his delicious juicy peaches in Santa Monica.
Miguel met his wife at the markets and, at the time we visited, the couple had just welcomed a baby girl.
"Money is not the reason why we do everything," he tells me holding onto his one-week-old daughter behind a table full of peaches. "We do it for the legacy."
That sustainable ethical vibe also extends to some of the hotels in Santa Monica. The Shore Hotel on Ocean Street, right across from the pier, grows fruit and vegetables poolside. They supply reef-safe sunscreen to all guests and they will even swap your environmentally unfriendly sunscreen for a more ethical product. The pool is heated with solar power, the in-room climate control limits energy use and more than 90 per cent of the rooms have a direct line of sight to daylight.
Easy to get around
Unlike some other LA suburbs which have a "don't walk, Uber" culture, Santa Monica is walkable and safe. It feels a lot more like home here.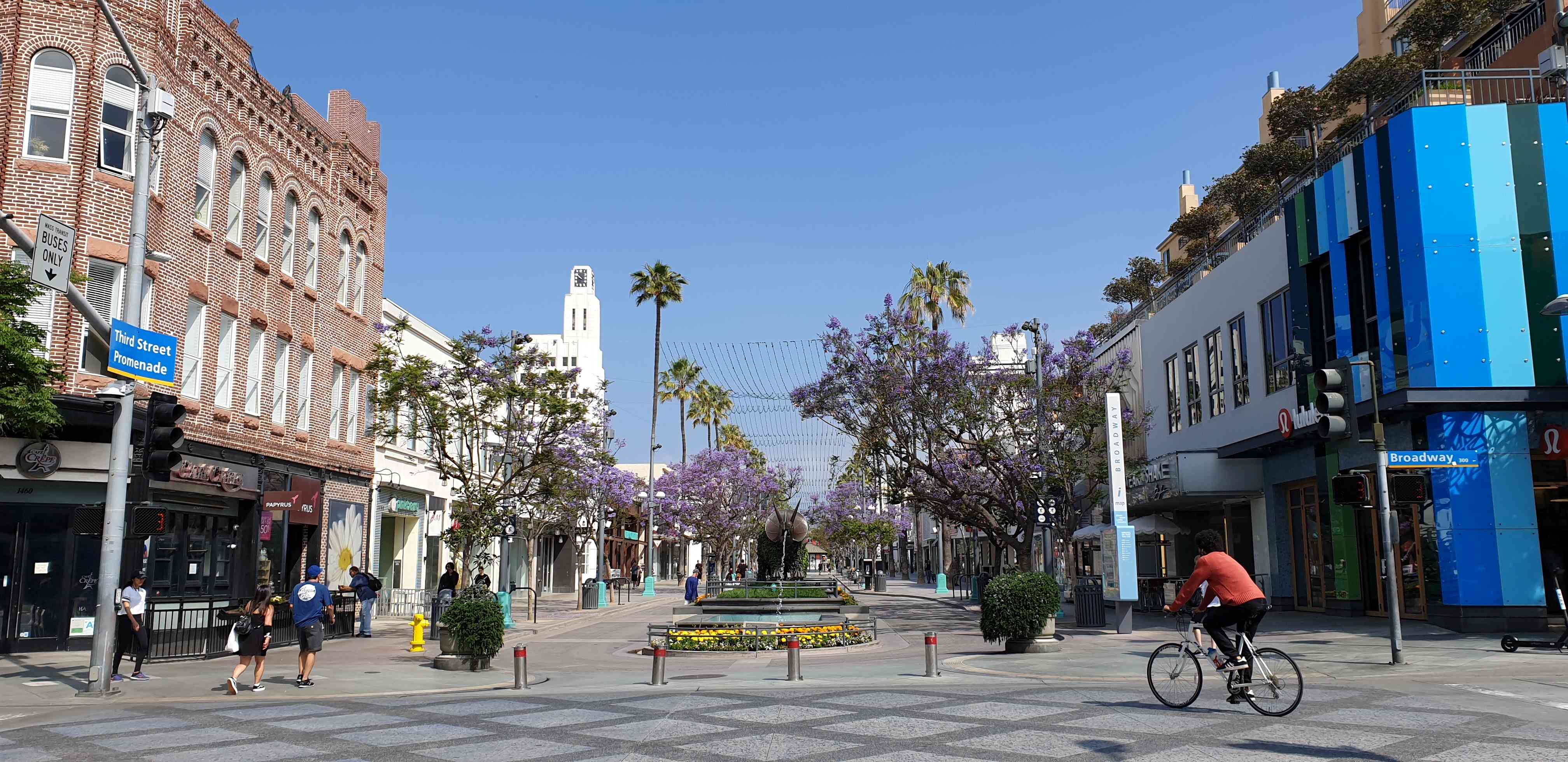 The long Jacaranda-lined 3rd Street Promenade offers fantastic shopping. You can stop and watch buskers all along the pedestrian mall. You can even grab a bit of chalk and start to create your own Santa Monica artwork on the pavement.
The entire beachfront has a walking path, just make sure you stay to the right.
Virtual reality experience
One attraction that is not to be missed is The Void. This Virtual Reality experience is absolutely incredible. It does cost $US30, but having done it, I would say that price is totally worth it.
The Void has three Virtual Reality games on offer: Star Wars Secrets of the Empire, Ralph Breaks VR and a super-scary horror experience called Nicodemus (not for kids). Later this year, The Void will also offer a Marvel-themed VR game.
Guests are hooked up to backpacks and VR goggles in teams of four. In the Star Wars experience, you will be disguised as a Stormtrooper and you will battle the First Order to retrieve a package of great importance to the resistance. The Void is built in a maze, so all the walls feel like they are really there. You will feel it if you get shot and you will feel the heat of the lava pit. This is the next best thing to Star Wars: Galaxy's Edge.
Ralph Wrecks VR is great fun for little ones (you must be at least 122cm to play). In this game you become the avatar and you will enter the world of the film, shooting bunnies, UFOS, collecting coins and having one great food fight.
It is close to everything LA has to offer
From Santa Monica you can easily catch a bus, an Uber or the tram to anywhere you need to go in LA. The big red bus stops on Ocean Street right outside the Shore Hotel.
An Uber to Universal Studios costs about $40.
The best part is coming back to the beach after a day in LA.
Something for little ones
Just across the road from Santa Monica Pier, you will find Tongva Park, named for the culture and traditions of the Indigenous Tongva people who lived in the Los Angeles area for thousands of years.
The park has climbing forts, slippery slides and a great water play area for kids aged 2-12. This is a good alternative to the beach and it's relatively uncrowded.
The food trucks
Along Ocean Street, you will find a line of food trucks selling everything from tacos to burgers and pizza and more. This is a great post-beach cheap food option.
Fries is a permanent food truck set up close to the entrance to Tongva Park. These guys do loaded chilli-cheese fries, garlic fries and even sweet fries with whisky sauce. So good.
If you've never been to LA and you expect to find a beach culture, great food and easy access to all the city has to offer – you're going to want to stay in Santa Monica.
Read more:
Star Wars: Galaxy's Edge is unbelievably awesome
Disney's Pop Up Anaheim space is made for Instagram
Califoria's most Insta-worthy hotels
* Affiliate Disclosure: This post may contain affiliate links, which means we may receive a commission if you make a purchase through the links provided, at no additional cost to you. Thanks for supporting the work we put into FamilyTravel.com.au!