While North America is vast, its extensive and dependable highways make it an outstanding road-trip destination for families.
The dramatic coastlines and mountains of the west and the more densely populated eastern coast present opportunities for fantastic driving adventures. Plus, with a train network that is generally only convenient on the coasts, the interior cries out for families to hop in, buckle up and explore by car.
Alberta
There's a reason why Canada's province of Alberta produces some of the world's most amazing photographs. You just cannot go wrong driving here as it's stunning at nearly every turn.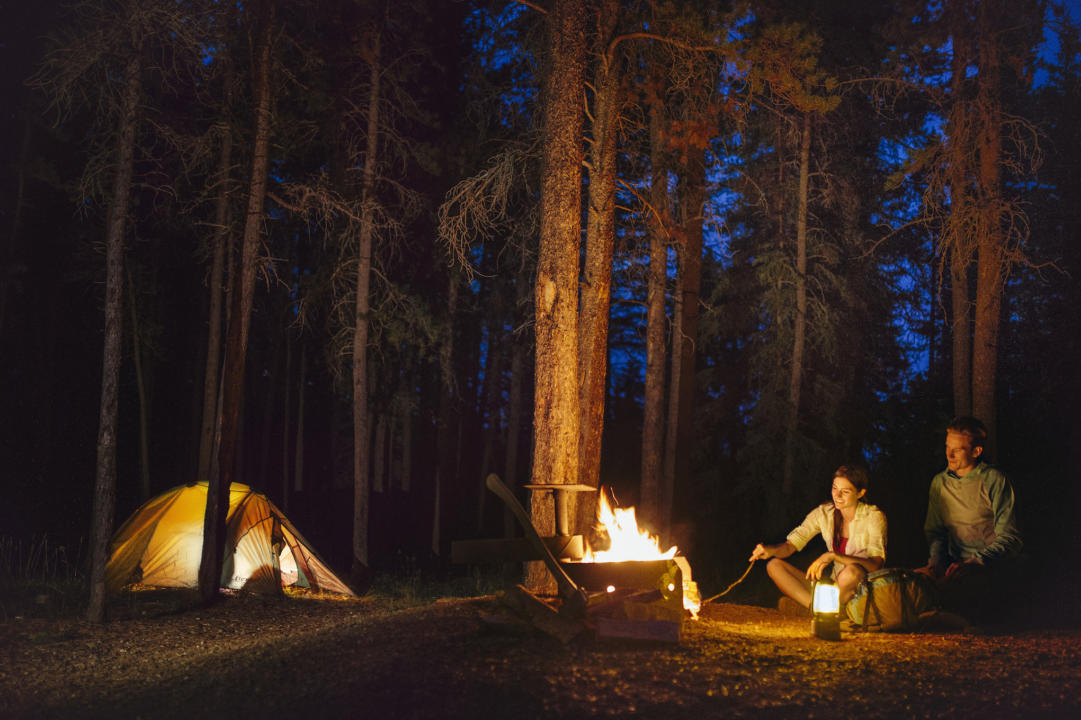 "Family road trips in Alberta offer an incredible diversity of scenery, experiences and seasons," Bart Donnelly, Business Development Director at Travel Alberta says.
"The road trip is a tradition here and a great way for a family to experience the province."
To the south of Calgary, you can absorb the history of the North West Mounted Police in Fort Macleod then head to the ancient buffalo hunting ground Head-Smashed-In Buffalo Jump.
East of Calgary are the Dinosaur Provincial Park (where kids can go on dinosaur digs) and The Royal Tyrrell Museum, which houses one of the world's largest displays of dinosaurs.
Then head west on the Trans-Canada (Hwy 1) to the resort town of Banff, to enjoy panoramic mountain views after taking the Banff Gondola up Sulfur Mountain to an impressive 2281- metre elevation.
Further north along the stunning Icefields Parkway (Hwy 93) you'll find the Colombia Icefield Glacier Discovery Centre, where you can board an Ice Explorer bus and cruise across the Athabasca Glacier.
The Jasper SkyTram is the longest and highest guided aerial tramway in Canada and offers up breathtaking views of six mountain ranges, glacial lakes, the Athabasca River, and the town of Jasper itself.
Best time to go: There's really no bad time to visit. The province is even chock-full of winter activities, including skiing, snowshoeing, winter wildlife tours, tubing, dog sledding and more.
Best for kids aged: Slightly older kids, aged 10 and up, will get the most out of this wild, rugged, adventure destination.
Mid-Atlantic
The US Mid-Atlantic region is filled with major metropolitan destinations, most of which are a short drive away from the next, and therefore offers a plethora of road-trip options.
Start from Washington DC, which is brimming with fabulous kid-friendly attractions, such as the National Air and Space Museum and American History Museum and monuments to famed US presidents Washington, Jefferson and Lincoln.
Take the scenic Baltimore-Washington Parkway. (MD 295) north to the Baltimore city of Inner Harbor, where you'll find a world-class aquarium, science centre, various boat rides and tours, as well as Fort McHenry, where the US national anthem 'The Star-Spangled Banner' was written.
Continue heading north to enjoy Delaware's seaside resort town Rehoboth Beach. Some guidebooks have named this 'The Best Family Beach on the East Coast.'
Its 1.6-kilometre boardwalk is full of eclectic restaurants, shops and various amusements, while the town's 2.6- kilometre beachfront is patrolled, offering plenty of opportunities to swim, paddle, surf, walk, or just soak up the sun.
In New Jersey, your family can explore a myriad of great beaches in places like Manasquan and Long Beach Island. Diggerland USA is a construction-themed amusement park where kids can control a variety of full-sized excavators, diggers and tractors that are modified for safety.
Continue on to New York City which is bustling with family-friendly museums (like the 185,000 square-metre American Museum of Natural History), cultural opportunities and attractions.
Best time to go: Best to avoid the North American summer as this region can be quite humid and the crowds flock to Washington DC and New York City.
Best for kids aged: Kids aged 6 and older will get the most out of this diverse, historical and
bustling region.
New England
Bursting with American history, New England is, like the Mid-Atlantic, puzzled together by small states all within an easy drive of each other.
"New England's winding roads and quaint towns make for some fantastic driving," Lori Harnois, Executive Director of Discover New England says.
"There are so many sites to visit along these drives – historical, cultural, adventure-packed – that families will find no end of fun things to do."
Start in Newport, Rhode Island, where your family can explore the fabulous, massive Newport Mansions. These huge house museums sit upon 35 hectares of gardens and parks and offer up lessons on 250 years of American History.
Just a short drive north takes you to Boston, Massachusetts, where you can dive into the earliest history of America's colonists and revolution along Boston's Freedom Trail, which links various historical attractions together along a walking tour.
The Boston Children's Museum, New England Aquarium and a boat tour of Boston Harbour are not to be missed. From Boston, head northwest into Vermont.
Take Scenic Route 100 Byway and enjoy farm stands, maple syrup farms and historic sites as you pass through the low, rolling Green Mountains. Conclude your driving tour in hip Burlington on the shores of Lake Champlain and check out the unique Shelburne Museum, Vermont Teddy Bear Company and Ben & Jerry's ice cream factory nearby.
Best time to go: To experience New England at its peak, go during autumn for stunning displays
of riotous fall colours.
Best for kids aged: You can find something for kids of all ages in this region.
Route 66
Arguably the most iconic of US road trips, the 'The Mother Road' was established in 1926 and covers 3,940 kilometres. While it passes through eight states, its best-known segment runs through New Mexico, Arizona and Southern California.
The route is littered with fabulous diners, classic motor lodges and motels, vestiges of Americana, and some truly quirky, unique and sometimes downright bizarre attractions. Many of these roadside amenities and attractions were models for the buildings and businesses seen in the animated film Cars.
From Albuquerque, New Mexico, head west on (of course) Route 66. Immediate highlights include the New Mexico Mining Museum and neon-lit Route 66 archway in Grants, and the El Rancho Hotel in Gallup, which was built as a headquarters for local movie productions in the heyday of Hollywood.
Arizona offers the town of Seligman, which was the inspiration for the town 'Radiator City' in Cars.
Another notable destination is the town of Williams. "This is a great town for families. It's a blend of an old western town mixed with a railroad town mixed with an old Route 66 town – and it celebrates all three of these phases of its history," says Austin Coop, Founder of the website Two Lane America.
Here families can also take a train into Grand Canyon National Park.
After passing through California's high deserts, families can check out the Fair Oaks Pharmacy & Soda Fountain in Pasadena, the Original McDonald's Site and Museum in San Bernardino, and the rides and restaurants of Santa Monica Pier.
Conclude your driving adventure with a trip to Disneyland to enjoy, of course, Cars Land where you can relive moments from the movie.
Best time to go: This region is a desert and summers can get scorching hot. So best to go early or late summer, spring or autumn.
Best for kids aged: Smaller kids will get a kick out of reliving all things Cars along the way, but they may get bored if you are driving too long each day. Be sure to break up the trip and stop
often.
Pacific Coast Highway
Probably the second-most notable drive in North America, after Route 66, is the fabulous 900- kilometre-long Pacific Coast Highway, or State Route 1 (SR1) in California. The route is the longest in The Golden State and hugs the coastline from San Francisco to San Diego.
First, enjoy San Francisco's kid-friendly attractions like Pier 39 and Alcatraz. Then head south to Santa Cruz, for the Santa Cruz Beach Boardwalk and its classic roller coasters, arcades and a historic carousel.
In Monterey, visit the world-famous Monterey Bay Aquarium and then the Carmel Mission and Mission Trail Nature Preserve in Carmel-by-the-Sea.
Further south, Big Sur beckons. This 145-kilometre stretch of redwood-covered coast is simply a gorgeous melange of bluffs, sea and sky. Camping grounds abound in the area, as do rustic cabins and a few luxury hotels.
Be sure to spend a day exploring the sprawling Hearst Castle as well.
Santa Barbara offers up some family-friendly beach resorts, as well as the Santa Barbara Museum of Natural History Sea Centre, and the MOXI science centre.
Conclude your family adventure in San Diego, which is consistently ranked as one of the Top Family Destinations in the US. It offers up 110 kilometres of beaches, the world-famous San Diego Zoo, SeaWorld San Diego and LEGOLAND California, and an array of family-focused hotels and accommodation.
Best time to go: Summer. While you can enjoy this drive any time of the year, the very best
time is definitely summer.
Best for kids aged: With enough stops along the way, any kids could have a blast on this trip.
READ MORE:
USA just changed their visa rules
The best places for kids in the USA
DC needs to be on your USA list
* Affiliate Disclosure: This post may contain affiliate links, which means we may receive a commission if you make a purchase through the links provided, at no additional cost to you. Thanks for supporting the work we put into FamilyTravel.com.au!