Under the assumption that McDonald's is the exact same everywhere in the world?
Guess what? Your assumption is very, very wrong.
Here are the weirdest and wackiest McDonalds foods in the world.
MALAYSIA
If you're heading to Malaysia, be sure to check out the famous McShaker Fries: specially made by shaking a bag of fries in seasoning.
Malaysia is also currently home to a Blueberry McFlurry and a Banana Crunch McFlurry.
Be sure to try the Salted Caramel & Chocolate pie.

ITALY
On the Italian menu, McDonalds has the famous McToast, as well as the Sweet Temptation Gusto Cioccolato and the adored signature Baci McFlurry.
NETHERLANDS
The famous Dutch Stroopwafel has been converted into a Mcflurry: and its pretty damn amazing. Netherlands also have the Caramel McFlurry, Red Fruit Meringue McFlurrys, and a make your own option.
JAPAN
The Japanese McDonalds menu is certainly one of the most bizarre, and they're notorious for their crazy fries.
Over the years they've tried Purple Sauce, ground pork Bolognese Sauce and Chocolate Pumpkin Sauce.
They are also home to the popular Matcha Green Tea McFlurry with crushed oreo cookies.
If you're heading to Japan, be sure to try the adored Ebi Burger, the Teriyaki Samurai Burger, the Yakki Shogayaki Burger, and of course, the famous Eggchi Egg Cheese Burger.
RUSSIA
On the Russian menu, you can find the Caramel Biscuit Brownie McFlurry and the Strawberry Chocolate McFlurry.
You can also try a Strawberry and Cream Cheese Pie, or a 'Big Shrimp'.
BAHRAIN

This Middle Eastern country has a bit of a wacky menu.
McDonald's in Bahrain has not only the Kitkat McFlurry and Jalepeño Cheese Bites, but it's recently introduced a Big Mac Ice Cream. Luckily for you, it's only 75 cents.
KOREA
Navigating the Korean McDonald's menu is a challenge on its own, let alone having the guts to try something on it. Check out the Egg Bulgogo Burger, the McSpicy Deluxe – or if you're brave – the Shrimp Beef Burger.
Wash it all down with some Double Choc Waffle Fries and a Strawberry Oreo McFlurry.
GERMANY
On the German menu, you'll find the crunchy Gitter-Kartoffeln Potato Fries with aour cream and chives dip. You can also try a classic McNürnburger; a Big Mac with three bratwurst sausages, mustard and onions.
For dessert, Germany has a Salted Karamell McFlurry, the Germknödel Donut, Apple Kiwi Slushies, a Strawberry and Cream Cheese Pie and a Rasberry Froot Loop McFlurry.

HAWAII
On the menu in Hawaii you'll find the mouthwatering Donut Sticks.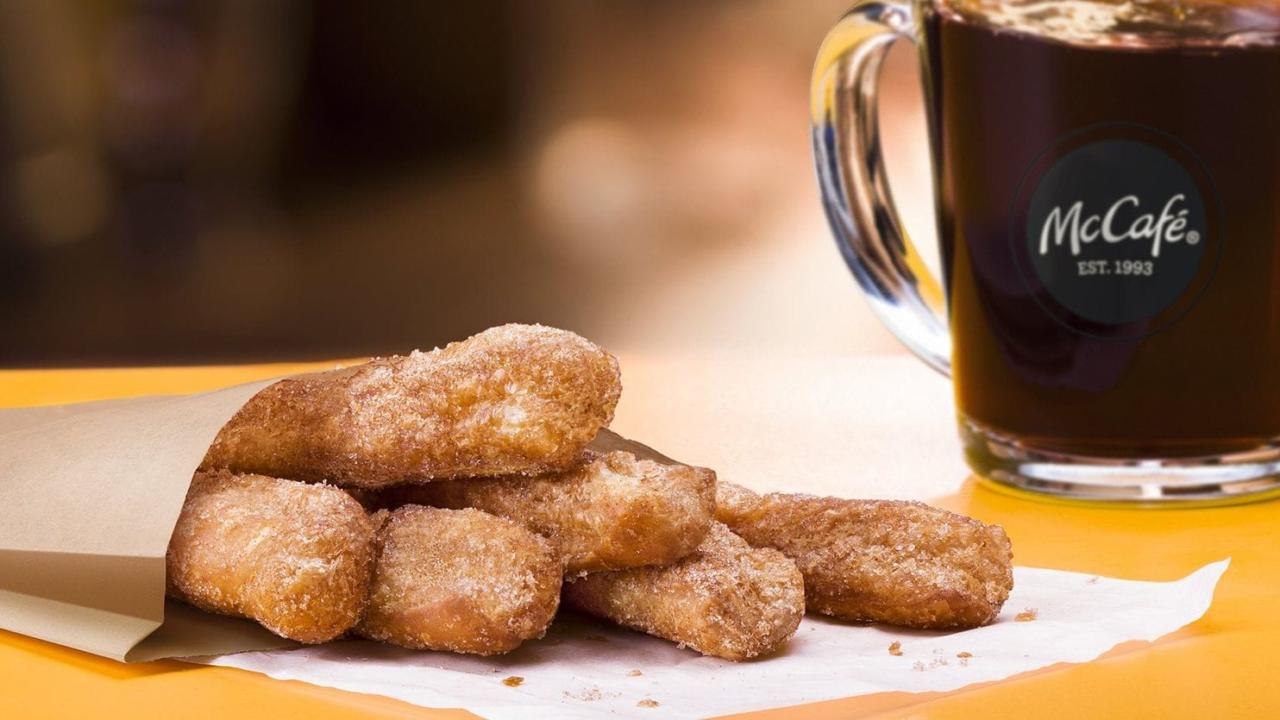 It's also worth trying the purple Taro Pie (an Asian root vegetable), and the Cheesy Bacon Fries.
NEW ZEALAND
You'd assume the menu of our Kiwi neighbours doesn't differ much to ours. But it's actually pretty different, and there are certainly some gems. Burger wise, NZ McDonald's has an Almighty Texan BBQ Burger, a BLT Bagel and a NYC Benedict Bagel.
They also have a thick Lime Shake, the Bubblegum Marshmallow Squash McFlurry and the Cadbury Caramello Egg McFlurry.
You can also give The Georgie a try, a classic beef mince and cheese pie.
CHINA
Of course, it doesn't surprise anyone that McDonald in China is a little strange. You can try the German Sausage Double Beef Burger, a bucket of the Crisscut Fries, the Taro Pie and a Bacon, Macaroni and Cheese Toastie.
There are also a range of rice dishes, including Congee with Chicken and Preserved Egg, as well as the Red Bean McFlurry.
LEBANON
If you're heading to a McDonald's in Lebanon, be sure to try the Fish Finger Sticks. They also have an amazing donut bakery, with Chocolate Filled, Boston Creme and Sprinkles Donuts.
SWITZERLAND
On the menu in Switzerland, you can find a Quinoa Curry Burger.
There's also a plain Ham and Egg meal.
Mcflurry wise; the Swiss adore the new Ovo McFlurry and the McFlurry Toblerone.
THAILAND
Thailand certainly has a range of unique options. On this McDonald's menu, you can buy a Samurai Pork Burger or some Macaroni Soup. Hot foods include Namtok Fish Rice and other variations, or you can simply purchase a single Fried Egg.
On the Breakfast Menu, (yes, breakfast), you'll find the Cheesy Spinach Pie, the Corn Pie, the Pinapple Pie and the Curry Crab Stick Pie. Thai McDonald's is also home to the Tiramisu McFlurry, for which we have heard no complaints.
FRANCE
Funnily enough, this fine-dining country is one of McDonald's, or MacDo's, most successful chains.
It's probably due to their ability to adjust the menu to the countries cultural eating habits. In France, you can buy Macarons or a McBaguette, and the restaurants are considered more 'tastfully decorated' than in other countries.
If you're a Pulp Fiction fan, you can purchase your very own Royale with Cheese. You can also order beer in McDonalds in France.
HONG KONG
This McDonald's puts a twist on a classic: the McSpicy Chicken. On the Hong Kong menu, you'll also spot the popular Twisty Pasta Breakfast Soup, and Sweetened Condensed Milk and Peanut Butter Thick Toast.
There's also a popcorn range that features Popcorn Cheesecake and Popcorn Latte's. In the past, Hong Kong has also been the home of Waffles with Taro Ice Cream.

INDONESIA
If you're heading to Indonesia for a McDonald's run, be sure to check out the Strawberry Cheescake McFlurry and the Coconut Charcoal McFlurry.

AUSTRALIA
For those who are interested to see how Aussie's add to the mix. Macca's is home to the Classic Angus Burger and the Gravy Loaded Fries. You also might choose to add a side of Vegemite to your Breakfast Muffin.
GREECE AND CYPRUS
Greek McDonald's boasts its very own variation of the gyro: The Greek Mac, a pita stuffed with beef, tzatziki and onions.
If you're after a meat free option, head to Cyprus for the Veggie Burger. Their menu has both the Halloumi and the Halloumi Bacon Muffin, the Strawberry and Custard Pie, the Cookie McFlurry and the Blueberry Cheesecake McFlurry.
INDIA
It shouldn't come as much surprise that nearly everything on the menu in India is spiced. Check out the Veg Magaraja Mac, the McAllo Tikki or the Spicy Rice Bowl.
At McDonald's in India, you can also find some Masala Scrambled Egg, as well as a Green Chilli Kabab Naan.
They also do a Brownie & Hot Fudge Ice Cream – thankfully un-spiced.
ROMANIA
The Sărbătoreşte Româneşte is a sweet cheese and raisin dessert, branded as just the same you mothers at home. Unfortunately, to a foreign audience, it doesn't quite translate. But we're still keen to try it.
SINGAPORE

A McDonald's breakfast experience in Singapore wouldn't be the same without a Red Rice Porridge with Shiitake Mushroom, Rice, Beancurd and Sweet Potato.
For dessert, you can try a Coffee Milk Tea McFlurry, a Strawberry Shortcake McFlurry, a Mudpie McFlurry, a Durian Crunch McFlurry, a Black Sesame McFlurry or a Matcha Oreo McFlurry.
Spoilt for choice.
SPAIN
Spanish McDonald's is home to the Grand Extreme Bacon Burger. Topped with gouda cheese, onions, applewood-smoked bacon and McBacon sauce – we've heard it's definitely worth a try. You'll also find the Bacon and Cheese Top Fries, and a complementary Gazpacho Soup with every meal.
MEXICO
If you're heading to Mexico, grab a McMollette. This breakfast meal includes warm bread, beans, tomato, cheese and salsa.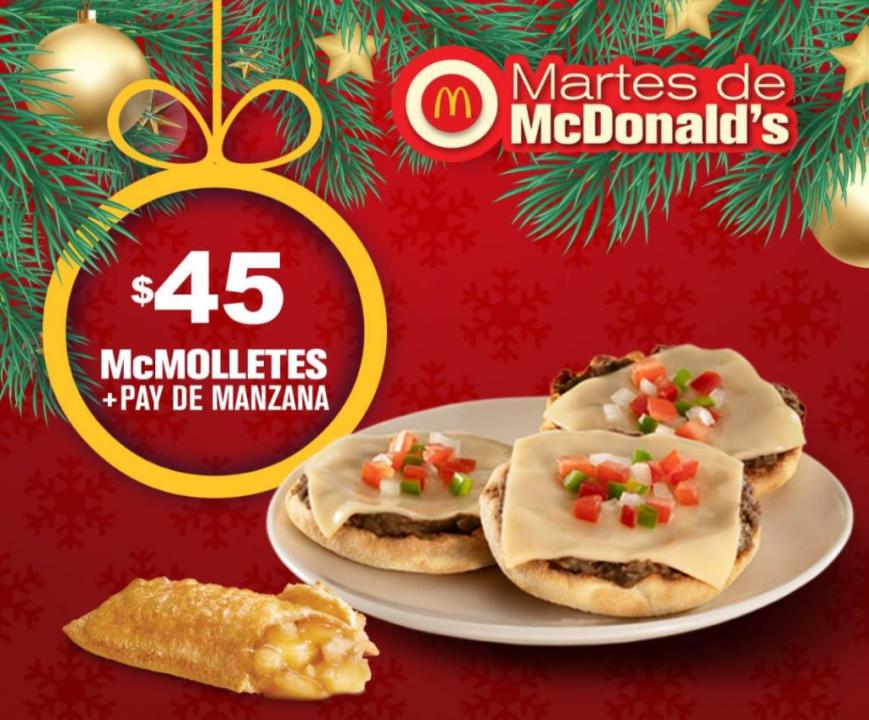 UK
If you're heading to Maccy D's in the UK, you might notice a slight variation of the Aussie menu. In true British style, you can pick up a Bacon Roll or a Chicken Legend – both essentially just glamorised sandwiches.
They also do the most spectacular Mozzarella Dippers: think chicken nuggets in which the meat is replaced with cheese.
Dessert wise, the UK has the Cadbury Crunchie McFlurry, Pancakes and Syrup, Cadbury Dairy Milk McFlurry and Cadbury Creme Egg McFlurry.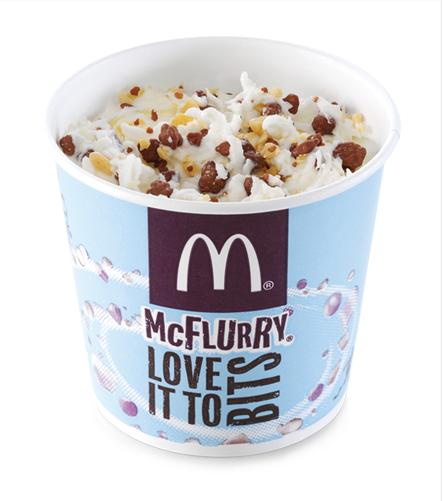 If you're heading further north to visit the Scots, you might score a McDonald's IRN-BRU.
SRI LANKA
In Sri Lanka, be sure to try the Omelette Burger or the Seeni Sambol Burger.
You can also grab a McRice with chicken, fish or vegetables, or a Veggie Burger.
SWEDEN
McDonald's in Sweden clearly caters for a more healthy audience. On the menu ,you'll find McFalafel Bites, Sweet Potato Fries, Hummus Chicken Salads and Chili Cheese Top Balls.

They also have a Daim McFlurry and a Pear Milkshake.

PHILIPPINES
For breakfast at McDonald's, or McDo in the Philippines, you can grab a Cheesy Omelette Bowl with bacon bits and mushroom slices.
For dessert, try a purple Ube McDip, a Strawberry Crispies Ice Cream and a Matcha KitKat Green Tea McFlurry.
To check out our gallery, click here.
* Affiliate Disclosure: This post may contain affiliate links, which means we may receive a commission if you make a purchase through the links provided, at no additional cost to you. Thanks for supporting the work we put into FamilyTravel.com.au!