"We're in the land of coconuts," screams Ziggy, 3, as he looks out the window of our Fiji airport transfer.
Coconut tree after glorious coconut tree flashes past, interspersed with a few stray cows, roadside pineapple stalls and two kids riding bare-back on beautiful spotty horses.
BULA! Welcome to Fiji.
Experiencing a new culture is like stepping into a whole new world. You will experience different languages, smells, colours, people, sights and sounds. A trip to Fiji gives you all that – within just a few hours from Australia.
Our little travellers, Marli (6) and Ziggy (3) spotted so many differences in the Fijian lifestyle on the drive to the hotel. And this is just the beginning.

Traditional Fijian Warriors beat drums and blow into a huge Conch shell as we arrive at Nanuku Auberge Resort. They offer us fresh drinking coconuts to quench our thirst as we seek out the cool of the hotel lobby. Thank you paradise!

We have six glorious days here in Fiji and we're keen to soak up as much culture as we can. We want the kids to taste local food, watch the local ceremonies and interact with Fijian kids. This exposure to difference is one of the reasons why we love to travel so much. No picture book or television show can replicate it.

One of the best ways to soak up a foreign culture is through food.
Once we'd settled into our resort, we enrolled in a hands-on cooking class. Our teacher took us to the market to find and purchase fresh produce. Local growers stood behind piles of local fruit and vegetables such as Taro (the potato of the tropics), Plantains (similar to a banana) and the Sugarcane plant.
Once we'd chosen our ingredients, we let the kids for it all with Fijian dollars.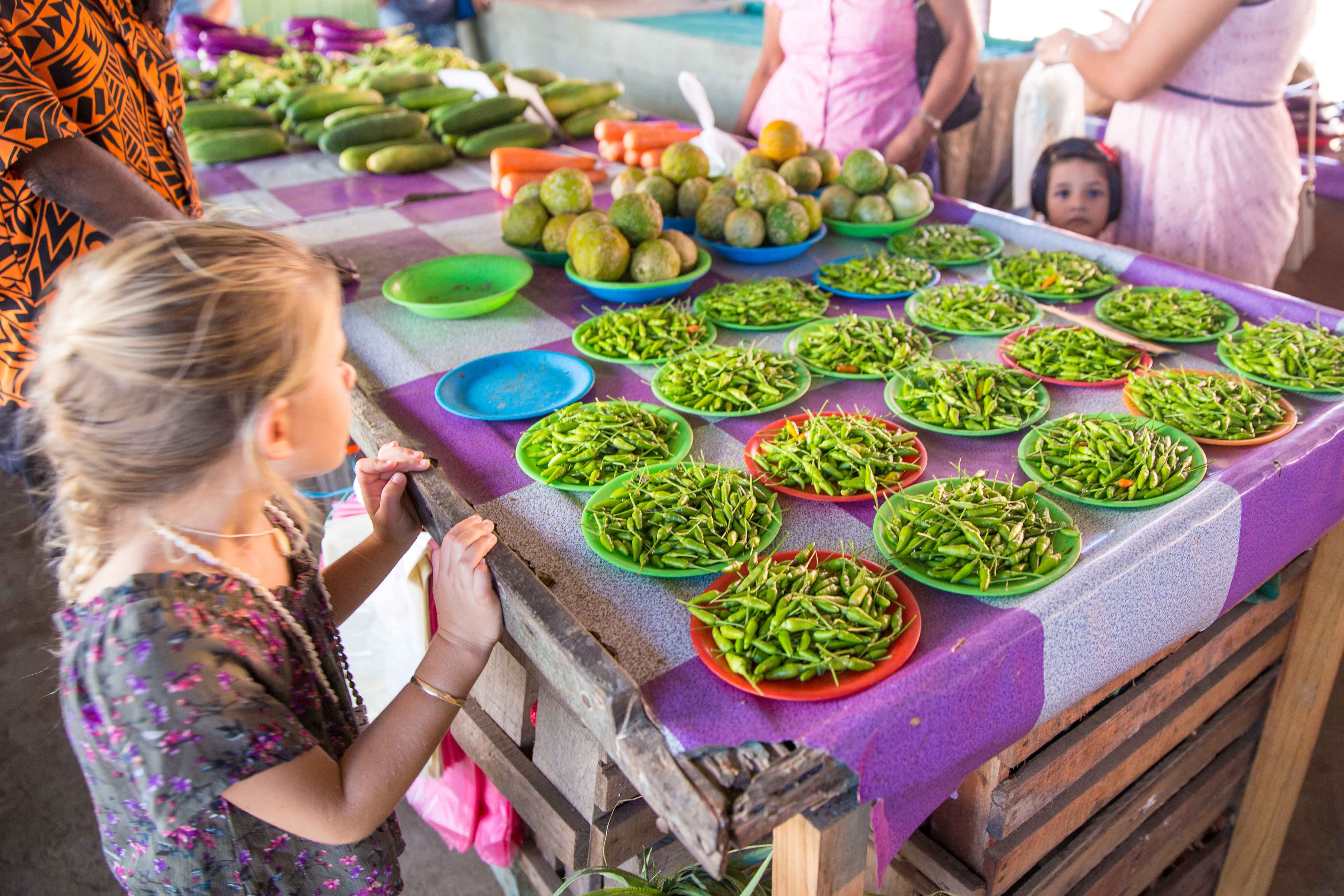 Fijian cuisine is fresh and wholesome. Our cooking class took place around the campfire. Each recipe we cooked was based around the 'Tree of Life', the coconut tree. Our favourite dish was fresh plantains cut open and cooked in a pot of fresh coconut milk over an open fire. Each one of us gobbled up this warm pudding faster than you could say, Bula.
As we ate our food with handmade coconut bowls and spoons we learnt all about how they use all elements of the coconut tree. Marli's favourite was using the leaves for basket weaving and skirt making.
At Kids Club, Marli and Ziggy made mini baskets and grass shirts from coconut palms. We found them happily running around on the beach using the baskets to collect hermit crabs. This was one of their favourite things to do while in paradise. Who needs toys when you have crabs!

To escape resort-life and see more of the real Fiji, we took off in search of a local waterfall.
To get there, we took a traditional long boat up the river. As we paddled past a local village, the kids waved to the kids who were swimming and fishing on the shoreline.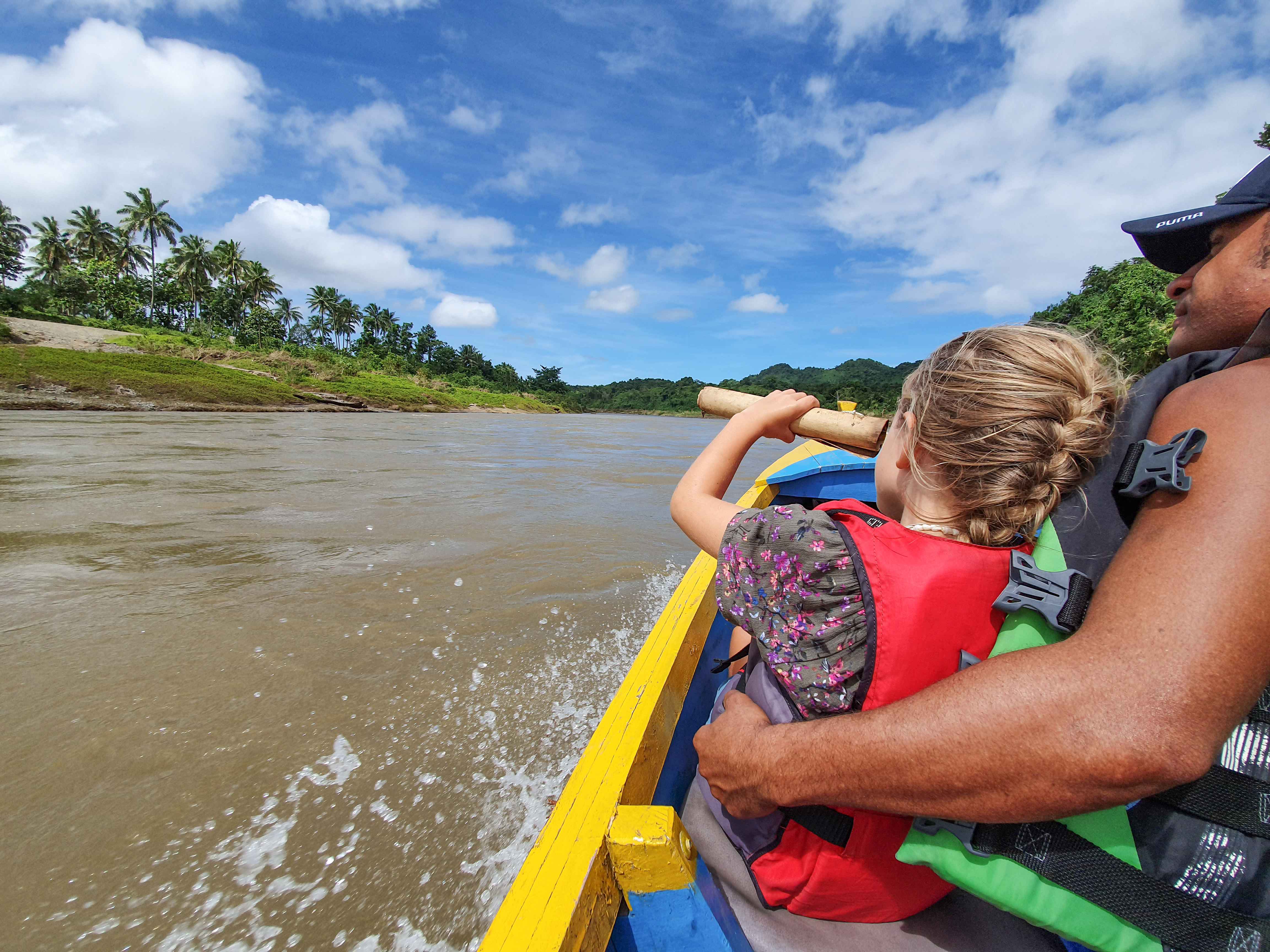 It was lucky we brought our reef shoes. The next part of the journey involved wading our way through small streams, sludgy mud and winding paths towards the falls.
The squelch was worth it. The waterfall was heaving off the cliffs thanks to some recent heavy rain. We all jumped in for a swim to cool off.
This was a great family-friendly adventure which gave us some time to step away from the comforts of our resort and spend some time together in nature, away from any mod-cons and phone reception.

Back in the resort, we took part in a Kava ceremony, went on a mud crabbing adventure into the Mangrove Forest and tried snorkelling off the beach. And of course, we spent a lot of time enjoying the pool – because everyone needs downtime, every now and them.
Vinaka Vaka Levu – Thank you very much, these experiences will stay with us always.
Fiji Island Guide- where to stay, how to get there
Fiji's best budget stays for bigger families
Tracy Morris is the mother behind the family travel blog www.theblondenomads.com.au. Tracy has a background in photography, marketing and writing and is now enjoying life on the road as she travels around Australia in a caravan with her young Blondie tribe. You can view their adventurous travels on social media via @theblondenomads.
* Affiliate Disclosure: This post may contain affiliate links, which means we may receive a commission if you make a purchase through the links provided, at no additional cost to you. Thanks for supporting the work we put into FamilyTravel.com.au!