J'adore. Lo adoro. Me encanta.
We all flock to Europe for our own reasons. But sadly, it's quite far from Australia. And it definitely needs planning.
Extreme heatwaves and intense cold spells can make or break a holiday. Same goes for long queues, soggy snow and just missing out on that event that you were dying to go to. It's just not worth the hassle.
Use this guide to see where you should go in Europe by month. Or have a read of our guide to the 5 best cities in Europe for families.
JANUARY

Canary Islands
The beginning of the new year in Europe means the wrap of the festive season. Christmas decorations come down and the party shoes go back in their box.
Most families love the idea of Europe. But a holiday at this time can be cold. It's hard to leave the Australian summer.
Never fear. You can still enjoy warm weather in Europe.
Run away to the Canary Island and you can expect year-long summers in Tenerife and Lanzarote. Take a hike, catch some waves or lap up the sun by the beach and poolside.


FEBRUARY

Switzerland
Don't worry ski bums, we haven't forgotten about you. February is the time of year that we don't just love the snow – we need it.
Race down Switzerland's world-class slopes for a season that just isn't comparable to anything the Southern Hemisphere can dish up.
Zermatt, Verbier or St. Moritz: expect great food, off-piste forest trails and marshmallows hot chocolates.
or Austria
Austria has great weather without sacrifice of good snow. Fluffy powder, vertical drops and varied terrain can be found in this Central European ski hub. Enjoy the amazing cuisine, excellent hospitality and premier slopes during the prime of February.

MARCH

Ireland
March in Ireland means sunshine pouring through windows from the moment you wake up. Join the Paddies in celebrating large scale this year for St. Patrick's day. Watch the colourful floats pass by or join in the marching yourself. Celebrations include festivals, cèilidhs and dressing in monochromatic green. Public parades across the country start as early as 9am.
or France
Finish off the snow-rich European season in the French Alps. Celebrated for their family-friendly resorts, the French mountains have some of the most sensational slopes and pistes in the world. If you're after some variation on your holiday, the Eurostar can get you to Paris in as little as 3 hours. The Winter breeze tends to calm down around March, so you can ease off on the coats and enjoy the city without crowds.
APRIL

Netherlands
In The Netherlands, spring means tulip festival season. The country comes to life with the first glimpse of spring. The streets and cities are filled with colour as the festival kicks off.
April is post the wrath of the summer tourist season, so it's mostly bustling with locals. You'll also be there for King's Day, the national holiday party which sees the Dutch celebrate their country with pride.
or Turkey
Boasting one of the longest summertime seasons, Turkey's Mediterranean climate and beautiful beaches are at their best in April. The crowds are few and the sunshine is strong.
Join the hospitable Turkish locals in enjoying the scenic summer views, Aegean coastline and most importantly – the kebabs.


MAY

Greece
The month of May sees the warm weather in Greece begin to settle. Unfortunately, the Summer months in Greece are overcrowded, so May is the perfect time to visit.
Try the classic islands of Santorini or Mykonos while they are still quiet, or head to Naxos for a more family-orientated getaway.
or Croatia
Croatia is a southeastern European diamond. Its popularity has risen at an alarming rate. And there's a good reason why. Croatia's spectacular island beaches and beautiful architecture make this gem of a country a little different from its Eastern neighbours.
Best enjoyed in the early Summer months, islands Split, Hvar, and Dubrovnik boast stunning scenery, great food and sandy blue beaches. The culture is rich and the people are lovely. And Game of Thrones was filmed there. Need we say more?
JUNE

Malta
This untouched jewel of an archipelago is at its prime in June. Fascinating history, blue lagoon beaches and adventure-packed activities: the fun is endless. Malta is one of the safest countries in the world, and it's smaller size means it's easy to get around. The unique African/Italian influence means spectacular food and eclectic culture. Learn to dive or lose hours in the swimming holes and waterfalls. All that sublimity without breaking the bank.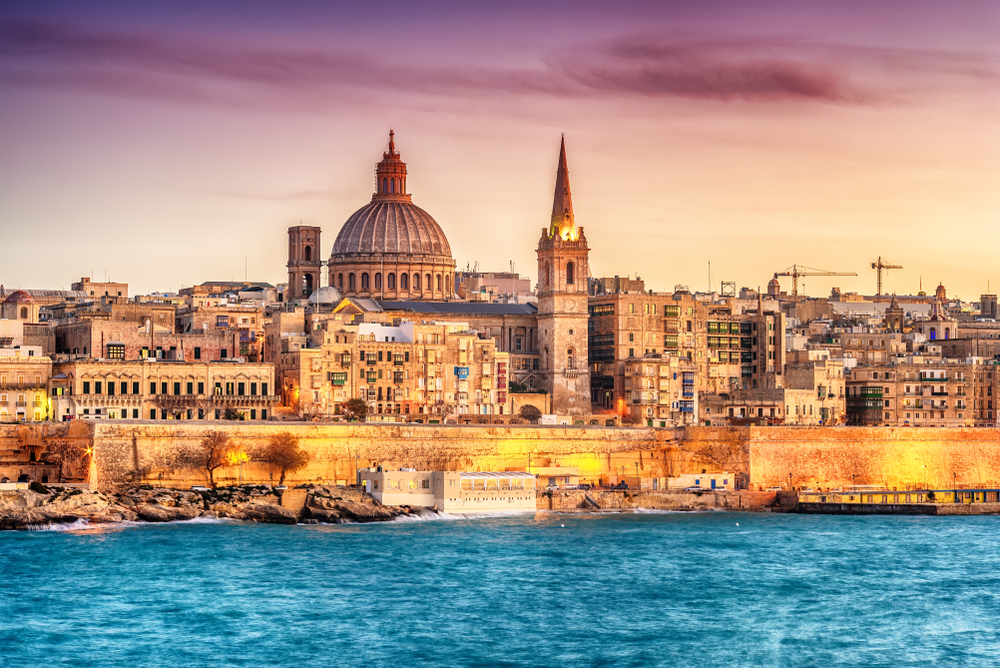 or Poland
The long winters in Poland mean it's often overlooked. But this Eastern Euro country comes to life in the summer months. It's a paradise for foodies and it's rich in history. The mountainous terrain makes hiking an attractive feat, and the coastline is surprisingly tropical. And you'll be enjoying it all alongside super friendly people.
JULY

Denmark
Blue skies, greenery and sunshine bring Denmark to life during summer. The Scandinavian winters have been known to freeze, so summer is welcomed with zeal by the Danish. Enjoy fine wine and dining on the banks of Nyhavn, or head to Skagen for a day by the seaside. The capital is also home to the famous Nordic restaurant Noma, where lunch averages at $500 a head.
or Portugal
Spain's younger sister has been growing rapidly in popularity in the past year.
Portugal has sandy white beaches and diverse cultural history. Ride the streets of Porto on a Vespa or spend all day lounging on a beach in Lagos. Seafood, sun and architecture, this southern European paradise has something for everyone. Kids can even learn to surf on the beaches of the west coast.
AUGUST

Spain
With Spanish summers come love and effervescence. Think long days on the beach, warm evenings and night markets. Tapas dinners and a jug of Sangria. Spain has a rich history, superb wine and beautiful people. When the sun is shining, there's no happier place. In August, the famous La Tomatina festival takes place. Join in the 20,000 attendants in Valencia as they fight to the death with thousands of toms.
or England
England comes alive in its warmer months. Patchwork hills, winding country roads and classical folklore forests. Sunshine in England means Cream Tea and strolls through Cotswold estates, lily fields and the Lake District. Head to Brighton (an hour from London) at the beginning of August for Europe's biggest Gay Pride Festival.
SEPTEMBER

Hungary
This spectacular Eastern European country is at it's prime in September. The unbearable crowds and temperatures drop, and this fascinating country comes to life. There's vivid nightlife and great shopping, and it's super affordable. Entertainment is profuse and the goulash doesn't get much better. This time of year there are many special programs on including the start of the new seasons of opera, ballet and theatre. The traditional thermal baths are still popular with locals and are definitely worth a visit.
or Corsica
This mountainous Mediterranean island boasts an eclectic mix of dense forests and stylish European coastal towns. It's owned by France, but retains a strong Italian culture: the best of both worlds. The country is home to renowned hiking trails, and the limited crowds and mild temperatures mean it's the perfect time to travel. Snorkel to your heart's content, learn to fish or bathe in the clear blue water. Corsica is also home to some damn good wine.


OCTOBER

Germany
There is of course no better time to visit germany than during Oktoberfest. The streets come alive with the sounds and colour of celebration during late September. Don't forget Tuesday Familientag, the family day which has rides, amusements and food stands. October is also a great time to explore the rest of this beautiful country while the sun is out the the queues are shortened. The radiant capital Berlin is also home to to fascinating WW1 history, art and an eccentric youth culture and nightlife.
or Morocco
If you're exploring the south, you may as well tick off a neighbouring continent while you can. It can seem daunting, but a side trip to Morocco is surprisingly easy. It's is one of the safer destinations in Africa, but without the sacrifice of authenticity. You can reach Morocco by ferry from Spain in under an hour, and you don't need a visa. The bright colours, culture and African food is super affordable and can even be explored in a day trip.

NOVEMBER

Norway
This delightful little Scandinavian country is known for its mountains and glaciers. But as a destination for one of the worlds most natural phenomenons, Norway is often overlooked. The Northern Lights over Nappstinden light up the Scandinavian sky between October and March. The polar nights and high latitude regions of Norway mean the Aurora is easier to see. It's certainly a big adventure, but also a trip you'll be talking about for the rest of your life.

DECEMBER

Scotland
Travel in the festive season: it's a great debate. Families tend to flock to home cities to visit loved ones. But for the vagabonds who aren't so fond of routine, there's a burning question. Who does Christmas best?
What better people to celebrate festivities with than the family-loving, kilt-wearing, passionate Scots? There's snow, comfort, and beautiful scenery. Wee's and cannae's. Roast turkeys and hot toddy's. Christmas lights, goodwill and a whole lotta love. You can also celebrate a memorable New Year during Hogmany. Torchlight processions, candles, family events and winter coats fill streets across the country with smiles.
or Italy
Winter coats and festive spirit – it's time to celebrate with good Italian food and good Italian wine. A winter holiday in this Italy means a full month of festivities. Kick off the season with Feast Day, and try spot your favourite monument covered in lights and tinsel. If you're lucky, you might score a visit from Babbo Natale. New Years Eve means The Feast of St Sylvester, where food, family and friends play a major role in ending the year with a bang.
For our Asia edition, click here.
For Europe's budget airlines, click here.
* Affiliate Disclosure: This post may contain affiliate links, which means we may receive a commission if you make a purchase through the links provided, at no additional cost to you. Thanks for supporting the work we put into FamilyTravel.com.au!