If you imagine an oasis in the middle of the desert, throw in a handful of skyscrapers, a few hundred Ferraris and make it rain money, that's essentially what Dubai is like. Okay, so it doesn't rain money there, but it is an extremely wealthy country. You can tell by the traffic. It's not the flashy sports cars themselves that give it away, but the way people drive them without a care of scraping the rims on the gutter.

Who flies there?
How to get around
Things to do in Dubai with kids
How to do Dubai on a budget
When to go
Where to eat
Where to stay
Fifty years ago, Dubai was just beginning to lay the foundations for a working city. Sheikh Rashid had only just discovered oil in 1966 and huge numbers of foreign labourers came pouring in by the boatload. Before the oil boom, life in Dubai was hard going. The harsh desert environment and scarcity of resources meant everyday came under a cloud of uncertainty. Emiratis lived in a constant state of struggle. Today, they live in excess. And visitors to the UAE capital will delight in experiencing a taste of it, even if it's just for a stopover.

Dubai is one of seven "emirates" that make up the United Arab Emirates. Abu Dhabi is another, but the rest are far lesser known. They include Sharjah, Ajmna, Ras al-Khaimah, Fujairah and Umm al-Quwain. The UAE has undergone a rapid and dazzling transformation in recent years. Its major cities are now known for luxurious hotels, massive shopping malls and towering skyscrapers. For kids, there's waterparks, aquariums, theme parks, ice rinks and desert safaris.

The metropolis that so suddenly and spectacularly emerged from the oil boom is a must-see. It really is more than just a stopover, but we recommend staying for 3-5 days. Any less and you'll be wishing you had more time. Any longer and you'll see your bank account start to dip dramatically.

Who flies there?
The largest airline in the Middle East, Emirates operates more than 3,600 flights every week from the hub in Dubai. The impressive fleet of Airbus A380s and Boeing 777s fly to 161 countries worldwide.
For many families, Emirates is the airline of choice for flying long haul. It has a stellar reputation and clean safety record. It's also well-known for looking after kids, offering activity packs, simple meals and even fluffy flying companions.

Other airlines that sometimes require a Dubai stopover are Qantas, Singapore Airlines, Cathay Pacific, British Airways and Air China.
How to get around
The public transport system in Dubai is super efficient and relatively cheap. You'll need a NOL card as cash is not accepted when you board. There are four different types of NOL cards but the two you'll most likely use are the Red and Silver. A Red Card can be pre-loaded with funds and is charged on a per-trip basis. The Silver Card costs AED$25 per day (approx. AU$10) and allows you unlimited rides.

Buses in Dubai are comfortable and air conditioned. Prices vary depending on your trip duration but a one way trip will likely cost you AED$2 (approx. AU$0.80).

The Dubai Metro has two operational lines, Red and Green, and another currently under construction. It's the fastest way to get from one place to another. The Metro is an easy way to get to the city from the airport. Popular attractions including the Mall of the Emirates, Burj Khalifa and World Trade Centre each have dedicated stops on the Metro.

Taxis are fairly inexpensive in Dubai. Every trip is metred, unless organised prior for a longer trip. Traffic can be dire during peak hour, so try to plan your day to avoid the pre- and post-work rush. If you download the Smart Taxi app, you can book the nearest taxi based on your location.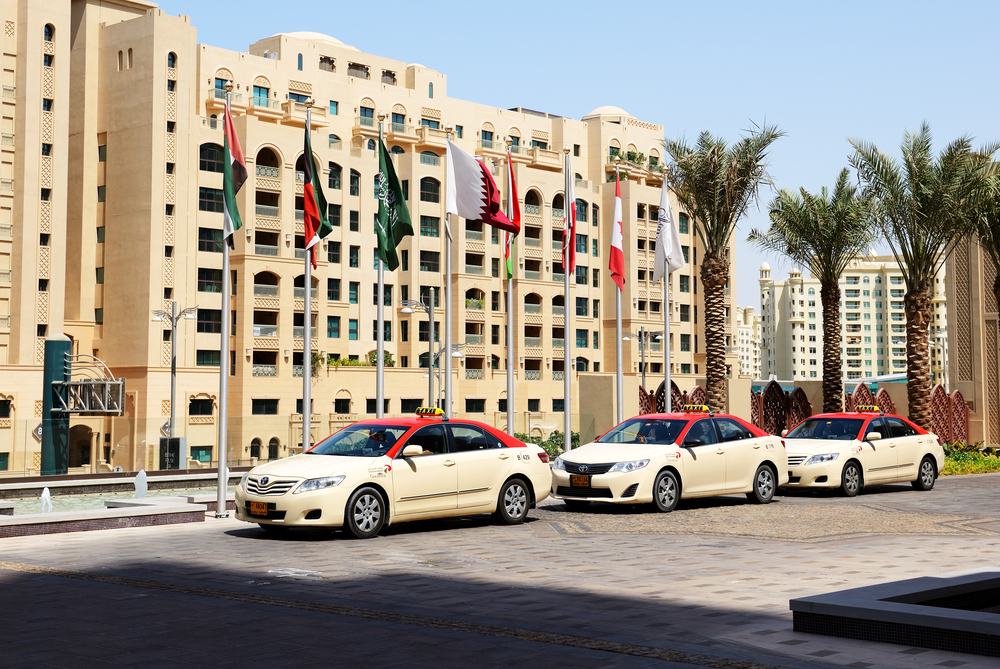 Uber is a common way to get around. Those who use the service at home will enjoy the familiarity and convenience of not having to fiddle around with cash transactions. The cars are also a very high standard. You'll likely be cruising around in a Mercedes or Audi.
Careem is another ride sharing service that is slightly cheaper than Uber, but the vehicles aren't as fancy.

Things to do in Dubai with kids
Visit the waterparks

Dubai rarely reaches temperatures below 25 degrees celsius. The average is closer to 30. But it's easy to stay cool in the hot climate thanks to Dubai's variety of water parks.

Aquaventure is part of the enormous Atlantis The Palm resort complex. It's the biggest waterpark in Dubai, and is set to grow even bigger with plans announced for 12 new waterslides in the coming years. One of the coolest rides is a water slide that shoots thrill-seekers through a pool of sharks. Those who prefer to keep their adrenaline levels a little lower can enjoy an up-close encounter with a dolphin at Aquaventure's Dolphin Bay.

The waterpark at Legoland is also worth a visit. Most families spread their visit to the parks over two days. One exploring the theme park with its six themed lands and 15,000 LEGO models. The second is spent at the waterpark, building and floating down the river in their own raft and taking on the 20 waterslides. According to the official website, LEGOLAND is best suited for kids aged 2-12 but anyone with a sense of fun and adventure will have a ball at the parks.

Another great option for older kids is Wild Wadi Water Park. In the popular area of Jumeirah, Wild Wadi has 30 epic rides and attractions that scale from calm and relaxing to down-right heart racing.

Aquafun at the Beach is an inflatable obstacle course that floats on the water with slides, climbing walls and trampolines. If you're holidaying with little ones in tow, take them to the Splash Pad. The fountains, tipping bucket and climbing frames will keep them entertained for hours.

Go dune bashing in the desert

Thrill-seeking families can also spend a day in the desert dune bashing, riding camels or skiing and boarding down the powdery sand. Plenty of day tours are available for families. You can book a private guide or save a bit of coin and join a group tour. Most tours will include transfers to and from the desert, activities once you get there and lunch.
To keep the desert experience going, you can stay overnight in a safari tent and soak up the Dubai night sky. In the morning, take a sunrise camel ride across the sand for some epic photo opportunities. It'll be a highlight of your Dubai stopover experience.

Explore historic Dubai

It's not all futuristic skyscrapers. For a glimpse of traditional Dubai, visit the Al Fahidi Cultural Neighbourhood and the Gold and Spice Souks. The colours and smells are extraordinary. You can also visit Dubai Museum or take a guided cruise on a traditional Dhow boat and learn about the city from the river.

See Dubai by night

Don't miss the dazzling choreographed water and light show at the Dubai Fountain, under the shadow of the Burj Khalifa. Water shoots as high as 140 metres into the air and can be seen from more than 30 kilometres away.
Another popular evening activity is to jump onboard a Dhow boat and enjoy a dinner cruise on the water. At least a dozen boat companies offer these dinner cruises, departing from Dubai Marina. Expect a two-hour round trip with dinner, drinks and entertainment included.

Have an animal encounter

At Atlantis The Palm, the Lost Chambers is a series of aquatic mazes that provide homes to more than 65,000 incredible fish and marine animals. Keep an eye out for black tip reef sharks, Arabian rays and colourful jellyfish.
Young animal lovers will adore Dubai's fascinating animal parks above and below the water. For an adventure under the sea, head to Dubai Aquarium and Underwater Zoo. Put on a brave face as you walk through the enormous underwater tunnel in a shark and ray-filled tank.
For a close-up encounter, visit the Dubai Dolphinarium, home to six bottlenose dolphins, Fur Seals and a variety of exotic birds. Catch the daily shows, feeding sessions and stick around for a photo opportunity.

Try your dream job at KidZania

Take the kids to KidZania, a kid-sized mini city with its own school, fire house, hospital and bank. Here the kids can dress up and take on their dream adult jobs to find out what it is like to call the shots as a firefighter, doctor, mechanic or policeman. KidZania is inside The Dubai Mall in downtown Dubai.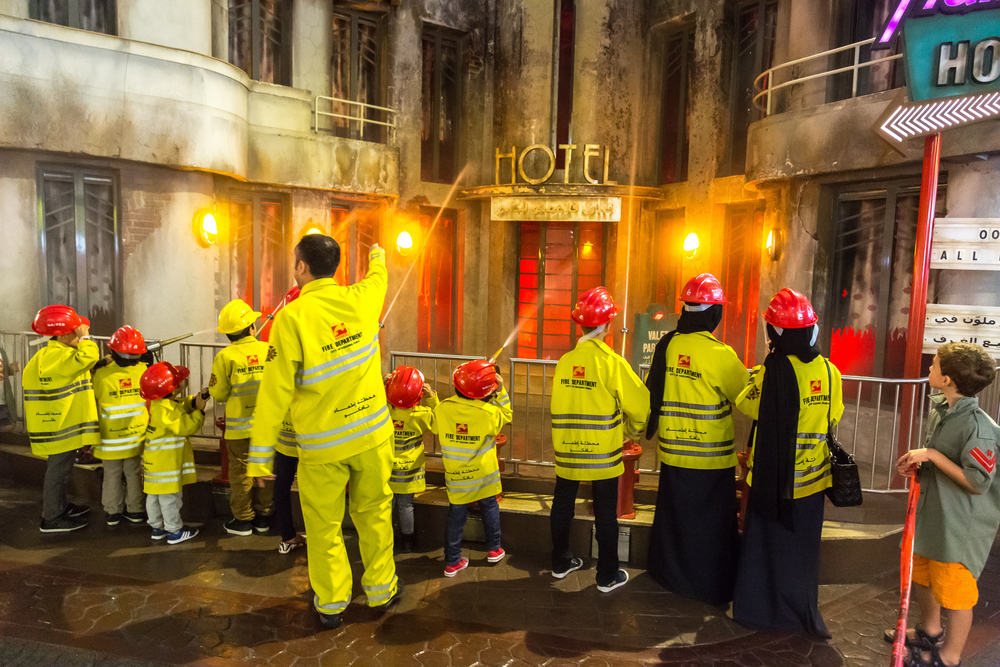 Get outdoors

Hire some bikes and explore the cycle park at Nad Al Sheba. Perfect for younger cyclists, the 850-metre children's track is equipped with street signs, speed bumps and roundabouts. The park also has an excellent playground for when they're all cycled out.

Dubai Creek Park is another top spot to enjoy the fresh air. Along with the usual swings and climbing frames, kids can rent a bike, ride a camel or zoom across the park in a cable car.

Stay indoors

Escape the heat at Bounce in Al Quoz and Jump Boxx in Mirdiff – two enormous indoor trampoline parks that will have you bouncing, quite literally, off the wall.
Want to go higher? Try sky-diving, sort of. At iFLY in Mirdfid City Centre, you can simulate a real free-fall skydive. Daredevils will be swept up by the ultra-fast airspeeds in the vertical wind tunnel.
Prefer to keep your adventures on ground level? Check out Ski Dubai in the Mall of the Emirates. It's the world's largest indoor snow park where kids can toboggan, tube, ski and snowboard down the man-made slopes.

How to do Dubai on a budget
With its reputation for extreme luxury, there's a surprising amount of free fun to be found in Dubai.

Kite Beach is one of the city's best beaches. Dig in the sand, paddle in the water, watch the kite surfers, check out the children's play areas and soak up the epic views of the Burj. Stroll along the illuminated walkways along the Dubai canal and visit the Dubai Mall fountain to catch the free water and light show every evening.
Even if you're not on the hunt for gold, Dubai's Gold Souk is worth visiting just to window shop the glittering maze of market stalls.
The landmark Jumeirah Mosque is the only mosque that welcomes non-Muslim visitors (for a very modest entrance fee) and there are free guided tours of the interior available from the Sheikh Mohammed Centre for Cultural Understanding.

When to go
Temperatures in Dubai are fairly high year round with very few days on rain. The best time to visit Dubai is from December to March, when temps peak at around 35 degrees and cooler evening winds offer a little relief. The idyllic weather draws the crowds so expect beaches to be busy and accommodation prices to jump.

Temperatures from May – October are fierce with highs in the 40's. The extreme heat makes outdoor activities very unpleasant. Fortunately, you can find everything from shopping and dining to theme parks and swimming pools in the blissfully air conditioned indoors.

Where to eat
Emirati cuisine is a delicious blend of Indian, Eastern Mediterranean and Persian flavours. While Dubai has its fair share of fine-dining outfits, there are plenty of local dishes to try that won't break the bank.

A few staples are fish curry, hummus and falafel, and the breakfast favouritw, shakshouka (eggs poached in tomato). Muslim is the dominant faith in Dubai so pork is not served in major restaurants, though other meats are readily available. Camel meat is particularly popular as well as Shawarma, spicy meat served in a wrap.
Travellers with a sweet tooth can tuck into sweet and sticky baklava and dibs (sticky date dumplings).

Fussy eaters will be pleased to know that western cuisine is readily available, especially within the many resorts.

For a special experience, put on your Sunday best and enjoy the highest tea you can imagine. 122 floors high in fact. Atmosphere is a restaurant at the top of the Burj Khalifa building that hosts an exceptional high tea, overlooking the sprawling city of Dubai. Afternoon Tea at Atmosphere will set you back AED503 per person for a table by the window. If you're just there for the treats and aren't fussed about the view, a non-window table is AED430 per person.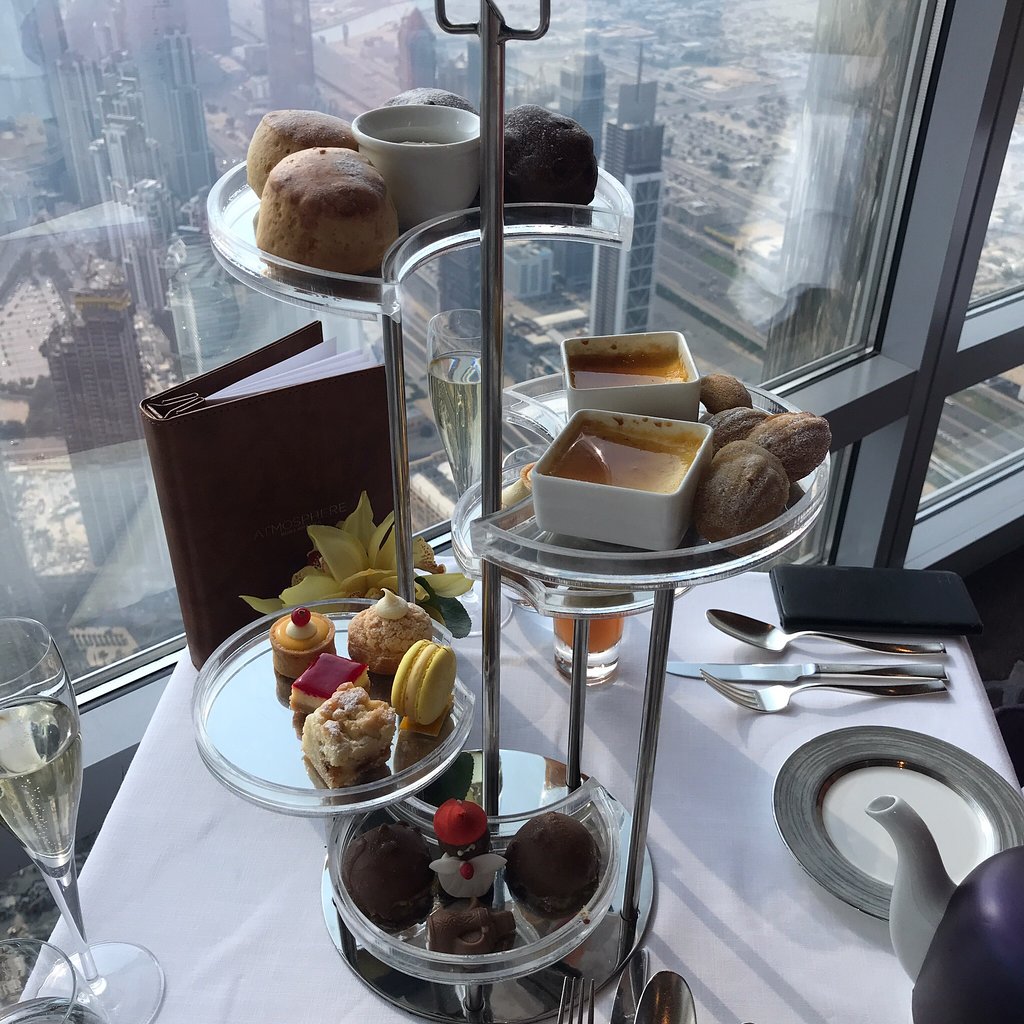 Where to stay
Atlantis The Palm
Dubai's Atlantis The Palm is a legendary 5-star resort that absolutely nails high-energy family fun. Built on the tree-shaped Palm Island between the glamourous Dubai cityscape and the Arabian Sea, Atlantis is also home to Aquaventure Waterpark and The Lost Chambers Aquarium. Staying here gives you full access to both.
Grown-ups will be amazed by the indulgent facilities and impeccable service and the kids will go mad over water-slides and marine creatures galore! The buffet breakfast is also next level!
Jumeirah Beach Hotel Dubai
Shaped like an enormous wave on the shores of the Arabian sea, Jumeirah Beach Hotel is one of Dubai's most instantly recognizable buildings. This luxurious hotel offers a two kilometre stretch of private beach and unhindered views of Burj Al Arab Jumeirah.
Novotel Suites Dubai Mall of the Emirates
Affordable, high quality and centrally located, Novotel Suites Dubai is a great option for families wanting to stay in the middle of the action. The property is a short walk from the Mall of Emirates, which is brimming with shopping outlets, cinemas, Magic Planet arcade games and even an indoor skiing experience. Take the free shuttle to the beach or hit the theme parks with a 2 Park Pass included in your stay.
READ MORE
12 things local kids say you need to do in Dubai
How to do an Abu Dhabi stopover
Your vote: The best airlines for families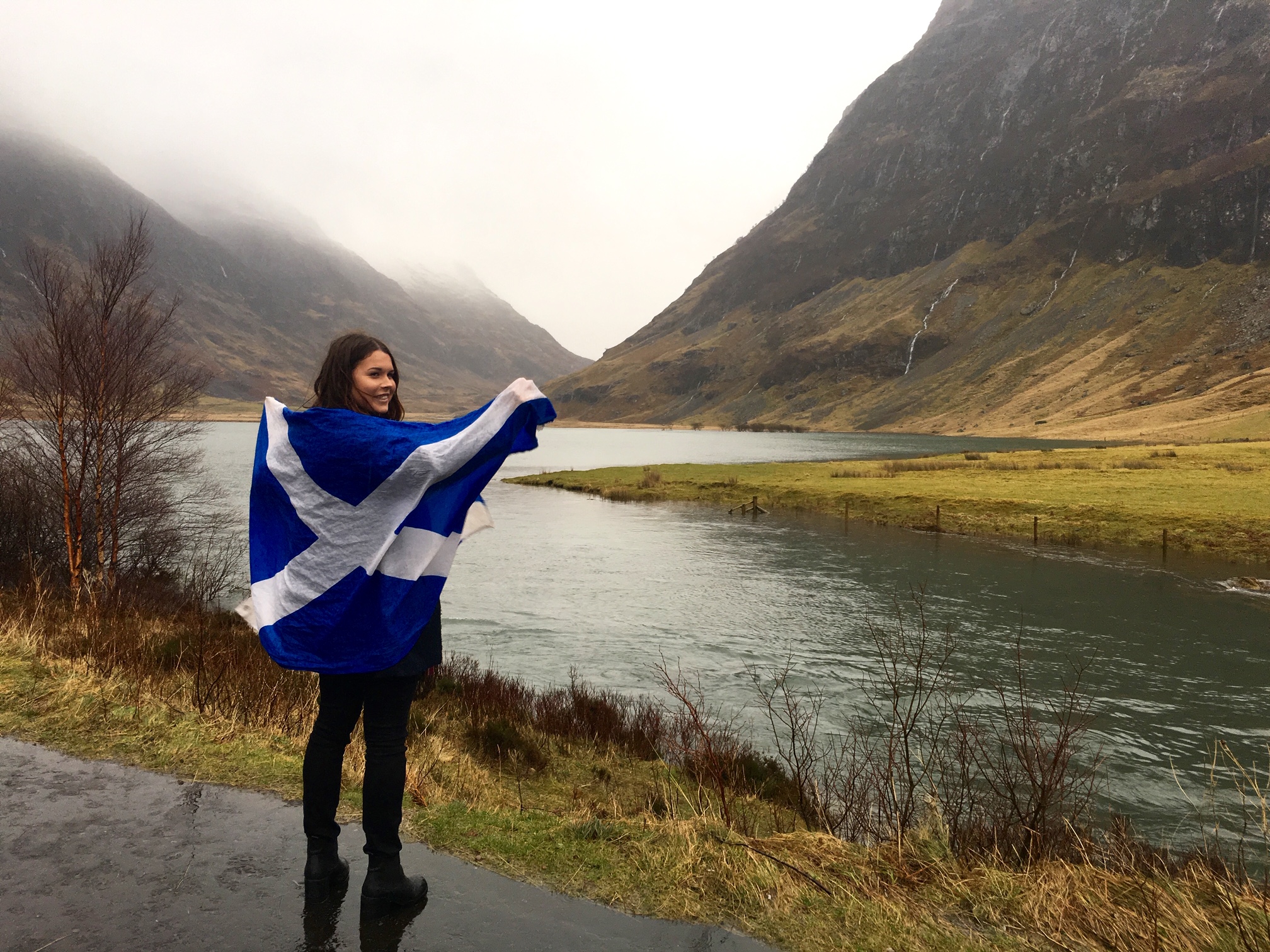 I was blessed with parents who really saw the value in travel. After our first family trip abroad to Thailand, I became obsessed. I was hungry for anything new and different. I yearned to be in the middle of a city on the other side of the world with a suitcase in one hand and google maps in the other, stumbling around trying to figure out where I was going; literally and spiritually.
* Affiliate Disclosure: This post may contain affiliate links, which means we may receive a commission if you make a purchase through the links provided, at no additional cost to you. Thanks for supporting the work we put into FamilyTravel.com.au!