Its large shallow lagoons are dotted with coral bommies and its dramatic hard-coral drop-offs glisten in the amazingly clear water. With spectacles like that, the Cook Islands are great fun to dive for all levels of ability.
The Cook Islands is also a bit of a crowd-pleaser. It has fun resorts like the Rarotongan and the Edgewater Resort for families, where you're bound to find lots of teens to hang out with (most of them Kiwi).
Now that Jetstar flies directly from Sydney to Rarotonga, it's even easier for Aussies to get there.
The islands are surrounded by a hard coral reef, and their position in the middle of the Pacific Ocean, surrounded by deep water, means that you're guaranteed at least 30m visibility – even after heavy rain.
There are no traffic lights, no rush hour and it takes about 45 minutes to drive around the island. One bus service will take you clockwise around the island and the other takes you anti-clockwise. Simple.
Read more: 5 South Pacific islands you should try
The shallow lagoon opposite the Rarotongan Resort is arguably the best snorkelling spot on the main island of Rarotonga, and it's a great place to learn how to dive, being only about 3m deep and incredibly pretty. Big Fish Dive Centre are just across the road, and they can provide you will all the gear and training you'll need.
Once you've mastered the shallow lagoons, head out to Coral Garden, Edna's Anchor and the Tupapa Sand River where you'll spot turtles, moray eels and incredibly friendly triggerfish that seem to want to photo bomb you constantly.
Aitutaki is the Cook Island everyone's seen photos of – that one with the impossibly beautiful large turquoise lagoon surround palm-fringed desert islands. If you want to dive inside the lagoon, Dive Centre Bubbles Below can provide you with equipment, and you can join any island-hopping tour to places like Honeymoon Island, where you'll find a giant clam garden.
Bubbles Below can take you to sites like Arutanga Passage and Black Rock, where you'll spot reef sharks, turtles, schools of eagle rays, friendly humphead wrasse and even friendlier Emperor Angelfish.
3 things to do in the Cook Islands with teenagers who don't scuba dive
1. Explore Muri Lagoon from above the water
Muri lagoon is a perfect spot for families and one of the best beaches in Rarotonga. The shallow waters of this lagoon aren't the best for diving, but teens will enjoy kayaking or paddle boarding across to Motu (Island) where they can go hunting for crabs, make teepee's out of palm tree fronds & climb coconut trees.
You can also take a cruise on Muri Lagoon where teens will enjoy the traditional entertainment with plenty of music and lots of opportunities to snorkel.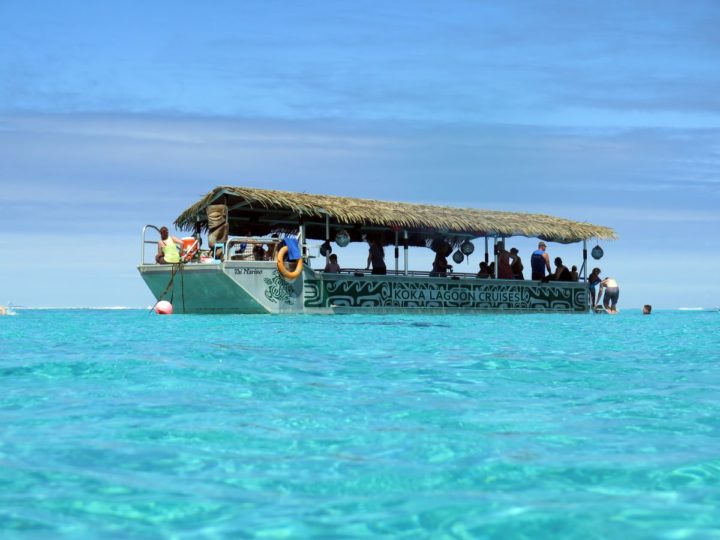 2. Take an eco-bike tour to explore the island
Families who love riding bikes will enjoy Storytellers Eco Cycle Tours "Discover Bicycle Tour". The half day tour is done at an easy pace with stops to taste fresh produce and listen to interesting stories about island life.
If you're travelling with younger kids, they also have a tow-behind buggy, child seat, trail-behind bikes and kids' bikes that you can use, families with kids of any age can enjoy peddling along the coral backroads of Rarotonga.
3. Ride the semi-submersible Raro Reef Sub
Teenagers who want to experience the underwater world, but who don't scuba dive will love the Raro Reef Sub cruise. The semi-submersible vessel lets you explore the outer reef of Rarotonga and is a great way for the kids to see large pelagic fish, turtles, sharks and even whales. The tour lasts for around an hour and a half and takes you around the RMS Maitai shipwreck and to places that are usually unreachable with kids.
And sustainability-conscious teens, this experience ticks another box because a percentage of the trip goes toward local conservation.
More ideas and inspiration for scuba diving with kids
Things to do in Fiji with kids
Things to do in the Great Barrier Reef with kids
Kids picks: 5 awesome things I did at Kids Sea Camp in Bonaire
Things to do in Vanuatu with kids
Janeece Keller is the founder and editor of Family Travel. She mostly travels with her husband and two young kids. She has a large blended family that lives in Australia and Europe. She has visited 52 countries and lived on 3 continents. From camping to luxury resorts Janeece tries to make sure her family has diverse holiday experiences each year. She is an avid hiker and ocean swimmer who loves good food, margaritas and heading off the beaten path.
* Affiliate Disclosure: This post may contain affiliate links, which means we may receive a commission if you make a purchase through the links provided, at no additional cost to you. Thanks for supporting the work we put into FamilyTravel.com.au!