Ultimate guide to things to do in Vanuatu with kids
Vanuatu is a wonderful destination for kids – who will be cherish by the locals and have countless activities to undertake across the islands. Vanuatu is home to isolated natural beaches, world-class underwater explorations, impressive natural phenomena, and unique cultural experiences. There are contrasts between the resorts and upbeat rhythm of Port Vila to the traditional untouched village life of the more remote islands. Now is the perfect time to visit Vanuatu – less crowded and tourist-heavy than many other Pacific destinations – the islands abound with unblemished beauty and ingenuity.
The kids will love
Port Vila
The liveliest town in Vanuatu, Port Vila is full of interesting tours and adventure activities. The town is upbeat and features markets, restaurants, resorts and many activities to entertain all ages. Great sites include the Mele Cascades, natural pools and waterfalls, Ekasup Cultural Village, and the National Museum of Vanuatu featuring traditional culture.
Tanna
This beautiful island is home to undisturbed natural landscapes and phenomena – secluded beaches, rainforest and hot springs; marine and wildlife sanctuaries run by local chiefs and traditional village life. A top feature is the captivating active volcano, Mt Yasur. The volcano is best explored with a guide, but you can also walk (about 45 minutes) or join a group vehicle travelling to the site.
Luganville and The East Coast Road
Luganville is a great base for taking adventure activities across the island Santo – particularly diving and snorkelling. The East Coast Road, linking Luganville and Port Olry is an idyllic road trip – great for a day trip or spending a couple days staying at the secluded family-friendly beaches across the coast. Be sure to stop at Oyster Island for its welcoming family vibe and Champagne Beach for its turquoise waters and impromptu souvenir markets.
Best time to travel
The best time to visit Vanuatu is between April and October. The tropical climate means beautiful beaches, landscapes and temperatures between 18 and 28 degrees throughout these months. The busiest time for tourism is late May to July, coinciding with the Australian and New Zealand school holiday. It is best to avoid these times, where possible, and visit between August and October – crowds will be lower and better deals are available on accommodation and flights.
November to March brings cyclone season – it is advised to avoid travel during this period as transport is often delayed and weather conditions can be rough and dangerous.
Things to do in Vanuatu with…
Children are loved in Vanuatu, are welcome everywhere and will be cherished by the locals. Port Vila is a great destination for young kids – there are plenty of activities and safe beaches to explore, as well as family-centric resorts with kid's programs and playgrounds.
Kids will love exploring the adventurous island, Tanna, full of serene and impressive untouched natural phenomena. The active volcano, Mt Yasur, hot springs, and traditional wildlife sanctuaries are among the highlights of this adventure-rich island.
Teenagers will be entertained across island Santo. More advanced snorkelling and diving courses are available at town Luganville, and the impressive natural landscapes across The East Coast Road will be truly appreciated by older kids.
Surrounded by mountains, northern Thailand holds an almost mystical appeal. In Chiang Mai, Thailand's second largest city, you'll find heaps to see and do. The city is home to more than 300 fascinating temples and eye opening traditional practices, plus the fascinating Walking Street Markets, where teens can stock up on trinkets and cheap clothes. And while the pretty moated city offers rich history, culture and tradition, it is also home to some of Thailand's most teen friendly resorts. It is also an excellent base for visiting the mountains and for exploring neighbouring forests, rice fields and national parks for bamboo rafting, white-water rafting and trekking.
Not too far from Chiang Mai is Chiang Rai, a culturally diverse region that is home to Thailand's minority Hill Tribes. Here you'll find a more traditional Thailand, and visiting families can even enjoy a homestay with a hill tribe family for the ultimate in cultural immersion.
Getting around Vanuatu
Boat: Passenger boats run between most islands. There are two main companies, Big Sista and Vanuatu Ferry, which run between destinations weekly. Children travel for half price with company Big Sista.
Bus: Minibuses operate in Port Vila, Luganville and Malekula. These operate in a communal taxi-fashion, picking up passengers and travelling directly to their destinations.
Taxi: Taxis in Port Vila and Luganville are usually sedans and on all other islands and areas, are 4WD trucks with open-air trays on the back. Fares are dependent on distance and road conditions. It's recommended to ask for the approximate fare to a destination before setting off. Fares are usually reasonably cheap, but when crowds from cruise-ships are in port, prices can hike up to 2 or 3 times the regular fare.
Car: Small cars and 4WDs are available for hire in Port Vila and Luganville, and are inexpensive. Insurance is added to the cost of hire for a small extra fee. Maximum speed limit does not exceed 50km/h.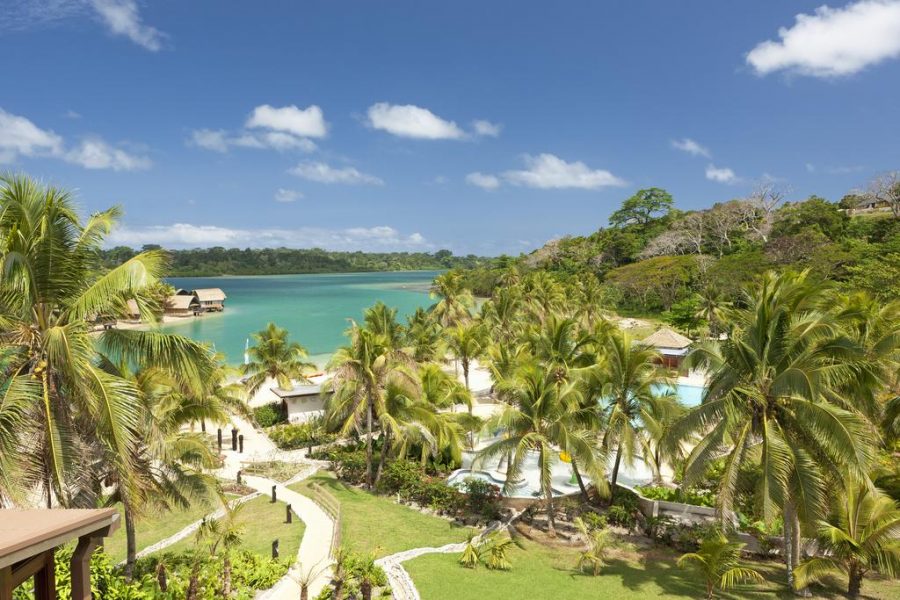 More about Vanuatu for families
Accommodation
Port Vila has several resorts and hotels, many of which are family-oriented. These have discounts for children, as well as kid's clubs, organised activities, playgrounds and can provide babysitters.
Bungalows and villas are great options for families on the more remote islands and areas of Vanuatu. These are often set among traditional villages or in idyllic secluded locations.
What to pack
A portable child carrier is recommended – strollers will be okay for Port Vila but impractical when visiting the more remote islands and areas. Fold-away car seats are recommended when planning on any car travel. These are usually available for hire, but may become in demand during peak season.
Baby and child essentials – baby food, nappies, wipes, et cetera – are available in family-friendly hub, Port Vila, but it is recommended to bring these items with you when travelling to more remote islands and areas.
Light clothing, beach gear, sunscreen, insect repellent and good walking shoes are essentials for exploring the islands. Light rain gear is recommended for the wet season between November and April.
Planning
Pre-trip vaccinations for Vanuatu include Hepatitis A & B and Typhoid. Malaria tablets are also recommended. Consult you GP for these vaccinations, tablets and any other recommendations.
Popular stories
For nature-loving families, Costa Rica is one of the most magical destinations to travel with kids. Here is a rundown of what to expect.
Janeece Keller is the founder and editor of Family Travel. She mostly travels with her husband and two young kids. She has a large blended family that lives in Australia and Europe. She has visited 52 countries and lived on 3 continents. From camping to luxury resorts Janeece tries to make sure her family has diverse holiday experiences each year. She is an avid hiker and ocean swimmer who loves good food, margaritas and heading off the beaten path.
* Affiliate Disclosure: This post may contain affiliate links, which means we may receive a commission if you make a purchase through the links provided, at no additional cost to you. Thanks for supporting the work we put into FamilyTravel.com.au!