We didn't see seals when we were camping at Seal Rocks, but we did see dolphins.
Excited calls from a nearby family alert us to the large pod. The dolphins are swimming about twenty metres from the shore of Number One Beach at Seal Rocks. Everyone on the beach is ecstatic. Kids point and wave and a few teenagers rip off t-shirts and dive into the water, trying to swim out to the majestic creatures before they pass by. Later, in the camp kitchen, I chat with a surfer who'd shared a wave with a dolphin that morning, over the hill at Lighthouse Beach.
Apart from the thrill of the dolphin visit, our week camping at Seal Rocks was one of the most chilled-out holidays I've had in a while. It passed in a blur of ocean swims, barbecues, reading and chats with fellow campers.
Distance from Sydney to Seal Rocks
Seal Rocks is about 4 hours drive from Sydney. It is on the NSW north coast, between Newcastle and Foster. It is far enough away to escape Sydney but close enough to make it in one afternoon and evening. Most of the drive is on motorway, with plenty of rest stops and service stations en route. Of course, you have to make a stop at the famous institution that is Heatherbrae's Pies.
We have a family friend who once said that you should allocate one nights' stay for every hour you spend driving to your destination. Following that rule, camping at Seal Rocks is best enjoyed on a week-long school holiday break. It could just as easily make for an enjoyable long weekend.
Seal Rocks beaches
Camping at Seal Rocks is all about the beaches.
The proximity of the Seal Rocks caravan park to the stunning, sandy beach is a huge selling point. All you have to do is cross the road and you'll arrive smack on Number One Beach. You can duck back for some snacks or a rinse in no time.
While we were there, Number One Beach had a few patches of seaweed. It was hardly an issue, as there were still plenty of weed-free swimming spots.
One morning we decided to wander up Kinka Road to Sugarloaf Bay, the next beach over. Just as delightful! Bring a tent or umbrella as neither beach has much natural shade. The beaches are not patrolled and while the surf isn't huge, there are decent waves. So keep an eye on the littlies.
Seal Rocks lighthouse
Ship after ship was wrecked on the rocks at Sugarloaf Point in the 1800s. Sugarloaf Lighthouse was finally built, and it still signals to this day. It also makes for astonishing views at sunset and sunrise. The golden light in the late afternoon will add a warm glow to your Instagram snaps, and there is a grassy patch around the side overlooking Lighthouse Beach that is great for picnics.
Primary schoolers and teens will eat up the walk from the caravan park all the way to the lighthouse. If you're worried about little legs tiring out, you can drive the sealed road to the trail head. There is a little general store about half-way between the caravan park and lighthouse trail head if you need a sweet, frozen incentive for walkers!
The last stretch up to the lighthouse is quite steep, but otherwise the walk is fairly easy-going. A track winds down to the long and wide Lighthouse Beach. We recommend walking up to the lighthouse as a break from beach days on your camping at Seal Rocks adventure.
Seal Rocks Reflections Holiday Park is perfect for families
It is easy to see why the Reflections Holiday Park is so enormously popular with families. Even a fortnight or two before school holidays, there were already bunches of families arriving with camper trailers.
Nearly everyone we spoke to in the caravan park was a return visitor. One barbecue aficionado we met was frying seafood skewers for a multi-generational group on their tenth annual visit. The lovely retired couple who offered us a mallet after an unsuccessful hour of peg hammering had visited the spot as young kids.
I know a group of families goes camping at Seal Rocks about twice a year. Their yearly photos at the lighthouse – of scrawny kids growing into surfing teenagers – proves just how enduring camping at Seal Rocks can be.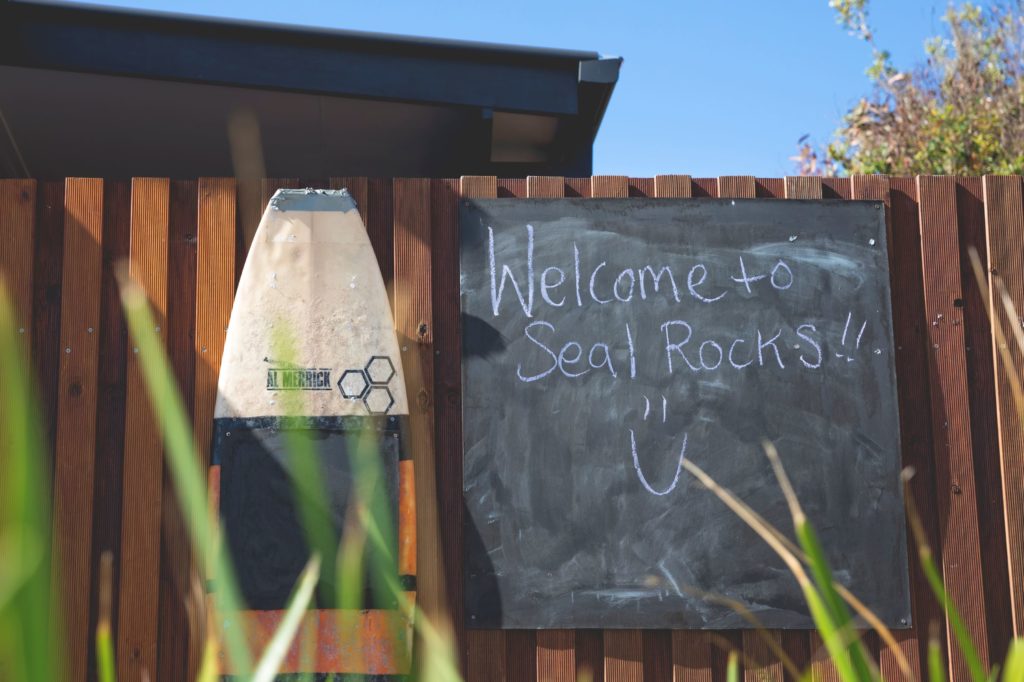 Onsite facilities
Reflections Holiday Park Seal Rocks is so well equipped that even if you stay in a tent, you'll hardly feel like you're camping.
On our first night, we whipped up a quick Nachos meal in the camp kitchen. It was caravan-park-standard, with hotplates, fridge, microwave, bench tables and a TV. We thought nothing of it until the next day, when we noticed a spic and span, open-plan camp kitchen on the opposite side of the park.
Part of a 2018 re-development, the 'guest lounge' kitchen was immaculate and modern, had more than enough barbies and long tables to suit large groups, and opened out onto views of the ocean. It feels like you are sitting on the huge verandah of a beach house. Kids can play around at the giant chess game while the grown-ups get the snags sizzling, do the wash-up or read a book.
Nearby, there is also a new amenities block, outdoor showers for a post-swim rinse and best of all, a playground with awesome slides and climbing equipment. Having two camp kitchens and two amenities blocks meant there was no fuss at peak shower time. That said, it might get more chock-a-block mid-school holidays. You can also rent out a cabin, or try out glamping in spacious canvas tents with porches and barbecues.
Staff are also super friendly and helpful. We had many a chat with one of the maintenance workers in his golf buggy, and with the reception desk staff when we bought our daily ice. The general vibe is sunny and relaxed. An inflatable surfing Santa even made an appearance at reception half way through our stay.
Other options for camping at Seal Rocks
If you're looking for a little less luxurious camping options, there are two other camp ground options.
Treachery Camp offers "Free Form" ie. no allocated site camping at Seal Rocks. You'll need to book in advance and there is an amenities block with hot showers, flushing toilets and baby change table. You'll also find coin operated washers and dryers in the laundry. To help with cooking, there's a camp kitchen with contains 2 coin operated gas barbecues, plus large tables and sinks with hot water for washing up.
NSW National Parks run the Yagon campground in Myall Lakes National Park. There are 37 sites catering for tents, camper trailers, caravans and camping beside your vehicle. This is the most remote of the three camping at Seal Rocks options, so make sure you take enough supplies, including drinking and cooking water. For families who love the feeling of sand beneath their toes and getting away from it all, this is a great option with plenty of walking tracks, fishing and swimming options.
NOTE: All camping in NSW national parks requires a booking. Book online of call the National Parks team on 1300 072 757. To help you prepare for your camping trip, NSW National Parks have provided these camping safety tips.

NSW National Parks website
Seal Rocks: things to do nearby
One of the reasons we love camping at Seal Rocks is that there is little else here but the beach. It's perfect if a beach holiday is what you're after. It is easy to slip into the breakfast, beach, lunch, beach, walk, dinner routine.
To shake things up, explore Blueys Beach and Boomerang Beach about 20 minutes' drive further north. One evening, we enjoyed a delicious takeaway pizza from a local restaurant as the sun set on Blueys.
If you like water-skiing and other water sports, Smiths Lakes is a hop, skip and jump away.
READ MORE:
Like the pics from Summer of Seventy Five? This awesome Aussie family shares their van adventures on Instagram and features in our top 11 travelling families on Instagram.
The best beach camping around Australia for shore
Sydney's best campgrounds for families
Fab 5 – Lake Macquarie's top holiday parks for families
This is a Family Travel online exclusive story. Make sure you don't miss any exclusive digital content by subscribing to our email newsletter.
* Affiliate Disclosure: This post may contain affiliate links, which means we may receive a commission if you make a purchase through the links provided, at no additional cost to you. Thanks for supporting the work we put into FamilyTravel.com.au!