No barriers, no cages and no gates, Bali Safari Marine Park is the unzoo you need to do with kids.
It's so good, the 40-hectare park, about an hour's drive from Kuta Beach, has been voted Indonesia's leading amusement park four times since 2010.
Inside you'll find more than 1000 animals and 140 species including Komodo Dragons, orangutan, Bali mynah, and Sumatran elephants.
"It's not a zoo, you're on safari," Thomas Colbert, Bali Safari & Marine Park General Manager says.
The park is proudly owned by Taman Safari Indonesia Group, a name known for both its creative animal exhibits and its tireless efforts in nature conservation and the recreational field.
Here are 7 ways you can go wild at Bali Safari and Marine Park.
Safari Journey
Capture the rhythms of Tanzania's Lake Manyara and feel the heartbeat of the mighty lions as you take a ride through the open-zone animal exhibit. The safari journey winds through Africa, India and Indonesia. Keep a lookout for elephants, a herd of antelope and unique babirusa.
Tsavo Lion Restaurant
Have breakfast with the lions. Two-way glass is all that separates you from the majestic creatures at this unique Africa-themed fine-dining restaurant. This is a culinary experience not to be missed.
Mara River Safari Lodge
Why not stay, sleep and awaken to the lions' roars too? Mara River Safari Lodge evokes the mystery of the African wilderness in a beautifully designed resort. Each room offers a panoramic view of the African Savannah. Experience the thrill and excitement of living close to such fantastic wildlife within their own home range.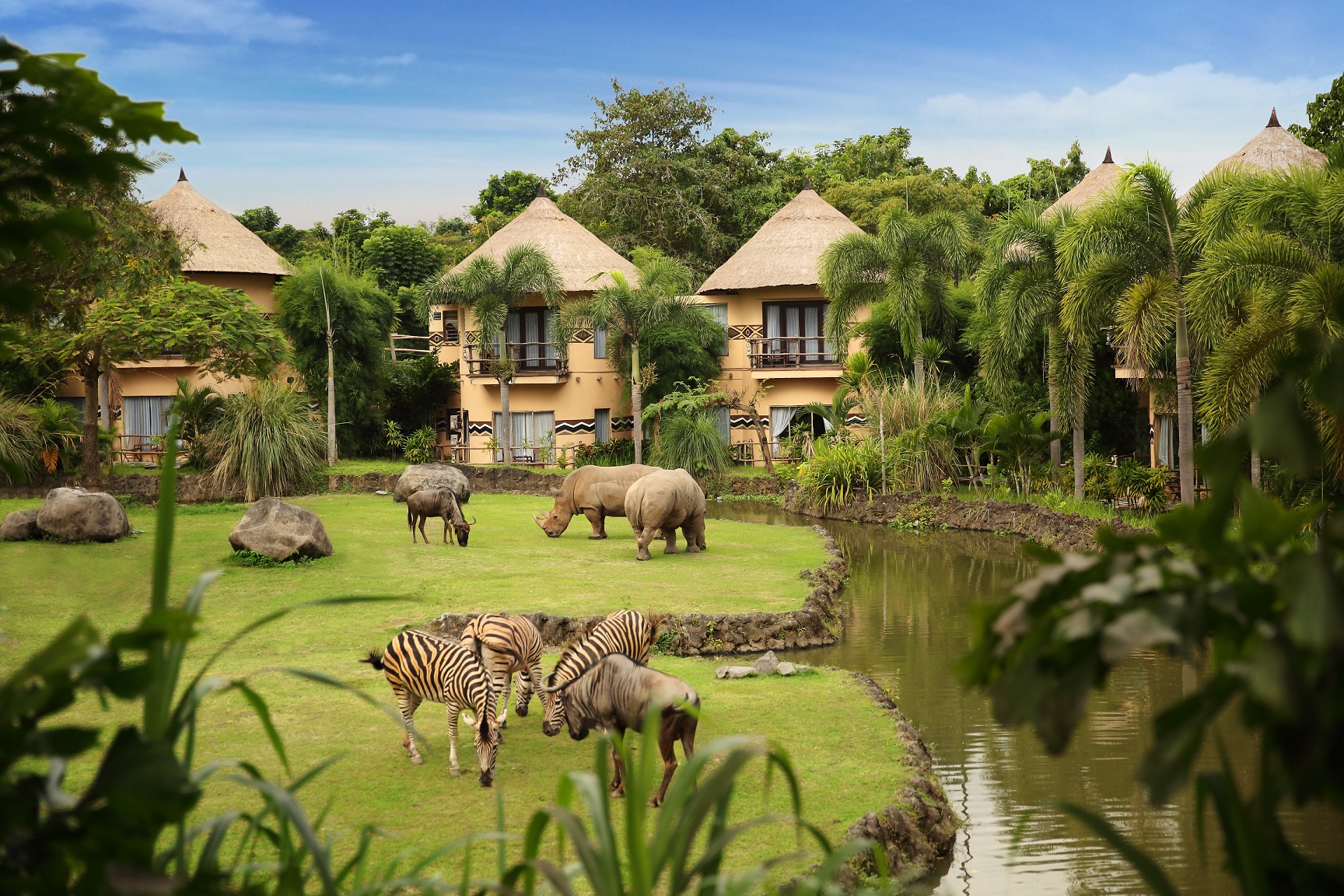 Funzone and Water Park
Get wet and wild at the water park. Kids will love running under sprinklers, sliding down the slides and taking on the amusement rides. It's a great way to cool down after a day searching for animals.
Night Safari
You'll want to keep the kids awake for this one. This night-time adventure takes you into the middle of the jungle to see the animals face-to-face. If you are lucky and brave enough, you may even have the chance to feed some of these nocturnal creatures.
Harimau Show – From Predator to Prey
This presentation puts a spotlight on the world's vanishing tiger population. Learn about the important role of tigers in Balinese history and mythology. Find out how the big cats at play, hunt, climb and even swim.
Elephant Safari
Head to the African savannah to see Bali's largest herd of Sumatran elephants. Bali Safari and Marine Park has 33 of them. Families can get close to these giants, hand feed them and watch them being bathed by their mahouts for a unique and memorable experience.
Bali Safari and Marine Park is open weekdays from 9am to 5pm and weekends from 8.30am to 5pm. For tickets and entrance fee details click here.
* Affiliate Disclosure: This post may contain affiliate links, which means we may receive a commission if you make a purchase through the links provided, at no additional cost to you. Thanks for supporting the work we put into FamilyTravel.com.au!