Elegant Edinburgh, Festival Edinburgh, Gothic Edinburgh . . . Scotland's capital city has a hundred faces and it's no coincidence that Robert Louis Stevenson wrote Jekyll and Hyde here. But don't be put off by all that grown-up fun. There are loads of things to do in Edinburgh that the kids will enjoy too.
Kids will have a riot in Edinburgh while parents will be spellbound by the romance, history and architecture.
1. Prepare for battle at Edinburgh Castle
All roads (or views, at least) lead to Edinburgh Castle, perched on a volcanic plug, smack-bang in the centre of Edinburgh.
Few visitors to the Scottish capital can resist stepping inside the formidable castle walls to tread the same cobbled walkways as Scotland's kings and queens. Families can also see the Scottish crown jewels
The best time to visit is early morning or late afternoon. This is when the Castle is quietest and easier for kids to explore the cannons and dungeons.
Read more: Things to do in the UK with kids
2. Rest and recharge at Princes Street Gardens
At the foot of the castle rock lies lovely Princes Street Gardens – a restorative space for locals and visitors alike.
Princes Street Gardens are home to the world's first floral clock. Families will also find a playground and a fountain to splash in on warm days.
Recharge in the café over a cannonball-sized cookie, which may or may not have been fired from the battlements above.
What's more, Great Aunt Lizzie from the children's TV series Teacup Travels lives here! The Head Gardener's Cottage, tucked into a corner of West Princes Street Gardens, was used as a filming location.
3. Brain-bending marvels at Camera Obscura & World of Illusions
Back up on the Castlehill, Camera Obscura & World of Illusions is known for wacky, hectic, hands-on play for all ages.
Never forgetting its roots (the camera obscura on top of the building was installed almost 200 years ago) this is six floors of visual illusions both historic and high tech.
Family-friendly highlights include view cams that allow kids to spy on passers-by in the surrounding streets, a mirror maze and a vortex light tunnel.
4. Feed bright minds at the National Museum of Scotland
Not for nothing is the National Museum of Scotland the country's most visited tourist attraction: it's free; the huge, airy building feels spacious even when busy; and it's brim-full of interactive exhibits across science and technology, the natural world, and world cultures.
In the Explore gallery kids can dip into robotics, drive a Formula One racing car and launch hot-air balloons.
Preschool aged visitors have their own play spaces where they can delve into sound-making or curl up in a story corner for some time out.
Read more: Kids picks: The 5 best Washington D.C. museums
5. Meet Greyfriars Bobby
Across from the National Museum of Scotland, and adjacent to the entrance to Greyfriars Kirkyard is a life-size statue honouring Edinburgh's most beloved pup, Greyfriars Bobby.
Bobby was a Skye Terrier, companion to city nightwatchman John Gray. When Gray died in 1858, Bobby sat faithfully by his master's graveside every day. Fourteen years passed, during which time Bobby was fed and sheltered by local people and even received a collar and licence from the Lord Provost of Edinburgh.
It's a sad, sweet story. What's also heart-warming is that today the statue's nose has a glossy shine from the loving rubs Bobby has received from admirers returning his faithfulness over the last 150 years.
6. Discover Harry Potter's Edinburgh
It would be accurate to say that a thousand corners of Edinburgh's gothic Old Town could have inspired local author J.K. Rowling to write the story of the century. For fans of the boy wizard a Harry Potter tour is a fun way to speculate on the writer's process.
Tours circuit Rowling's favourite writing cafés and take in sites such as Greyfriars Kirkyard where gravestones mark the passing of one Moodie, McGonagall, Potter and a Thomas Riddell.
Tours aside, a trip to beautiful Victoria Street – possibly Rowling's inspiration for Diagon Alley – is a must. While you're there visit the film-set-worthy Museum Context, a shop wonkily stuffed with wizard merchandise.
Read more: Where in the world is Harry Potter Wizarding World?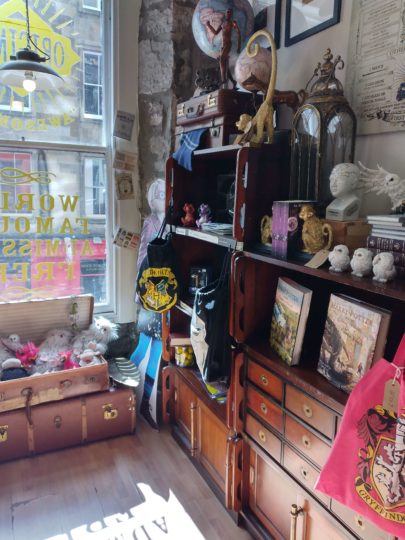 7. Take a world tour at Dynamic Earth
Dynamic is the word – this visitor attraction sits beneath the dramatic Salisbury Crags in a vast glass and brick building with a tented roof.
Dynamic Earth offers a helter-skelter pelt through time, space and Earth's many habitats. The tour of Dynamic Earth takes around 90 minutes and is a blend of guided and self-guided room exhibits.
Young kids and those with sensory needs might find the 4D journey and some of the sensory effects (for example, a shaking floor and loud rumbles in the volcano room) a bit overwhelming. But the older children will have a ball.
While you're there, book a bolt-on show in the newly refurbished Planetarium. The current slate of films explores volcanoes, astronomy and space travel, some are narrated by the instantly recognisable voices of Benedict Cumberbatch, David Tennant and Rupert Grint.
8. Hike to Salisbury Crags and Arthur's Seat
Next door to Dynamic Earth is Holyrood Park – home to the extinct volcano of Arthur's Seat and the (actually more seat-like) rock shelf of Salisbury Crags. Both are hikeable for families needing a break from the tourist thrum.
Older kids and teens can tackle Arthur's Seat (around 2 hours round trip), while kids around 8 and up will probably prefer the gentler, but challenging enough, grassy slopes of Salisbury Crags (1 hour round trip). Both hikes offer glorious city views.
If that all sounds like too much effort, the wide, open parkland at the foot of Salisbury Crags is perfect for a picnic and a game of What's the Time, Mr Wolf.
Tip: For an easier hill with views, a 5-minute march up the tarmac path of Calton Hill at the eastern end of Princes Street. This walk is manageable for tiny legs and parents with heavy day bags.
9. Explore the trees and trails of the Royal Botanic Garden Edinburgh
Celebrating 350 years in 2021, Edinburgh's Royal Botanic Garden is a serene spot just north of the city centre. The Gardens offer 70 acres of native and collected species, best explored along a network of paths and family-friendly trails.
Seek out the beautiful Queen Mother's Pavilion, decorated with thousands of shells from beaches across Scotland. There are seasonal workshops for kids, the visitor centre houses a superb gift shop and there's also a café on-site with outdoor seating.
Across the road from the West Gate is Inverleith Park with a playpark and a duck pond, and nearby Stockbridge Village is crammed with laidback cafés and restaurants.
Read more: Garden Party – top 10 family activities in NSW Botanic Gardens
10. Splash in the Royal Commonwealth Pool
Dreich Scottish weather?
There are various indoor options on the city outskirts (trampolines at Ryze; the Edinburgh Indoor Climbing Arena at Ratho) but for a more central activity book an indoor soaking at Aquadash at the Royal Commonwealth Pool.
Sessions run on Saturdays and Sundays and are suitable for swimmers aged 6 and up. Parents can join in the fun too – just think of the brownie points you'll earn by chasing your kids over an inflatable obstacle course on water.
For children too young for water acrobatics there's a soft play in the building, so everyone's happy, which, in the end, is what family holidays are all about.
Wondering what else to do consider on a family holiday to the UK?
Sleep like royalty in these English castles
22 top things to do in the UK with kids
Anita Miller is a UK-based freelance writer never knowingly more than ten paces from a castle, a beach or a sticky bun.
* Affiliate Disclosure: This post may contain affiliate links, which means we may receive a commission if you make a purchase through the links provided, at no additional cost to you. Thanks for supporting the work we put into FamilyTravel.com.au!