How much influence do your kids have on the travel experiences you choose? Do they pick the world destination, the hotel, or the activities?
When parents are in total control of the itinerary, it soon becomes just another old building and another famous painting. When the kids get involved in planning, they become far more adventurous (and well-behaved) travellers.
If you can weave their interests, favourite sports or movies into it, that's when the trip becomes truly memorable. More often the not, it's not the destination that blows them away, but one specific experience that they remember forever.
These travel experiences and world destinations are the ones that the kids will rush back to school to share with their classmates, and reflect back on in the years to come.
Read more: swap international tourist spots for home-grown heroes
Swing through the Costa Rican rainforest
Spectacular waterfalls, steaming hot springs and overgrown rainforests with every shade of green – Costa Rica is the definition of natural beauty, but it's not just pretty to look at. This Central American paradise is an top world destination for families who love to get out and adventure in the wild.

One activity to put on your bucket list is Costa Rica's original canopy tour in Monteverde. Kids and adults can channel their inner tarzan and zip through the rainforest on a series of cables, flying foxes and suspension bridges.

Back on solid ground, lace up your walking shoes and hit the Lava Trail to Arenal Volcano. Apart from a few stairs and the odd slippery section, the walk is achievable for young kids. If you still have energy to burn, head to Arenal Hanging Bridges Park. Here, you'll cross 16 swinging bridges, weaving through an overgrown jungle. Keep your eyes peeled for sloths, monkeys and glamorous, multi-coloured birds. Not great with heights? Book a self-guided tour so you can go at your own pace.
Knock over two Costa Rican highlights in one day, starting out at La Fortuna Waterfall then heading to the Don Olivo Chocolate Tour. The base of the waterfall is pretty rough during the rainy season so head around the bend and swim in the clear, calm stream. The walk back up from the falls is a little challenging. 500 steps later, you'll have worked up an appetite and be ready to devour some rich Costa Rican chocolate. At the Don Olivo plantation, you'll get to taste papaya, pineapples, lychees, sugarcane juice, and, of course, chocolate.

Best time to go
Costa Rica's dry season runs from December to June. Expect heavy morning showers and clear afternoons during the rainy season (July-November).
Best for kids aged
This world destination is all about wildlife spotting and adrenaline-pumping activities so tweens and teens with a taste for adventure will get the most out of this trip.
Cycle around Uluru
Big, red rocks don't sound that interesting on paper but in the Red Centre, they're utterly jaw-dropping. A visit to Uluru should be on everyone's bucket list. The staggering size of this iconic natural landmark can only truly be appreciated in person. Though it emits a striking red colour at midday, the best time to photograph Uluru is during sunrise or sunset. Watch as the sky changes colour and the shadows dance over the rock face. It will have the kids captivated.
You can walk around the base of Uluru, but the round-trip may be a stretch for little legs. Instead, hire some bikes from the Cultural Centre. You'll be stopping off for photos and snack breaks regularly so leave about three hours for this activity. Younger kids can jump on a tag along bike or kick back in an attachable toddler seat.
Still not sick of red rocks? Set off on a guided walk to Mutitjulu Waterhole, or head to Kata Tjuta National Park. Here you'll discover 36 impressive red domes, one which is almost 200m taller than Uluru itself. Try not to get blown away in the Valley of the Winds before making the trek to Walpa Gorge.
Ayers Rock Resort hosts a number of free activities for families. Join a Bush Tucker demonstration and listen to dreamtime stories at the Bush Yarn session. The free activities program changes weekly and is a nice wallet-friendly way to break up the day.
Best time to visit
Early or late Winter, while a bit chilly at night, is the best time to go. Catch a reasonable 7:30am sunrise over Uluru and enjoy mild, dry days.
Best for kids aged
An Uluru sunrise is essential so make sure your kids are okay with early wake ups. Otherwise, schedule some time for a nap later in the day.
Animal encounters in Malaysian Borneo
Blessed with a tropical climate and rich equatorial soil, Borneo is a kaleidoscope of glistening green. Perhaps the only thing more breathtaking than this wicked world destination's jungles and sanctuaries is what lives inside. Cheeky orangutans swing from vine to vine, Borneo's bearded pigs sniff around for their next meal, and pint-sized Sun Bears gnaw on cobs of corn.
Borneo has always been a top world destination for enchanting wildlife encounters but decades of deforestation have seen the destruction of more than half the island's forests. The damage has pushed dozens of the country's species to the brink of extinction. This is why responsible tourism is ever-so critical.
The island of Borneo is divided into three distinct regions belonging to the nations of Brunei, Indonesia and Malaysia. Malaysian Borneo claims one quarter of the landmass on the north coast, bordering the South China Sea. This is where families will find the most memorable wildlife and nature experiences.
Malaysian Borneo is split into two states. Sarawak is better suited to older kids. They'll find plenty of high-energy adventures, but it's the cultural experiences that will resonate most. Something they won't soon forget is the opportunity to spend the night with an Iban tribe. The longboat journey up the Lemanak River gives teens a taste of what's in store, passing wooden longhouses and Malay wildlife. Learning traditional cooking methods, dances and tribal stories by the campfire will be an eye opening experience for all in this family-friendly world destination.

In the northern state of Sabah, a visit to the Sepilok Orangutan Rehabilitation Centre is a must. Sheltering 70 misplaced Orangutan at any given time, this not-for-profit works to strengthen and release these charismatic creatures back into the wild. The sanctuary's success has lead to the opening of a Sun Bear reserve nearby and a Rainforest Discovery Centre. For a chance to spot Bornean fauna in the wild, explore the canopy walkway at Borneo Rainforest Lodge or join a 4×4 night safari to spot civets, deer and bearded pigs.
Borneo is home to hundreds of wildlife and nature conservation projects, and tourism plays a huge role in supporting them. Our most prudent piece of advice is to thoroughly research the facility you plan to visit to ensure you're supporting wildlife protection, not exploitation.

Best time to visit
Visiting between March and October gives you the best chance to avoid the rainy season and enjoy comfortable, warm temperatures.
Best for kids aged
The state of Sabah has fun, eye-opening experiences for children of all ages. Older kids may get more out of the Southern state of Sarawak.
Climb, hike and swim in Yosemite National Park
If you own a MacBook, there's a high chance you're familiar with the striking natural beauty of this famous world destination. The park's centerpiece, El Capitan, already looks enormous in photos, casting a shadow over the clusters of Giant Sequoias below. But standing at the base and staring nearly a kilometre straight up the sheer granite cliff will remind you just how small you really are.
Yosemite was recently thrust into the spotlight after famous free climber, Tommy Caldwell, successfully climbed the impossible Dawn Wall, El Capitan's most challenging climbing route. If kids are keen to follow Tommy's footsteps, they can start small at Yosemite Mountaineering School. The half-day course teaches basic climbing and safety skills and let's kids put them to the test. Any climbers over the age of 4 can have a go.

If you're more comfortable with your feet on solid ground, try a few of the hiking trails around the national park. The short nature loop to Yosemite Falls is perfect for little legs. The Mist Trail is more challenging, but so worth it to feel the spray of Nevada Falls.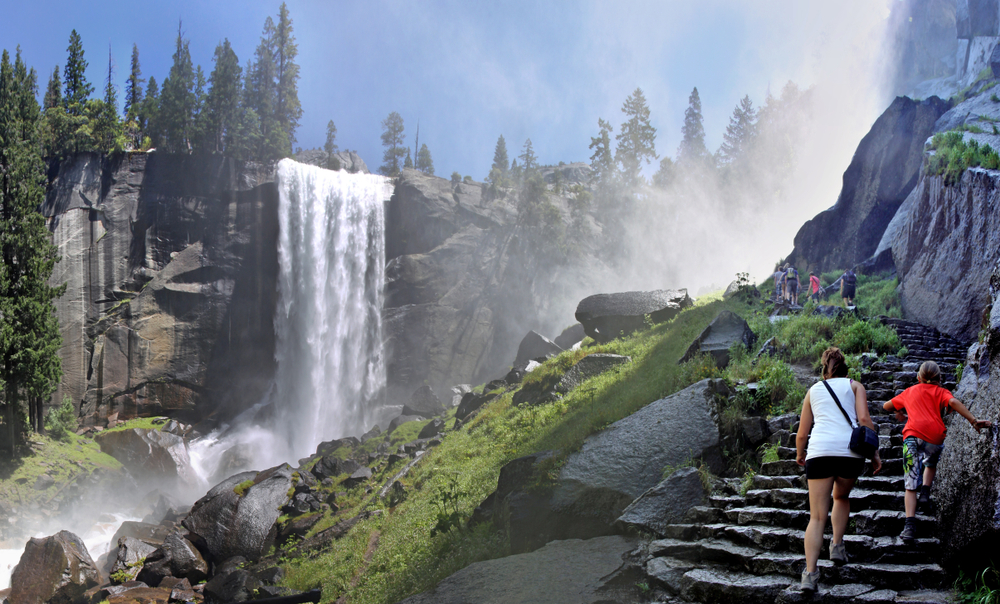 Yosemite is known for its groves of Giant Sequoia trees. Their height is staggering, but the width is what will truly blow you away. Kids look like miniature figurines when they try to wrap their arms around the base. Head to Mariposa Grove to wander the newly built boardwalks through the forest.
During the warmer months, families of campers and glampers base themselves around the Merced River. This popular watering hole is where hikers head to cool off after a day of exploring.
Best time to go
The wildflowers and waterfalls are at their peak during Spring. Visiting during March, April and May also means you'll miss the summer crowds.
Best for kids aged
Many of Yosemite's walking trails are pram-friendly so families with babies and toddlers can explore with ease.
Live out their fairytale in the castles of Germany
There are few world destinations more magical than Neuschwanstein Castle in winter. Perched atop a hill in the heart of the Bavarian Alps, this fairytale castle is one of Europe's most well-known landmarks. It even inspired Walt Disney's own Magic Kingdom.
On a frosty day, the castle's snow-capped spires stretch high above the Hohenschwangau Valley and the pathway up to front gates is covered in a thick powder so dry it squeaks underfoot.
Built by an extravagant Bavarian king, Ludwig ll, the ornately-decorated rooms and manicured gardens are just as spectacular as the outer facade. Every surface of the two-storey Throne Room is adorned with shimmering, gold artwork. But ironically, there is no throne. King Ludwig ll died before its completion. In fact, the king only slept 11 nights in his half-built castle before passing away in a cloud of suspicion. Royal gossip and declarations of insanity lead to King Ludwig's downfall.
Unfortunately, photos are not allowed to be taken inside the castle. This only adds to the allure. Half the fun of touring the castle grounds is speculating about the drama of it all. The other half is playing princes and princesses in the royal lodging.
Another castle worth visiting lives in the shadow of Neuschwanstein. Further down the valley, the distinctly yellow-hued Hohenschwangau Castle enjoys a lakeside position. Dating back to the 12th Century, this was the childhood home of King Ludwig ll. Visitors will enjoy more flexible access to this stately fortress. The castle is open everyday besides Christmas and provides exciting guided tours in multiple languages including English.
Best time to go
Germany is a year-round destination, but for a truly magical experience, visit when the snow is falling between November and February.
Best for kids aged
Imaginative kids going through the Disney phase will get the most out of this experience.
Explore the Canadian Rockies
The Canadian Rocky Mountain Range cuts through some of Canada's most breathtaking national parks. Jasper and Banff in particular both look like screensavers. Emerald lakes glisten with the reflections of the snow-capped mountains above. The Canadians take great pride in their wilderness spaces so, when you visit, expect perfectly-maintained walking trails, pristine BBQ facilities and spectacular picnic spots.
If you want to soak up the scenery from a high vantage point, step out onto the glass platform, suspended high above the Columbia Ice Field in Jasper. Or soar down the mountainside and across Kicking Horse River in Banff. You can also canoe, stand up paddleboard, zipline, mountain bike and hike through the wilderness for a different perspective.
In the national parks, it's not uncommon to cross paths with Canadian wildlife, but it can be pretty daunting if you're not used to looking a moose in the eye. Expect to see elk, deer and bighorn sheep out in force during calving season (May/June). Keep an eye out for the more elusive bears, mountain lions, mountain goats and moose too. Don't forget about the little guys. You're likely to come across squirrels, chipmunks and rabbits even in the bigger towns. As with all wildlife encounters, exercise caution and avoid getting too close.
When it comes to getting around this scenic world destination, self-driving offers the most flexibility and convenience. Keep in mind, road conditions in winter can be hazardous so you may be better off using public transport, guided tours or taxis.
Best time to go
Avoid the hardcore skiing crowds by visiting during February and March. You also have a good chance of catching a glimpse of the Northern Lights at this time.
Best for kids aged
No matter your age, you're bound to find something you love in the Canadian Rockies region, but kids who are comfortable with adventure activities and animal encounters will get the most out of a trip to this well-loved world destination.
Swatch a game at Old Trafford, Manchester
When kids list off their bucket list world destinations, Manchester may not be one you expect to hear. But for soccer fans, it's number one. Manchester is home to two rival football clubs; Manchester City, the flashy new kids on the block, and the original team, Manchester United.
Seeing a match at Old Trafford Centre is essential. If you happen to be there when the two Manchester teams go head to head, you're in for a treat. The atmosphere is electric, and recent crackdowns of crowd behaviour make it a family-friendly affair.

If being a spectator isn't enough, kids can actually meet the players, play 'Kit Manager' for a day and learn the ropes as a 'stadium announcer. A new partnership between the star soccer club and Marriott Bonvoy opens up a range of VIP experiences for families.
In the heart of the city, football fans won't want to miss a trip to the National Football Museum. Kids can work on their penalty kick and draw some inspiration from the shiny trophy cabinet. While you're in museum mode, head to Manchester Museum to meet a fossilised T-Rex named Stan and watch the frogs leap through a lush Vivarium.
Greater Manchester has more than 50 museums and galleries and they're all free. On a rainy day, of which there are many in northern England, it's a great way to fill in a few hours.
Dedicate at least half a day to Manchester's LEGOLAND Discovery Centre. Jump aboard the Kingdom Quest Ride, catch a flick at the 4D cinema and build something unique with nearly 2 million LEGO bricks at your disposal. Sweeten the deal with afternoon tea at Home Sweet Home; a charming dessert bar in the Northern Quarter. Try the Birthday Cake Shake, even if it's not your birthday.
Best time to visit
The English Premier League runs from August to May with a break over Christmas. The nail-bitters go down towards the end of the season.
Best for kids aged
Soccer-obsessed kids over 5 will get the most out of Manchester. Games tend to run late so make sure they can stay awake to the final whistle.
Safari in South Africa
Families usually go to Africa for one reason – safari. The chance to see some of the world's most ferocious and unique animals in the wild is something most of us dream of. Kruger National Park is the most well-known area for embarking on a safari, and for good reason. The vast expanse is home to thousands of animals including giraffes, rhinos, elephants, lions and antelope. You may have encountered these animals in a zoo before, but it's another thing entirely to see them in the wild.
But there's more to Africa than vast savannahs and marshy deltas. South Africa is proof of that. Visitors will find built-up cities, world-class surfing beaches, wineries and whale-watching in this top world destination.
The capital, Cape Town, sits at the foot of Table Mountain. Ride the cable car to the top and soak up the sweeping views of the city, and out to the Atlantic Ocean.
Southeast of Cape Town, Hermanus is the place to go for whale and dolphin watching. If you miss migration season, you can still see a full-size whale skeleton hanging high in the Whale House Museum.
Animal lovers will want to make a trip to Boulders Beach to see the resident African penguin colony. These free-roaming birds happy share the sandy shores with friendly tourists.
Most people don't immediately think of South Africa for it's wineries but it's actually the 7th largest wine-producer in the world. The town of Stellenbosch in the Western Cape is quickly building a global reputation for its peppery Cab Sav and citrusy Sauvignon Blanc. Be sure to include a tasting session at one of the 21 kid-friendly wineries in your itinerary.
Best time to go
The dry weather from May to September is best for wildlife spotting, however, the coastal regions receive the best weather over the summer holidays.
Best for kids aged
Keep in mind, many safari lodges can only accommodate kids over the age of 12. We recommend saving this world destination for your tweens and teens.
Go wild at Disney World Orlando
Walt Disney World in Orlando, Florida is huge. Seriously huge. It's almost as big as the entire city of San Francisco. For a Disney fan this is as good as it gets.
Walt Disney World has four theme parks: Magic Kingdom, Hollywood Studios, Animal Kingdom and Epcot. It also has two waterparks, Typhoon Lagoon and Blizzard Beach. Each park will take at least a day to explore.
Magic Kingdom is home to Cinderella's castle, Ariel's grotto and the famous Space Mountain ride, a roller coaster which twists and turns through dark tunnel. Little ones will can meet Princess Belle and star in a play. If you're lucky you may even get to dance with the princess.
Animal Kingdom is a jungle of plants and animals interspersed with epic rides and shows. It's here you will find Pandora: The World of Avatar with it's jungle-clad peaks and towering boulders. Make sure you try Flight of Passage. This 4D ride takes you swooping and soaring through the world of Pandora as you ride on your genetically matched banshee. Thrill seeking teens will love Everest. This rollercoaster takes you up the mountain in Nepal and back down again… backwards.
Star Wars Galaxy's Edge will open at Hollywood Studios, on August 29. Make sure you download the Disney Play app to fully experience this land but be prepared to make a choice between the light and the dark sides. Little ones will love Toy Story Land, which opened in 2018. Here Disney makes you feel like you have shrunk to the size of a toy. You can ride on Slinky Dog around Andy's backyard, shoot balloons on Toy Story Mania and spin around on the Swirling Saucers. Just look out for the cheeky green soldiers.
Epcot is also called the World Showcase. If you have kids who love Frozen, you need to go to the Norwegian Pavillion. Anna and Elsa make regular appearances and you can experience the magic of the Frozen Ride. You'll find Alice in Wonderland in the England Pavillion, Belle in France, Mulan in China and Big Hero 6 at Hiro's workshop.
Best time to go
All year round, but avoid holidays if you can as Disney World does get packed.
Best for kids aged
All ages. Walt Disney World has something to delight every age group.
READ MORE
The best apps to help you plan your holiday
The alternative bucket list for families
24 famous landmarks to tick off your bucket list
A version of this story appeared on the website in June, 2019 and in the Winter 2019 edition of Family Travel magazine.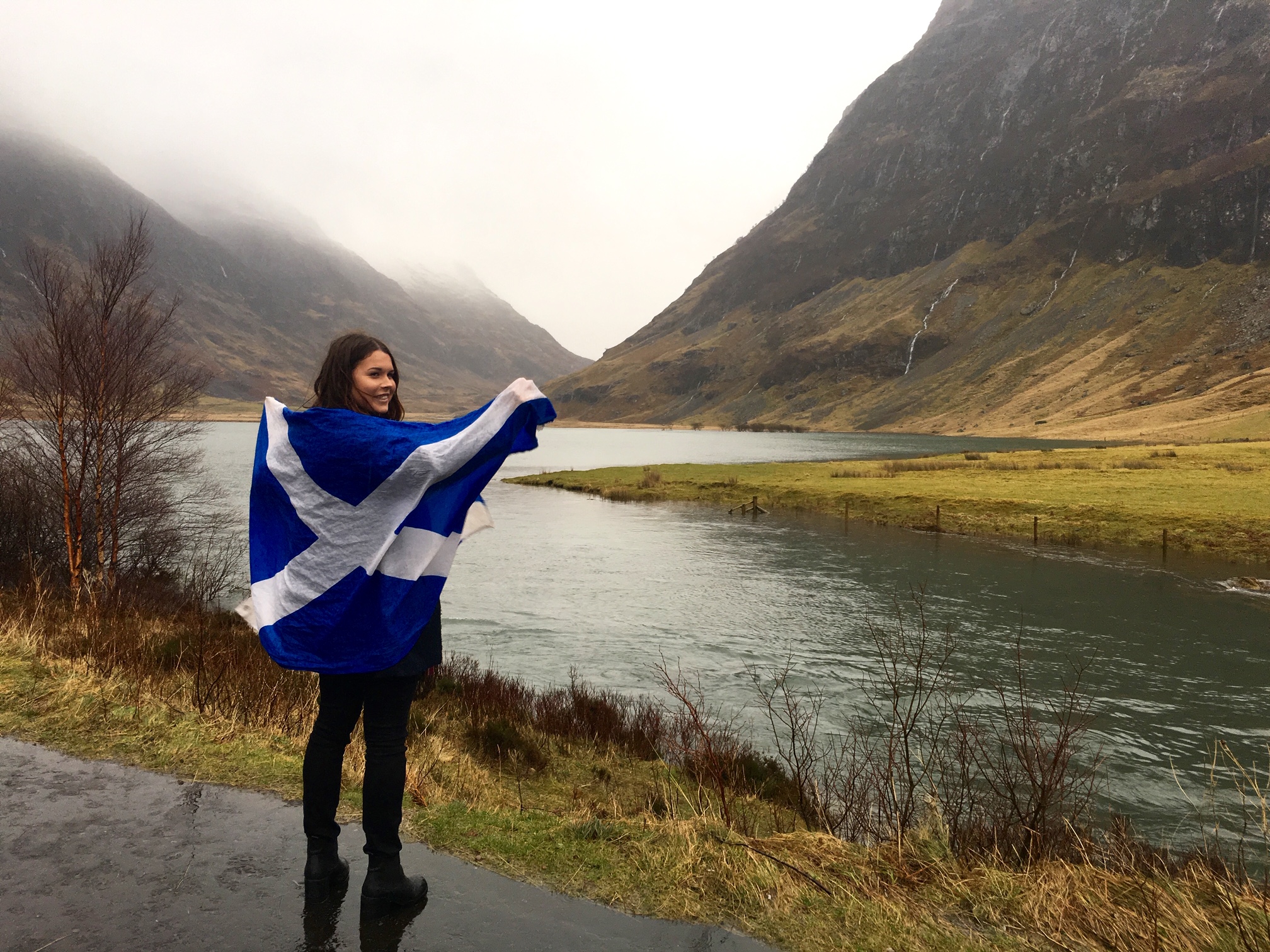 I was blessed with parents who really saw the value in travel. After our first family trip abroad to Thailand, I became obsessed. I was hungry for anything new and different. I yearned to be in the middle of a city on the other side of the world with a suitcase in one hand and google maps in the other, stumbling around trying to figure out where I was going; literally and spiritually.
* Affiliate Disclosure: This post may contain affiliate links, which means we may receive a commission if you make a purchase through the links provided, at no additional cost to you. Thanks for supporting the work we put into FamilyTravel.com.au!