Ultimate guide to things to do in the UAE with kids
The United Arab Emirates (UAE) is the land of Aladdin, Ali Baba and the Forty Thieves, and the Arabian Knights; a place of fables and legends that are sure to excite little imaginations.
Consisting of seven federates situated on the Arabian Peninsula, including Abu Dhabi, Dubai and Oman, around four-fifths of the country is desert, yet the UAE offers also offers a glimpse of rich oases, rugged mountains and fertile plains. A land of extreme contrasts, visitors will find space age skyscrapers sitting alongside ancient forts and sprawling stretches of sand.
Dubai is one of the fastest growing cities in the world. The former pearl diving centre is now a giant glitzy and glamorous playground with plenty to amuse including awesome water parks, indoor skiing and dune bashing sand safaris. But if you can look past its sparkling surface you can still find remnants of a more traditional Dubai.
Abu Dhabi too was once little more than a fishing village with a fort, a few coral buildings and some barasti huts. Today it is the cultural hub of Arabia. From sand dunes to the incredible Arabian Wildlife Park, the fast and furious Ferrari World and the Sheikh Zayed Grand Mosque, there is plenty for families to see and do.
Oman, rated one of the world's safest travel destinations, is also one of its most family friendly with museums, tours and even some hotels offering amazing activities just for children. From incredible desert adventures to turtle encounters, colourful souks to sprawling mosques, Oman provides an epic introduction to the real Arabia.
Best time to visit the UAE as a family
It would be an understatement to say that the UAE is hot, but temps vary greatly throughout the year. The best time to visit is between September and May with milder temperatures. November to February is especially pleasant and a great time for enjoying the region's incredible variety of exciting outdoor activities. However it is peak season and you may find prices can be higher and hotels can be full, so book early. May to September is summer season. It is hot, dry and extremely humid with temps topping 40 degrees Celsius, making it a little uncomfortable for kids.
It's also important to note that during the religious festival of Ramadan, which generally occurs between July and September, restrictions are in place and visitors are required to adhere to the rules and restrictions related to drinking and eating in public places at certain hours of the day.
Things to do in the UAE with…
Young children will love the Italian capital! Rome's abundance of history, museums and attractions will have kids entertained for days. Babies and toddlers will be happy with a classically simple Italian pasta or pizza.Dubai is one of the world's most pre-schooler friendly cities with kid-friendly hotels, restaurants and attractions the norm. The incredible malls offer excellent, and easy to find, baby changing and feeding facilities, along with playgrounds for bored tots. Littlies will love the monorail ride to Atlantis, The Palms to visit the Ambassador Lagoon aquarium and the underground passageways that make up the Lost Chambers, home to the mythical lost world of Atlantis and more than 65,000 underwater residents. If they feel like a dip they can hit up the resort's Aquaventure Waterpark and the purpose designed Splashers Children's Play Area. Al Mamzar Beach Park is another top spot for tots to cool off with its calm kid-friendly water. And if your littlies still have loads of pent up energy to work off, Dubai Miracle Garden has plenty of space to run about as well as a butterfly garden and children's play area.Young children will love the Italian capital! Rome's abundance of history, museums and attractions will have kids entertained for days. Babies and toddlers will be happy with a classically simple Italian pasta or pizza.
Dubai is like a giant playground for kids, its mega shopping malls offering an eye-popping selection of attractions. In their cavernous depths you'll find everything from underwater zoos, theme parks, amusement arcades, cinemas, playgrounds, ice skating rinks and even indoor ski resorts scattered amongst the retail outlets. KidZania is a kid-sized scale replica of a real city, and a particular favourite with primary aged children kid who can take-on their grown-up dream jobs complete with uniform.
But the fun is not all restricted to indoors as Dubai has some awesome water parks to beat the heat. Wild Wadi Water Park offers 30 wonderfully watery rides and attractions for visitors of every age and at Atlantis, The Palms, the Aquaventure water park offers a dedicated kids' water play area, up-close encounters with dolphins and, for the adventurous, a waterslide through a pool of sharks.
Abu Dhabi's Arabian Wildlife Park on Sir Bani Yas Island is a bird sanctuary and wildlife reserve providing protection to more than 13,000 free roaming animals including Arabian Oryx, gazelles, deer, hyenas, ostriches, giraffes and cheetahs. Many years of research and conservation work went into creating a safe environment for the animals, including creating authentic ecosystems for the Island's flora and fauna, where natural interactions occur within and between species as they would in the wild. Animal loving kids can lock eyes with a cheetah, take in the daily falconry demonstrations or come face to face with the island's resident giraffes from a purpose-built viewing platform made from recycled materials. Adventurous families might prefer to take a nature walk, go horseback riding, or mountain biking along the selection of both easy and challenging mountain bike routes within the park. There's also a water sports centre on the island offering snorkelling and sea kayaking.
There's plenty of fun to be found for adrenalin rush seeking teens.
Take a camel ride through the dunes at sunset on an overnight desert camping safari that will make your teens feel like they're living one of Arabia's fabulous fables. Let them surf sand dunes in the morning then ski the snowy slopes of the enormous indoor snow dome in the Mall of the Emirates. If they prefer their action underwater, the Sultanate of Oman offers some of the world's finest diving in a clean and clear underwater world packed with abundance of marine life.
For bigger thrills, strap in to ride the Flying Aces rollercoaster at Abu Dhabi's Ferrari World, which clocks up speeds of 120 kilometres per hour. The water slides of Dubai's Wild Wadi Water Park or Abu Dhabi's Yas Waterworld are also sure to get hearts pumping.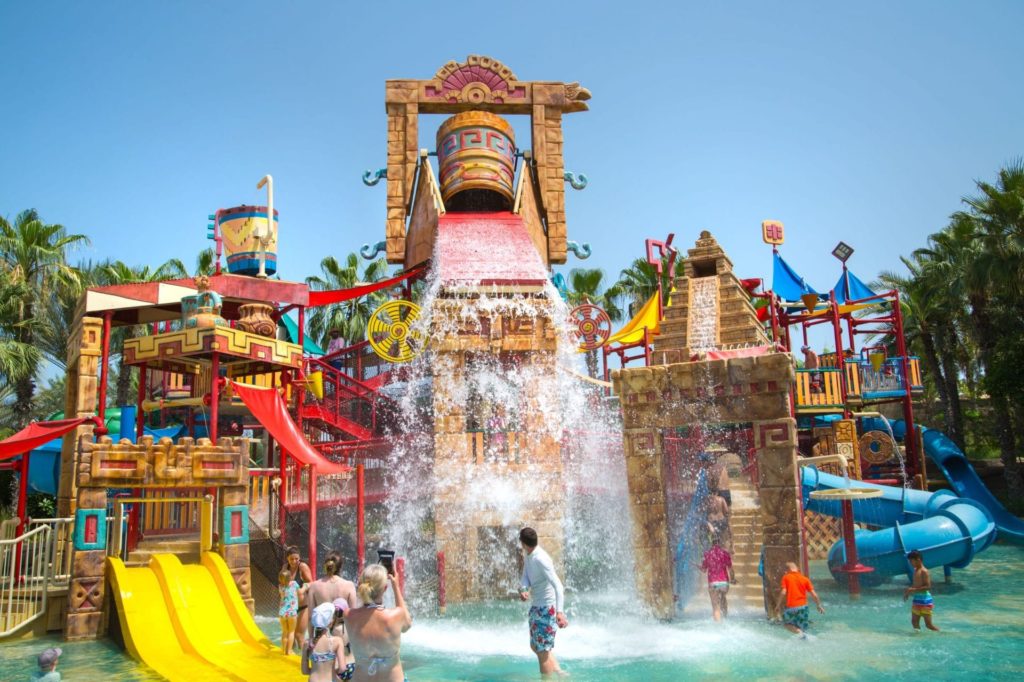 Getting around the UAE
Distances in the UAE are relatively short and airports link major cites. Highways and roads are generally in excellent condition. Car rentals are relatively inexpensive and petrol is by, world standards, quite cheap. Taxis are also widely available at relatively low per distance costs. Dubai offers Metro, monorail, bus and tram services and Abu Dhabi has an excellent and affordable city bus network, but the other emirates offer little in the way of public transport. One of the most pleasant ways to get around is via the network of dhows (traditional timber boats) that transport goods throughout the Gulf.
Health
Heat stroke, sunburn and dehydration are the most common preventable medical ailments affecting visitors to the UAE. Middle East Respiratory Syndrome (MERS) is a serious viral illness that can also affect travellers to the region, causing respiratory symptoms including fever, cough and shortness of breath.
Bugs including mosquitoes, ticks, and fleas can spread diseases so it is wise to take steps to avoid insect bites including using a child-safe insect repellent (with no more than a 20% concentration of DEET).
There are no essential vaccinations for travellers to the UAE but we advise that you check with your medical practitioner six weeks before travelling for their recommendations and to ensure your family is up-to-date with routine vaccinations.
The UAE has a generally good health care infrastructure, which is easily accessible for both locals and visitors, but it is important to ensure you have an appropriate level of travel insurance to cover costs in the event of an emergency.
Souvenirs
Camel Milk Chocolate makes for an unusual and tasty takeaway from your travels.
Gold and silver treasures from the UAE's colourful souks make a lovely souvenir of your travels.
The khanjar is the region's traditional curved dagger. You can buy these framed as a wall hanging and the plastic version makes for a fun memento for your young wannabe Sinbads.
You can't leave without grabbing the kids a plush toy camel.
A colourful hand-painted incense burner and frankincense resin can make a fragrant reminder of Oman.
Food
With more than 200 nationalities of people living and working in the region and millions of visitors to the country, the food of the UAE is extremely diverse. One of the world's most exciting dining destinations, you'll not only find some of the finest international restaurants in the world, celebrity chef branded dining and Western-style fast-food chains, but numerous restaurants serving authentic local Gulf and Middle Eastern food.
Kids might like to try a camel burger or a glass of camel milk. Other popular dishes include al machboos (a dish of slow cooked lamb or chicken with dried lemon, spices and rice), diyai mashwi (grilled marinated chicken) and biryani (meat or fish cooked with Indian-style spiced rice). And even the fussiest of eaters will enjoy hummus (chickpea dip), falafel (fried chickpea balls) and shawarma (spit cooked lamb on pita bread with creamy garlic sauce).
Local Customs
The UAE is a country rich in heritage and culture with Arabic and English widely spoken by its hospitable people. A predominantly Muslim country, Islam sets the standard for their way of life, but the country is multi-cultural and foreigners are free to practise their own religion.
The dress code is relatively liberal, though that is not to say that the attire isn't conservative as per the laws of Islam. Men wear a long white cloak called a kandura or dishdash with a guthra (headscarf), though in Oman they wear a massar, an embroidered wool hat. Most women wear an abaya, a long back gown with a shayla head covering. It is important to be respectful and visitors to Mosques should cover up in a similar manner.
While the UAE is fast growing, traditional events such as falconry, camel racing and dhow sailing are still popular and a great way to introduce your kids to the culture.
Costs
The UAE is notoriously decadent and can be an expensive destination for families. With accommodation rated as high as seven-star, it is unsurprising that it can cost an arm and a leg for an overnight stay, but there is more affordable (though always plush) accommodation to be found. The high season runs from around November through April. If you're looking for a bargain, low season runs from May through October, but it can be uncomfortably hot and humid, especially for kids.
Activities like camel trekking, dune bashing and all the indoor theme parks can be pricey, so you'll need to budget for them before you go. The UAE's massive malls stock many high end brands but if you're after a shopping bargain head to one of the colourful souks (markets). Higher end restaurants are expensive, but local cuisine is moderately price and delicious. Tipping is not expected, but is commonly practised.
Popular stories
For nature-loving families, Costa Rica is one of the most magical destinations to travel with kids. Here is a rundown of what to expect.
Janeece Keller is the founder and editor of Family Travel. She mostly travels with her husband and two young kids. She has a large blended family that lives in Australia and Europe. She has visited 52 countries and lived on 3 continents. From camping to luxury resorts Janeece tries to make sure her family has diverse holiday experiences each year. She is an avid hiker and ocean swimmer who loves good food, margaritas and heading off the beaten path.
* Affiliate Disclosure: This post may contain affiliate links, which means we may receive a commission if you make a purchase through the links provided, at no additional cost to you. Thanks for supporting the work we put into FamilyTravel.com.au!