Ultimate guide to things to do in California with kids
Take the iconic family road trip through 'The Golden State'. California is renowned for being one of the greatest destinations in the world for family travel – you will never be without entertainment and engagement for every member of the family. With theme-parks-galore for toddlers and young children, exciting and iconic cities waiting to be endlessly explored, awe-inspiring nature and adventure sports havens – California is a top pick for the whole family.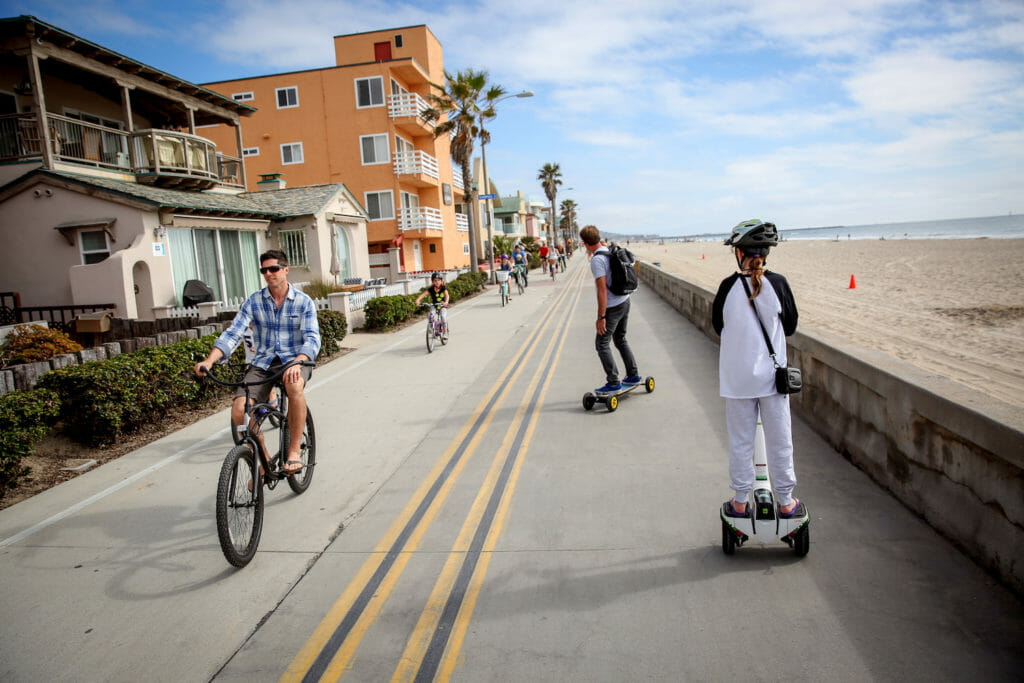 The kids will love
Los Angeles
Spend an afternoon at Santa Monica Pier, be sure to hit Universal Studios and experience it's 'behind the scenes' attractions, visit a family-friendly concert at the Hollywood Bowl, catch a Dodgers baseball game, visit Griffith Park Observatory – gateway to the cosmos!
San Diego & Disneyland
California's theme park haven – visit Balboa Park, hosting over 17 museums, sprawling gardens and the San Diego Zoo, Legoland, Knott's Berry Farm and, of course, Disneyland.
San Francisco
Visit the city's crookedest Lombard Street, take a cable car down to Fisherman's Wharf, watch and listen to the hundreds of sea lions at Pier 39, take a tour of the infamous Alcatraz prison, bike across the Golden Gate Bridge and finish the perfect afternoon in Ghirardelli Square at the iconic Ghirardelli Chocolate Shop and then head to an old-school diner for dinner. You will never run out of kid-friendly, fun things to do in San Francisco!
Yosemite, Sierra Nevada & Lake Tahoe
Hike to a waterfall, zipline through the forest, go water rafting in the Merced River Canyon, take an open-air tram tour through Sierra Nevada National Park or even a moonlight tour. Lake Tahoe, North America's largest alpine lake, is the quintessential winter adventure destination and super family friendly. Winter sports, water-sports, scenic sightseeing and family recreational activities are among what's on offer.
Best time to travel
The Californian coast is renowned for its mild, sunny weather all year round. This makes its two shoulder seasons, April to May and September to October, a sweet spot for travel – think low crowds, dropped prices and sunny, cloudless skies. Low season is November to March, and this time is still quite comfortable for travel throughout California.
The highest season for the coast is June to August. Important to note is that accommodation prices during these months can hike from 50% – 100% throughout most of California's major destinations. This is reversed for California's desert areas, such as Sierra Nevada, which experience a low season on account of soaring temperatures. Winter is peak season for these regions, November to February.
Things to do in California with…
Young children will have a ball at California's several theme parks – Disneyland and Disney California Adventure Park, Knott's Berry Farm – SoCal's original theme park, Legoland, Universal Studios, Warner Bros. Studios, Balboa Park; the list goes on. Designed for the engagement and entertainment of young kids, California is the perfect destination for them.
San Francisco has so much to offer for the whole family, with diverse attractions for kids of all ages. Kids will never be bored in the Golden Gate City – hold on tight aboard the iconic cable cars, be endlessly entertained at Pier 39, try chowder in a bread bowl at the famous Boudin Bakery, rent bikes and cycle the city streets, take a chilling tour of Alcatraz prison.
There's so much to learn in the city with its wealth of interactive and educational museums – among them the Expolratorium, California's Academy of Sciences in Golden Gate Park, Cable Car Museum and The San Francisco Dungeon.
Adventurous and sporty teens will be for dazzled for choice and entertainment at Sierra Nevada National Park and Lake Tahoe. Lake Tahoe hosts an impressive range of adventure activities for older kids including tubing, tobogganing, ski sports, mountain biking, water-sports and recreational group activities, while Sierra Nevada National Park is a worthwhile and impressive tour of nature – renowned for its magnificent waterfalls, chose between options of a serene open-air tram tour or dive into the park with a thrilling ziplining or white water rafting experience.
Surrounded by mountains, northern Thailand holds an almost mystical appeal. In Chiang Mai, Thailand's second largest city, you'll find heaps to see and do. The city is home to more than 300 fascinating temples and eye opening traditional practices, plus the fascinating Walking Street Markets, where teens can stock up on trinkets and cheap clothes. And while the pretty moated city offers rich history, culture and tradition, it is also home to some of Thailand's most teen friendly resorts. It is also an excellent base for visiting the mountains and for exploring neighbouring forests, rice fields and national parks for bamboo rafting, white-water rafting and trekking.
Not too far from Chiang Mai is Chiang Rai, a culturally diverse region that is home to Thailand's minority Hill Tribes. Here you'll find a more traditional Thailand, and visiting families can even enjoy a homestay with a hill tribe family for the ultimate in cultural immersion.
Getting around California
Car rentals are a convenient and affordable option for travel through California – as well as a scenic way to view California's diverse environment. Booked in advance, most agencies offer car rentals of about $10 a day. Note that children under six or weighing less than 28kg must be seated in the backseat or in a safety seat.
Train travel is another ideal way to view California's scenery while getting around. Stress-free and efficient, railway service, Amtrak, follows an extensive route along the scenic coast of California as well as has connections inland to hotspot destinations such as Yosemite National Park. The company often offers specials for specific seasons, as well as 15% discounts for students – details can be found at www.amtrak.com/home
Bus: With great accessibility to both metro and remote areas, buses are a dependable option. Amtrak Thruway buses connect to over 90 destinations throughout California. Most services also connect to Amtrak railway stations making it convenient to travel using both services. There are several bus services that run between the major cities – daily shuttles run between Los Angeles and San Francisco starting from $1! Details can be found at www.cashuttlebus.com
More about California for families
Accommodation
Hotels and motels commonly have rooms with two double beds with the option of an extra sofa bed or rollaway for a small extra cost. Some accommodation offer promotions for families, such as 'kids stay for free'. Always ask when booking for information on any promotional offers.
Resorts are often the most family-friendly option. Many offer child-care services, licenced babysitting options and activity programs for kids. They can also provide great recommendations for site seeing and family activities upon request.
It is advised to always mention that you are travelling with children upon booking any accommodation. Although many hotels and resorts are family friendly, options such as B&Bs can be adult-only and it is common courtesy to let any accommodation know before arrival if you will be travelling with young children.
What to pack
For any holiday in California, comfortable walking shoes are a must – you will be surprised how far you will walk visiting the countless attractions of each city! For outdoor activities, particularly for visiting any National Parks, pack any outdoor and hiking gear you may need. If you do forget any essentials, most are available for hire or purchase in the major cities.
Portable travel items for babies and toddlers are a practical investment – baby carriers, foldable strollers, high chairs and car seats. Alternatively, many are available for rent from US sites such as www.babysaway.com
Sunscreen, swimming costumes and beach gear are essentials – California is renowned for its world-class beaches and beach culture.
Planning
When planning your activities for the major cities and metro areas, particularly Los Angeles and San Francisco, be sure to schedule in extra time for travel. The cities are particularly infamous for traffic and travelling between the sites can sometimes take some time.
Popular stories
For nature-loving families, Costa Rica is one of the most magical destinations to travel with kids. Here is a rundown of what to expect.
Janeece Keller is the founder and editor of Family Travel. She mostly travels with her husband and two young kids. She has a large blended family that lives in Australia and Europe. She has visited 52 countries and lived on 3 continents. From camping to luxury resorts Janeece tries to make sure her family has diverse holiday experiences each year. She is an avid hiker and ocean swimmer who loves good food, margaritas and heading off the beaten path.
* Affiliate Disclosure: This post may contain affiliate links, which means we may receive a commission if you make a purchase through the links provided, at no additional cost to you. Thanks for supporting the work we put into FamilyTravel.com.au!