Wine making is serious business in Australia. Each state offers its own specialty, and claims dominance over its competitors. Even the Northern Territory has a hand in the wine game, producing unique mango wines in the Top End. But the state that reigns supreme on the international stage is South Australia's Wine Country.

South Australia's outstanding wine regions produce more wine grapes than any other region in the country. The quality and quantity sets the likes of the Barossa, McLaren Vale, the Clare Valley and Adelaide Hills apart from the rest. But there's more than just wine on offer, especially for families.

Adelaide Hills

The Adelaide Hills region is a pleasant 30-minute drive from Adelaide. Part of the Mount Lofty Ranges, you'll find a patchwork of manicured valleys, vineyards and orchards among quaint villages with cozy cafes and roadside stalls selling fresh local produce.

The exceptional produce from the area is a hallmark of the traditional land management practices of the traditional owners. The Adelaide Hills were upkept by the Peramangk people, whose reach extends as far the Fleurieu Peninsula and into the Barossa Valley. They used slow burning fire to clear old grasses and promote fresh plant growth.

The historic town of Hanhdorf is especially popular with families, the main street filled with sweet shops, ice creameries and toy shops the kids will adore.
Read our full guide to the Adelaide Hills here.
McLaren Vale

McLaren Vale is a scenic 40-minute drive from Adelaide. It makes for a spectacular road trip, with unspoilt views of the coastline and into the hinterland, dotted with boutique wineries. The region's Mediterranean climate allows for a bounty of high-quality food and wine. McLaren Vale has a strong focus on sustainability with loads of paddock-to-plate eateries to feast at and low-impact wineries to wash it all down.

The first grapes were planted in the McLaren Vale region is 1838. Prior to that, the spectacular coastal stretch was thriving under the traditional ownership of the Kaurna people. Today, more than 80 cellar doors reside in the McLaren Vale area.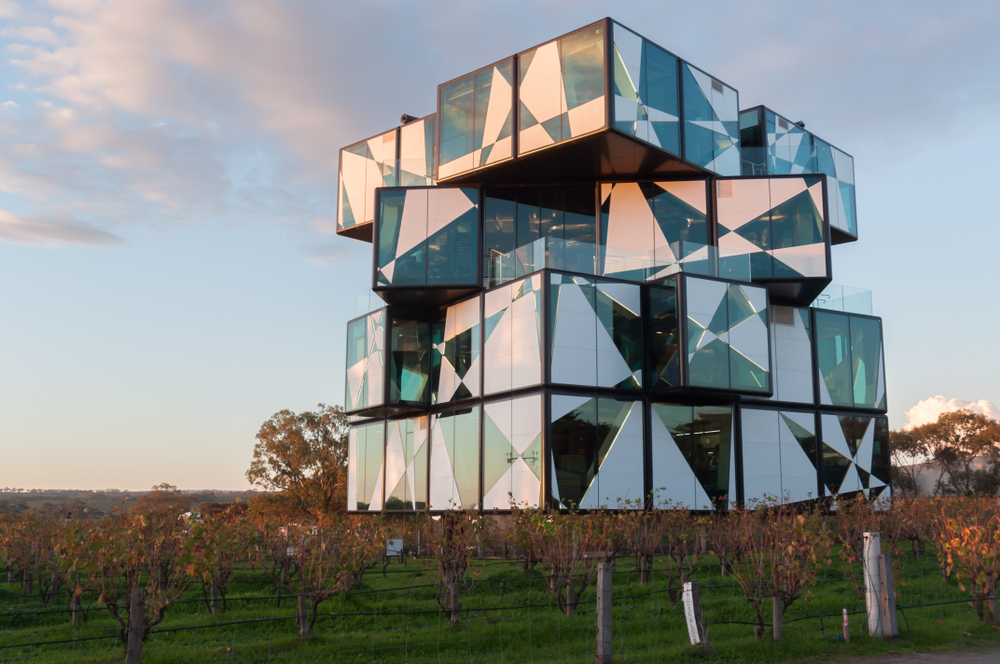 Best known for its Shiraz, McLaren Vale has dozens of family-friendly wineries to check out. Kids will be kept busy with play equipment, mazes and giant yard games, while parents can enjoy a splash of the regions finest.

Barossa Valley

Perhaps the most well-known wine region in Australia, the beautiful Barossa Valley has earned its stellar reputation over the years. More and more cellar doors are introducing new offerings for kids to make wine tasting a more family-friendly affair. It makes sense since wine-making is often a family business.

All throughout the Barossa, families will find parks, playgrounds, historic attractions and a bounty of natural attractions. Pack some comfy shoes for your visit, you'll be dying to hit and trails and wander through the lush hinterland.

Be sure to make a stop at Pheasant Farm. This is where national treasure, Maggie Beer, has set up shop, welcoming families from all over the world to taste her delicious treats. The boutique wines and ciders are also worth a try. Otherwise, you can fill up on goodies from the Barossa Farmers Market every Saturday in Angaston.
Read our full guide to the Barossa Valley here.
The Clare Valley

In northern South Australia, the Clare Valley is a patchwork of vineyards, sprawling paddocks and produce farms. The region is also famed for its historic townships, well-preserved colonial buildings and museums.

One of the best ways to explore the Clare Valley is on the Riesling and Rattler Trail, an easy cycle path that winds 35 kilometres through the countryside.
Keen hikers can check out the trails through Red Banks and Spring Gully Conservation Parks. Tell the kids to keep an eye out for local wildlife. Western grey kangaroos can often be spotted early in the morning and towards sunset. You can spot brushtail possums burrowing in the hollows of eucalyptus trees. And you may not see them, but look out for holes dug by echidnas and wombats.

The region also has a fascinating copper mining heritage in the town of Burra. It's actually one of the world's best-preserved colonial mining towns so be sure to stop by.
Things to do for every age

0-4 year olds
Take the kids to explore the streets of Hanhdorf, a real-life fairytale village packed with sweet shops, ice creameries, toy shops, candle makers and a puppet shop. There's even a fairy garden and store just off the main street.

Let your little gardeners loose at Beerenberg Family Farm just outside Hanhdorf. Grab a bucket and fill it with delicious, juicy, red strawberries from October to April.

The kids can also enjoy close wildlife encounters at Hahndorf Farm Barn in the Adelaide Hills. Part children's farmyard-part wildlife park, the Farm Barn is the perfect place for kids to have a cuddle with everything from kangaroos to camels.

The Big Rocking Horse and Toy Factory in Gumeracha is not to be missed. About half an hour from Hahndorf, the kids will love climbing the six-storey high rocking horse and exploring the toy factory and wildlife bush park.

5-8 year olds

It's not only adults who get to enjoy all the spoils of South Australia's vineyards. Plenty of cellar doors now offer a spread of toys, games and activities to keep the kids as happy as mum and dad.

Mclaren Vale has several fantastic kid-friendly options. Gemtree Wines is one of our favourites. Kids can rummage through the toy box and kids' packs inside, and hit up the playground overlooking the vineyards. There's also an enclosed grass area where kids can say hello to the resident sheep and alpacas.

Fox Creek Wines offer a mapped treasure hunt to keep the kids entertained in the cellar door grounds. There's even a prize for those who are clever enough to solve it. And at Maxwell Wines, along with the country's most popular mead for mum and dad, there's a fantastic conifer hedge maze to challenge the kids.

9-12 year olds

A special offering in the Adelaide Hills is the Kids' Food Trail, an educational foodie adventure designed especially for families. The tour will introduce you to all the processes involved in food production and let you taste some of the more delicious results, from traditional chocolates to fresh fruit.

In the bountiful Barossa, the kids can stretch out on a beanbag on Jacob Creeks' sprawling green lawns, kick a ball around or borrow a bicycle to explore the estate on wheels. Active kids will also enjoy taking in 18 holes of putt putt obstacles at Hahndorf Mini Golf. The course gets harder as you go along so bring your A-game.
In the warmer months, families should head to the pristine beaches in the McLaren Vale region. Moana has a great surf break for kids who like to hang 10, and Sellicks beach is a long, smooth stretch of sand, perfect for beach strolls and sand-castle building.

Teens
Adventurous types can explore the Adelaide Hills on horseback, or take on the epic mountain bike tracks at Eagle Mountain Bike Park. The Mawson Trail is another popular route to follow on two wheels. Dare devils can climb cliffs and abseil down rocky escarpments in Morialta Conservation Park.

The magical Clare Valley is another great spot for adventurous visitors with some excellent parks and trails to explore. The rugged gorges and old growth mallee forests of Red Banks Conservation Park provide an excellent backdrop for off road bikes and buggies. At Spring Gully Conservation Park, take a hike along the Cascades Walk to swim under an 18-metre high waterfall. You may even spot a Southern hairy-nosed wombat, Western grey kangaroo or Short-beaked echidna along the way.

If you prefer having someone to do all the hard work while you enjoy the thrills, head to the Barossa Valley to take a helicopter flight or hot air balloon ride over the stunning hills.

Best time to go

The South Australia wine regions' four distinct seasons offer something different to see, do and taste no matter when you visit.

Summer, from December to February, can be very hot in South Australia and, although the hilly wine regions are always a few degrees cooler, you'll still need to pack the sunscreen and hats. It's also cherry and strawberry picking season.
Winter, from June to August usually has clear days but can be a bit cool requiring an extra layer.
Spring, from September to November, offers ideal weather for outdoor activities and adventuring. It's the time of year you'll see fruit trees blossom in hues of pinks, whites and reds, and pretty canola fields flowering in a sea of yellow as far as the horizon.
The weather in Autumn, from March to May, is similar, though the bright blooms give way to magnificent autumn colours as the trees prepare to shed their leaves for winter.

Must see sights

Fertile farming lands and some of the richest heritage areas in Australia mean there is plenty for families to explore in the region.

Follow the Nature Trail at Mt Lofty Botanical Gardens
Take a stroll down the main street of Hahndorf
Visit the Adelaide Hills Farmers Markets
Enjoy fun and games at a kid-friendly winery
Pick farm fresh strawberries and blackberries
Climb the big Rocking Horse
Visit the D'Arenberg Cube in McLaren Vale
Soak up the views from Mount Barker Summit
Whisper a message down the Whispering Wall at the Barossa Reservoir
Ride a hot air balloon over the Barossa
Places to eat and food to try

Where do we start? Renowned for its food and wine, these South Australia wine regions will spoil your family choice.

Hahndorf is well known for its baked treats. A German pie from Otto's has to be on your must-eat list. Save some room for the pretzels, strudel and black forest cake at The German Cake Shop.
To get your fill of fresh fruit, head to one of the farm gates to pick berries, apples, oranges and moret. Hit the Adelaide Hills Kids' Food Trail to see how bees make honey, and taste some of the goods. Don't forget to make a stop at Udder Delights in Hahndorf to taste some creamy cheese and head to Red Cacao in Stirling to get your chocolate fix.

For those interested in learning the tricks of the trade, you might want to sign up for a cooking class. Adelaide Hills Sticky Rice Cooking School is a family-owned and run outfit where, at the end of the day, you get to eat whatever you cook.

Free things to do

It's easy to splurge on food and wine in the South Australia wine regions, but not everything needs to take its toll on your wallet. Allocate a day to visit the tourist town of Hahndorf, just off the South-Eastern Freeway north of Adelaide. It's steeped in German tradition and a fascinating place to explore.

If you enjoy art, there are a multitude of galleries to visit along with family friendly wineries boasting some of the best Australian wines to taste while the kids play in the open spaces.

A visit to Mount Lofty Summit, Adelaide's highest peak, offers great views from 710 metres above sea level. The restaurant at the top up can fill hungry tummies before you make your way back down the trails. And in the Barossa, you'll come across the Whispering Wall at the Barossa Reservoir, a local landmark whose name comes from its amazing acoustics.

Events
January – Santos Tour Down Under
This historic 145-kolimetre ride starts from Port Adelaide and weaves its way through the picturesque countryside to the Southern Barossa via Williamstown and finishing in Lyndoch.

January – Adelaide Hills Crush Festival
Enjoy food, wine, music, art markets and more at this one day festival.

April – Barossa Vintage Festival
Dating back to 1947, this is the largest and longest-running wine event in Australia with plenty to do for all ages.

April – The McLaren Vale Vintage & Classic
This is a great family celebration of vintage and classic motoring.

April – Oakbank Easter Racing Carnival
A family-oriented event, the Easter Racing Carnival has plenty of activities and entertainment designed especially for kids, including rides and an animal petting zoo.

September – Barossa Gourmet Weekend
Enjoy three days of the best food wines of the Barossa at this family event.
July – Willunga Almond Blossom Festival
Enjoy an exciting mix of food, fun and entertainment aimed at all ages.
Want more wine?
Guide to Australia's best family-friendly wineries
Family-friendly wineries in the Yarra Valley
Mudgee's top wineries to visit with kids
* Affiliate Disclosure: This post may contain affiliate links, which means we may receive a commission if you make a purchase through the links provided, at no additional cost to you. Thanks for supporting the work we put into FamilyTravel.com.au!