South Africa is one of the easiest and safest African countries to travel with children.
More than anywhere else, South Africa puts unforgettable cultural, wildlife and natural treasures within reach of families.
Given the country's sometimes turbulent history, though, an open mind is vital. Expect to learn important lessons about social justice, the struggle for human rights and the need for animal conservation.
In South Africa, you'll find a huge range of landscapes – urban, seaside, savanna, mountain, desert and wetland. Expect world-class cities: Cape Town, Durban and Johannesburg, incredible game reserves, particularly Kruger National Park and stunning seafront drives such as Garden Route and Wild Coast; plus the mountainous hinterlands of KwaZulu Natal.
It's best to keep your family trip focused on a few activities in the same region. If you attempt too much – you will have long drives, which does not always go over well with kids.
You should get the kids out into the pristine countryside, especially the malaria-free Eastern Cape. No trip to South Africa would be complete without at least attempting to see the Big 5.
As wilderness areas shrink in size, the attention families give to understanding and preserving them is critical. Whilst city-based tours and experiences certainly teach a lot about contemporary lifestyles and culture, nature appreciation opens children's eyes in truly special ways
South Africa with kids aged 0-4
Cape Town and Durban are tot-friendly cities with great beaches, local culture, wildlife and good comfort.
Cape Town's Two Oceans Aquarium showcases marine life from both the warm Indian and cold Atlantic oceans. Under 4s are free and a play centre has puppet shows and craft activities. The uShaka Marine World in Durban combines an underwater aquarium and a water park.
At False Bay and Saint James Beach near Cape Town, you can spend all day playing in the toddler-ready tide pools. Another colourful local favourite is Muizenberg Beach's shallows.
Further east, Hermanus and Walker Bay in spring are amongst the world's best places for land-based whale- and dolphin-watching. The Eastern Cape has excellent beaches at Jeffreys Bay (home to a fun shell museum) and Port Elizabeth too.
Good for kids and their parents, the Cape Winelands estates welcome young families with child-friendly activities, hospitable garden restaurants and plenty of running space.
South Africa with kids 5-8
Cape Town and surrounds are full of bucket-list treats for young primary-schoolers. They will love flat-topped Table Mountain, easily reachable via cable car, and Kirstenbosch National Botanical Gardens, the smallest and richest of the world's five floral kingdoms.
Not to be missed are the penguin colonies and rehabilitation centre of Boulders Beach.
For self-drive road-tripping families, the coastal Garden Route puts incredible biodiversity on display – seaside villages, beaches, ancient jungles, the Little Karoo Desert and more. Stops to consider: Plettenberg Bay's Monkeyland and the Tenikwa Wildlife Rehabilitation Centre.
The malaria-free Eastern Cape is ideal for families. It has a broad range of safari experiences and lodges and not all are expensive. Addo Elephant National Park is accessible, affordable and full of mammals both large (the Big 5) and small (the dung beetle). Visits can be self-guided (best for under 6s) or structured game drives (kids 6 and up). Private game reserves also eagerly accept families.
South Africa with kids 9-12
Kids this age will understand and be fascinated by in South Africa's history of apartheid and slavery. The best places to investigate the subject are Johannesburg's Apartheid Museum, Durban's Kwa Muhle Museum, and Cape Town's unmissable Robben Island prison, where Mandela was jailed, and original Slave Lodge.
A safari is a must with tweens. Huge, animal-packed Kruger National Park is South Africa's top game reserve. Very welcoming to families, it has self-drive options, bungalows at park base camps and full-service family lodges nearby.
For something unusual, north of Durban is St. Lucia, where hippos often walk the streets and crocs lurk near hotels.
On the coastal Garden Route (see the 5-8-year-olds section), family-friendly zip line tours are treetops thrills. Head to Port St Johns on the rugged Wild Coast in June/July and you can watch thousands of marine predators feast on huge schools of sardines.
Near Johannesburg, the Cradle of Humankind has hands-on exhibits about early human history to explain thousands of fossils excavated in the area.
South Africa with teens
Socially aware teens have lots to ponder on visits to townships like Langa (Cape Town), Umlazi (Durban) and Soweto (Johannesburg), site of the Mandela Family Museum and Desmond Tutu's home.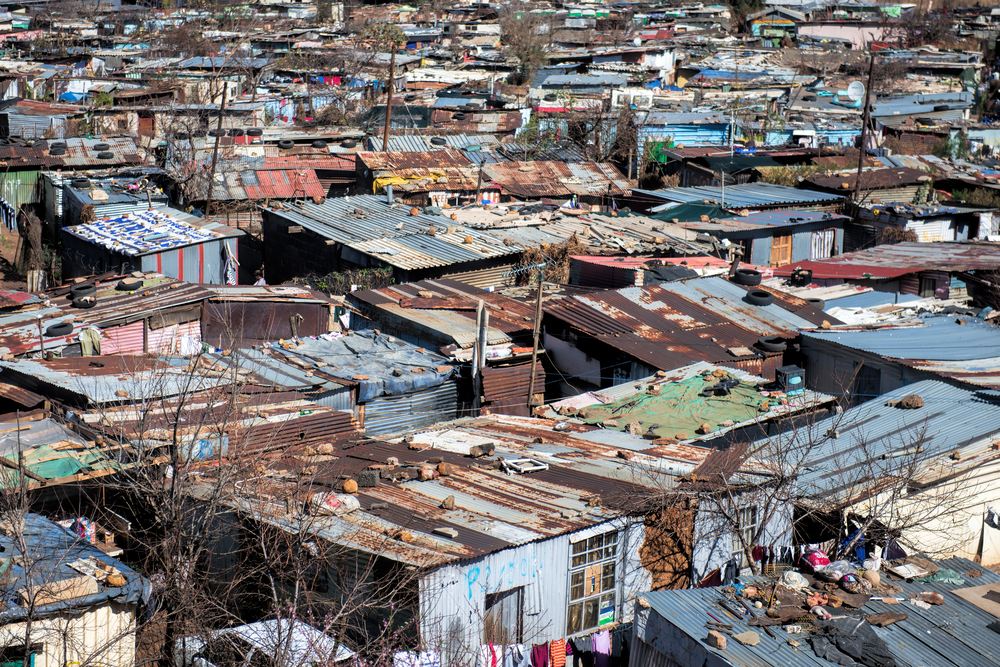 Segregated settlements were created during apartheid for people of colour. These townships are not sightseeing destinations but living communities with rich heritage amidst real poverty. The best tours are created and supported by township residents.
The Wild Coast (see the 9-12-year-olds section) is a great place for teens to engage directly with local communities. Private guides and local backpackers can arrange rural Xhosa cultural experiences.
Kids who crave adventure will revel in backcountry hiking/camping trips in the KwaZulu Natal region's Drakensberg Mountains, the country's highest mountains and location of the world's second highest waterfall.
Elsewhere in the region there are historic Anglo-Zulu battlefields, wetlands and game reserves such as Phinda and Hluhluwe-IMfolozi, the latter known for its rhinos.
Best time to go
South Africa's spring (September to November) and autumn (March to May) are great times to visit. Both times have ample sunny days.
In spring the deserts are in bloom and the whales visible off Hermanus and Walker Bay.
Wildlife-watching is better from autumn into winter, but in June and July (low season), minimum temperatures can be in the single digits in Johannesburg, Cape Town (also it's the rainy season) and Durban.
The Easter and Christmas holidays are peak travel times for local and international travellers, as is the summer season (November to March), with national park and coastal accommodations in demand and often priced accordingly.
Getting Around
Laws from South Africa's Department of Home Affairs, designed to curb child trafficking, require children arriving in South Africa to present additional documentation. If you are travelling without both parents listed on a full birth certificate – the requirements may be even more strict. You should check these details with Smart Traveller and the South African Embassy before you go.
Car hire is a great option for families. Kids' car seats can be booked with advance notice. Rates are reasonable and roads are good, although local driving habits may sometimes be alarming.
For non-drivers, comfortable tourist-class trains pass between Johannesburg and Cape Town. Baz Bus backpacker shuttles or intercity buses are other options. Shared minibuses and taxis are OK for short trips.
Health tips
Tap water is safe to drink, except in rural areas. Clean toilets are easy to find. Baby change facilities are less common, but milk, baby food and nappies/diapers are available in most supermarkets.
See your doctors for advice on required vaccinations. Tetanus, polio, hepatitis A and B at the very least should be up to date.
You will need to protect against mosquitoes by wearing long clothing and using insect repellant. The greatest health risk is contracting malaria, so care should be taken if there are plans to visit Kruger National Park and any areas bordering Mozambique. The malaria risk is lowest during the winter months of June and July.
The internet and locals are full of stories about high crime rates in South Africa. Reasonable precautions are wise without being paranoid. Most travellers experience no difficulties.
Souvenirs
Telephone-wire crafts or soda-can art are great keepsakes. They can be bought directly from the artisans to support local enterprise and the sustainable use of recycled materials.
Beaded items come in a colourful variety of ornamental designs. Inexpensive beaded trinkets like keyrings, bracelets or little animals are found in tourist stores or local markets.
Carved wooden animals and masks are sometimes irresistible, but Made in China versions are common, so always double-check. You may also struggle to get these back through Australian customs.
A popular drink all across South Africa, rooibos is a delicious, earthy tea from the leaves of the indigenous rooibos bush. Regular and gourmet versions are available in most supermarkets.
A guide book for animal identification or a children's book about Nelson Mandela will help keep memories alive.
Best food to eat
South Africans love meat. The classic barbecue gathering, or braai, centres on boerewors (spicy sausages), but wild game is common too. Biltong is a familiar snack of salted and dried meat. Like jerky, it can be quite spicy (tender tongues beware!). Bobotie, curried minced meat with custard sauce, is a notable speciality.
The devotion to meat can present challenges to vegetarians, but market produce is high quality and self-catering is often possible. Also, mielie pap (a maize-based porridge) is native comfort food, and both Indian- and Muslim-influenced dishes, especially curries, are popular – a "bunny" is a hollowed-out loaf of bread filled with curry.
Reliable restaurants, including international and local fast food chains (perfect for picky eaters), are found in most population centre, as well as many truck-stop conveniences and farm stalls like those along the Garden Route. Family-style restaurants often serve children's menus (or half portions) and provide colouring books and crayons to kids.
Local customs
In 1994, Archbishop Desmond Tutu called South Africa the Rainbow Nation. The term stuck. With 11 official languages and eight others officially recognized, South Africa is one of the most multicultural countries in the world. Local customs are therefore extremely difficult to generalize.
Travellers should anticipate and be sensitive to this diversity, and remember the difficult road to its official acceptance. There are still many issues to be worked out, especially around economic opportunity. For the most part, though, the South African middle class lifestyle is very similar to that in Europe, North America and Australia.
Notably, family is highly valued by all cultures, and the warm hospitality widely shown to kids from foreign lands is genuine, personal and heartening, especially in local accommodations like bed-and-breakfasts, guest houses and intimate lodges.
Costs
Compared to the rest of the world, South Africa is relatively cheap, although expensive compared to much of the rest of the continent. Costs depend greatly on the exchange rate, which can fluctuate widely, and a traveller's selected class of comfort.
As service-industry wages can be low, tipping is both expected and customary – 10-15% in restaurants, and small change in hotels, for car guards and at petrol stations.
Children are usually offered discounted admission to parks, museums and other attractions, and sometimes even hotels.
ATMs are easily located throughout the country and readily accept most international cards. ATM scams, such as false jams, are not unknown.
* Affiliate Disclosure: This post may contain affiliate links, which means we may receive a commission if you make a purchase through the links provided, at no additional cost to you. Thanks for supporting the work we put into FamilyTravel.com.au!