With the end of school term rapidly approaching, the search for holiday entertainment is on. And this means only one thing. It's time for some putt putt golf!
Putt your hands in the air. It's mini golf season, and we've found the best Putt Putt Golf Sydney venues.
Why not take a swing? You might just score a hole in one.
Thornleigh Mini Golf
Thornleigh is a hole new ball game. This 36-hole mini golf club takes you on a journey through the, respectively named, Palms and Billabong.
Cross bridges, dodge palms and putt through the water. The two mini golf courses at Thornleigh are available for all ages and skill levels. The putt putt golf greens are also well lit, so you can putt away until 10pm.

Be sure to check out the Bunker Cafe menu for a post-golf refuel, fit with hot and cold meals, beverages, snacks, cakes and Grinders coffee. There's also a great view of the golfing greens, so you can watch the little ones as they golf.
Kids older than four can also participate in junior golf programs and lessons, available for all skill levels throughout the school term. You can also check out the school holiday clinics for 5 to 16-year-olds.
Little caddies can also have their very own mini-golf birthday party at Thornleigh.
Prices: 18 holes: under 5's $9, under 18's $14, adults $16, family $45
36 holes: under 5's $11, under 18's $17, adults $20, family $55
Cheaper rates are available weekdays before 3pm for under 5's.
Head to Thornleigh Mini Golf for more.
Holey Moley – Darlinghurst, Newtown and Castle Towers
This eccentric putt putt bar serves cocktails and tunes on their greens.
But fear not, kids are just as welcome in daylight hours at this top putt putt golf spot.
Holey Moley venues are kitted out with pop-culture inspired courses and 80's arcade games. So after a round of games you can kick back and enjoy the Caddyshack menu. You can also hit up the private karaoke rooms for a belt and a boogie.
The Castle Towers venue allows under 18s until 8pm.
The three Sydney venues host completely different courses, laced with neon lights, art and colourful tunes. There are also kids mini golf parties available, including food, drinks, and a knowledgeable golfing host. The parties are $32 a head and are held in a separate reserved area.
Course options include 9 holes, 18 holes and 27, depending on the venue.
Prices: Darlinghurst and Newtown: 9 holes/ $16pp, 18 holes/ $30pp and 27 holes/ $42 pp
Castle Towers: 9 holes/ $12pp, 18 holes/ $20pp.
City Golf – Gordon
Buy one get one free with second rounds included at City Golf. This 18-hole miniature golf course can be played in three different ways.
Gordon's golfing greens are perfect for family a range of abilities, both challenging for adults and achievable for the little ones.
City Golf hosts kids birthday parties, and the course is floodlit for some equally enjoyable evenings.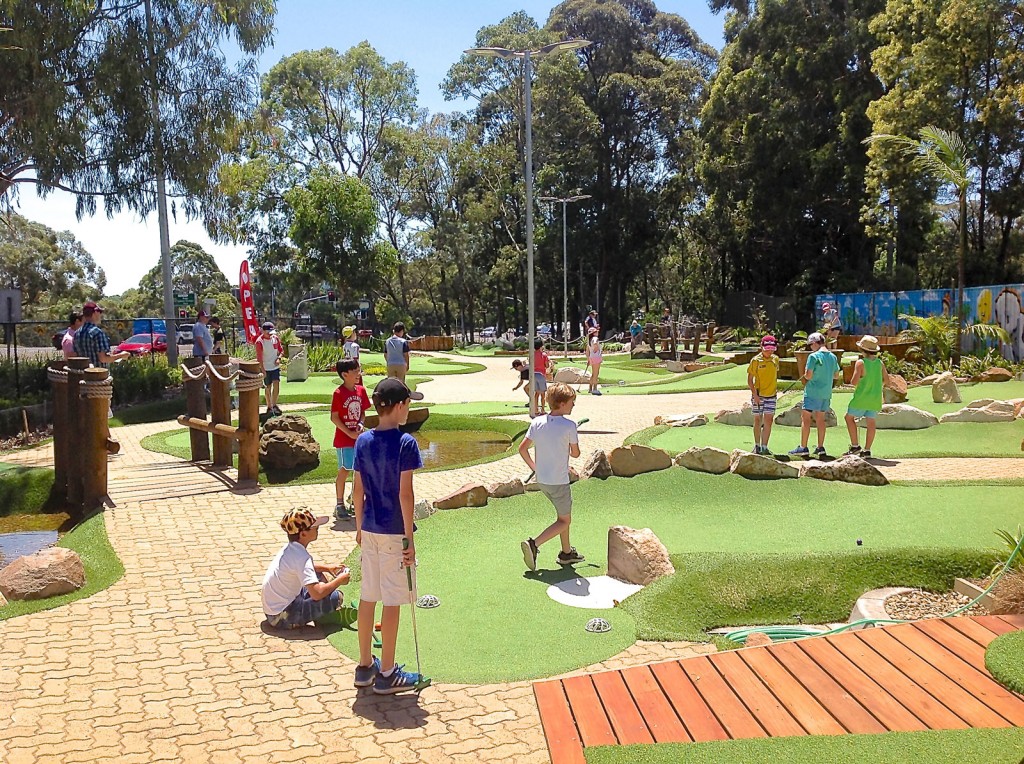 Prices: Pre schoolers $7, children $10.50, adults $15, family $40.
Head to City Golf Gordon for more.
Mega Mini Golf – Campbelltown
Take a swing at your golfing asparations at this Putt Putt Golf venue in south west Sydney.
This fluorescent green and purple mini golf hub is home to three themed courses. Decked out with moving greens and music, the indoor club in Campbelltown has a single entry price.
Venture through the seven seas, explore Ancient Egypt and find your way out of the Wild West. The golfing greens at Mega Mini Golf are intricately designed for ranging abilities.
Mega Mini Golf has a menu available for those after a bite to eat. They also host a range of kids birthday parties, available with varied catering options.
Prices: Children $12, adults $17, family $46. Second round is half price.
Head to Mega Mini Golf for more.
Planet Putt – Miranda
This putt putt club is raising the par with an East African theme. Planet Putt's 18-hole green ventures through the charming indoor streets and winding laneways of Mombasa.

Decked out with a secret sewing room, crate towers, safari convertible and indoor plane, this putt putt extravaganza is worth the visit.
You can also hold birthdays and functions here, and they run an educational school program.
And of course mini golfing can be hungry work, so you stop by the Jokers Cafe for a post-game coffee and meal.
Prices: Children $12, adults $16, family $50.
Head to Planet Putt Miranda for more.
Dural Putt Putt in the gardens
This 18-hole mini golf club is a putt above the rest.
Nestled amidst picturesque gardens, these golfing greens are great for families with younger enthusiasts. Laced with garden gnomes and medieval adornments, the course is both challenging and entertaining.
Dural Putt Putt is also fit with a water fountain, various shaded areas and a cafe for pre and post-game snacks.
Prices: 18 holes: under 5's $5, under 18's $12, adults $14, family $45
36 holes: under 5's $10, under 18's $17, adults $19, family $60
Head to Dural Putt Putt for more.
Pittwater Golf Centre – Narrabeen
We've got a hole lotta love for this 36-hole Putt Putt Golf Sydney Northern Beaches paradise.
Pittwater Golf Centre is home to two intricately designed mini golf courses, open to all ages and abilities. Explore the nooks and crannies of Caves, or head to Shipwreck for a pirate-themed adventure.
Little pirates can also have their very own Mini Golf pirate party. When the school term is over, there are School Holiday programs and cupcake decorating Mini Golf Chef Camps available.
The golfing greens are also home to a giant driving range, and have lessons available at the Golfing Academy.
Prices: 18 holes: under 5's $7, under 18's $12, adults $17, family $44
36 holes: under 5's $10, under 18's $15, adults $20, family $54
There are also a range of discounts and vouchers available to download on the Pittwater Golf Centre website.
Head to Pittwater Golf Centre for more.
Jamisontown Unreal Mini Golf – South Penrith
This indoor jungle is a putt above the rest.
The 18-hole greens at Unreal Mini Golf are detailed with sound effects, props and moving surprises. The course takes you through several themed grounds, and are suitable for all ages and abilities.

Make sure to check out the Unreal Mini Golf app to keep score and watch your improvements. You can also grab a Dippin' Dots ice cream, and have a go on the arcade games.
During the holidays, the South Penrith greens have a $20 deal including two rounds of golf, a hotdog and drink.
Prices: Under 3's free, Children $10, adults $15, family $40.
Head to Unreal Mini Golf for more.
Aqua Golf – Penrith
Whilst Aqua doesn't have putt putt, they fulfil our golfing expectations in many other ways. Head to Penrith and you can tee off across the water.
The aim of the game is to hit randomly spaced targets across the lake in front of you. Hit a target and you could win cash prizes up to $100, or another bucket of balls.
Aqua Golf has specially organised kids targets, for those who aren't ready for the big league.
The club also hosts kids Putt Putt Golf Sydney birthday parties, and there are a range of BBQ's and picnic tables available for use.
Prices: 1-5 buckets – $9, 6-10 buckets – $8, 11-15 buckets – $7, 16 or more – $6 each.
Head to Panthers Aqua Golf Penrith for more.
READ MORE
Top tips for road trips with kids
What to do in NSW this Easter school holidays
Where to go each school holidays in Australia
* Affiliate Disclosure: This post may contain affiliate links, which means we may receive a commission if you make a purchase through the links provided, at no additional cost to you. Thanks for supporting the work we put into FamilyTravel.com.au!