A vibrant beach culture, rich Indigenous history, a massive array of adventure activities and the whitest sand in the world. Jervis Bay, a NSW South Coast gem, does some serious box ticking.
Jervis Bay sits in the Shoalhaven region of NSW, about three hours south of Sydney, and is adored nationally as a family-friendly destination.
Not only is it home to some of the most beautiful beaches in Australia, but it's also brimming with wildlife hotspots, adventure trails and has an enormous variety of accommodation. Learn to surf, chill out on the beach or hire a bike and cycle around St Georges Basin and Vincentia.
When Jervis Bay National Park was handed back to its rightful Aboriginal owners, it was renamed Booderee – the bay of plenty. It's owned by the Koori people, and their ancestry reflected in the wind and water. It is the home and spirit of the Wreck Bay Aboriginal people, and the community remains within the National Park. The Beecroft Peninsula, Jervis Bay's northern headland, is the location of many highly significant Aboriginal sites.
What's going on in Jervis Bay
Jervis Bay is known for its friendly local community, and it's a great hub for family life and activity. Make sure to check out the renowned Hyams Beach. The Guinness Book of Records has it named it home to the whitest sand in the world.
If you're up for a whale watching cruise, migration season is from June to July and September to October. Dolphins can be spotted year round.
For the history bums, head to the Jervis Bay Maritime Museum in Huskisson. It's great fun exploring the Lady Denman, an old Sydney Harbour passenger ship that was in service for nearly 70 years. The museum boasts a lovely waterfront location, with native gardens, historic buildings and a mangrove boardwalk. It's worth heading there on the first Saturday of the month to check out the arts, crafts and produce markets.
Pitch a tent in Booderee National Park, where you'll find three family-friendly campgrounds. From there, it's super easy to access nearby surf beaches, scenic picnic areas, bushwalking trails and a magnificent bay.
Things to do by age
Kids aged 0-4
Fear not, Jervis is a perfect destination for bubs, and any of the spectacular beaches will provide a full day of sand and sunshine. The shallow waters and soft sands of Moona Moona Creek are particularly great for families with younger children. Protected entirely from the waves, it's a perfect place to paddle around or enjoy a picnic on the grassy shores.
Jervis Bay is a playground haven. Check out White Sands Park in Huskisson for climbing frames, swings, sandpits, scooter paths and plenty of space to kick around a ball. The jetty at Huskisson boasts a colourful play area with slides and climbing equipment.
It's worth squeezing in a round of 18 Hole Mini Golf at Club Husky, located between the Jervis Bay shores and bushland.
Kids aged 5-8
A great day trip for the animal lovers, Booderee National Park and Botanic Gardens is home to a massive array of fascinating native birds and animals.
It's important to remember that the kangaroos lounging near your accommodation – whilst very cute – aren't always the friendliest of campers. It's best for little ones to avoid getting hands-on with the wildlife.
The best place to get up close with wildlife in safety is at Shoalhaven Zoo. Located on the banks of the Shoalhaven River, the park is home to over 100 species of native and exotic mammals, birds and reptiles. There's even the opportunity to get hands-on with some of the cuddly residents.
If you prefer to spot wildlife in its natural habitat, head out on the water with one of the local tour companies to spot whales, dolphins and fur seals.
Kids aged 9-12
Learn about the Aboriginal Koori people at the Booderee Botanic Gardens. It's a great opportunity for the kids to learn about bush tucker, the medicinal uses of plants and local indigenous history. The gardens also boast incredible walking trails and are a great place to spot birds and other animals.
For a hands-on experience with nature in Booderee, kids can take a Wongi-bine Boori (Curious Kids) tour with Galamban Extraordinary Aboriginal Experiences. The one hour guided tour explores Booderee and is a fun and interactive way of encouraging children's curiosity of the natural world.
The clear waters of Jervis Bay make it an ideal place for kayaking, paddling and snorkelling. Hyams Beach and Greenpatch are a must. After a day in the water, kick back and relax at the historic Huskisson Pictures. This charming theatre opens weekends and school holidays and screens the latest release movies.
Teenagers
It's not just the Aussies who love Jervis. The bay is a pitstop for seals, penguins, seabirds, dolphins and migrating whales, who drop in for a frolic during their annual trek along the coast. Scuba diving, snorkelling and swimming are popular activities around the bays of the region. It's a great idea to get teens exploring Jervis Bay Marine Park by kayak, canoe or stand up paddleboard.
You can take organised sea kayaking, stand-up paddleboard or snorkelling tours for a higher chance of marine life encounters. If you prefer a little more adrenaline, you can also give kiteboarding lessons a go. Jervis is also packed with surf schools, for those wannabe groms after the best breaks in town.
Out of the water, there's action to be found at Vincentia, a popular rock climbing destination. In nearby Nowra, the whole family can explore the treetops on high ropes and flying foxes at Trees Adventure.
It's also worth heading to Hole in the Wall Beach and checking out the sandstone rock formations in Booderee National Park.
Best time to visit Jervis Bay
The weather in Jervis Bay is fairly pleasant all year around. Summer and winter bring hot and cold spikes, with the warmest temperatures occurring between December to March. The coldest months are from June to August. You will need to rug up, evenings and early mornings can get pretty cool.
Gorgeous beaches and fantastic whale watching opportunities, in under three hours drive from Sydney. Jervis is an extremely popular destination year round. This does include NSW school holidays and long weekends, so be sure to book well in advance.
Prime whale watching times are June to July, and from September to late October. For good weather, prices and smaller crowds, the September to October shoulder season is a great time to visit.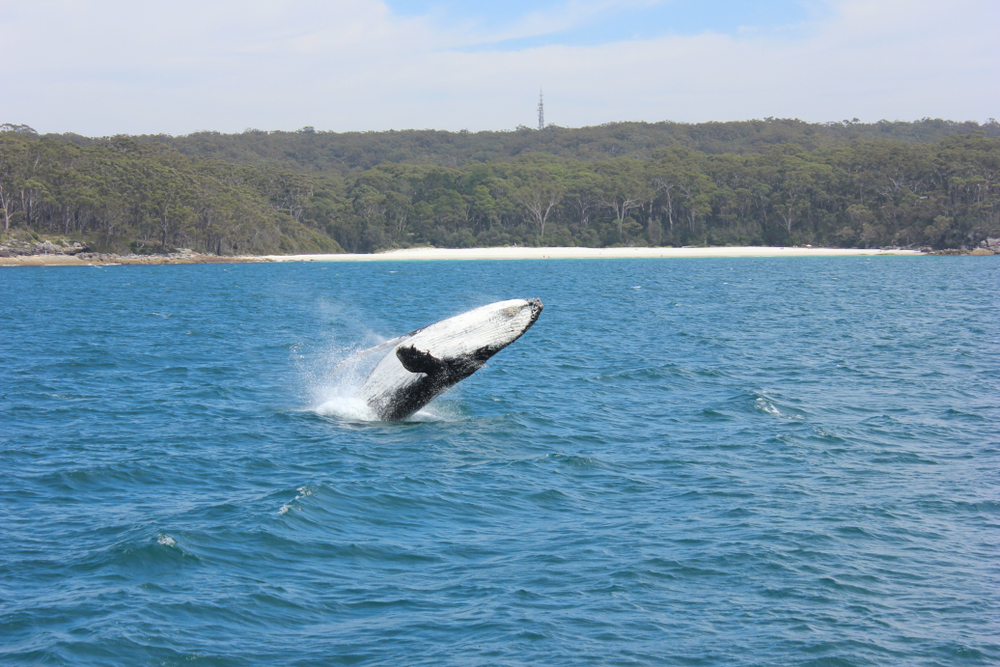 If you're on a budget, head to Jervis during winter. Holidaying outside of school holidays means less crowding and less spending.
Places to eat, food to try
After all that swimming and exploring, you're bound to have worked up an appetite in Jervis Bay. But with funky cafes, family-friendly pubs and thriving food culture, you're sure to find something that will hit the spot. Given Jervis Bay is home to so much fresh seafood and produce, you can also guarantee it will be tremendously tasty.
Jervis Bay is a gateway to Australia's oyster coast. Greenwell Point is home to several oyster farms, where you can enjoy freshly shucked oysters straight from the farm. Be sure to check out Jim Wild's Oyster Service. Whilst molluscs may not appeal to younger palates, the World Famous Fish N Chips in Huskisson certainly will.
Head to Hyams Beach Store and Café for the ultimate milkshake and burger. It's also worth stopping by Tuscany Wood Fired Pizza, for a kids menu that'll make the adults jealous. Make sure to save room for a Nutella Dessert Pizza.
Free things to do in Jervis Bay
Sandcastles, swimming, surf and sunshine: spend hours doing absolutely nothing on one of Jervis Bay's glorious beaches. Be sure to check out Murrays, Greenfields, Hyams, Nelsons and Chinamans Beach.
Venture down scenic walking trails into the depths of Booderee National Park, where you'll stumble across secret waterholes and ruins. See if you can find the gorgeous Green Patch swimming spots, or the Cape St George Lighthouse ruins, perched on the Booderee cliffs. There's a small fee to enter, but it's well worth the experience.
Follow the light White Sands Walk along stretches of dazzling coastline. Start at the Greenfield Beach picnic area, and finish at Hyams for a well-needed picnic-lunch. It's worth driving to Point Perpendicular for an incredible sunset that falls on the lighthouse and sea.
Must Do's
There's always plenty to do in Jervis. Here are a few of our faves'.
Spot dolphins on a cruise or in a sea kayak.
Watch the sunset from Point Perpendicular Lighthouse.
Check out the whitest sand in the world at Hyams Beach.
Learn about the traditional Aboriginal people in Booderee Botanic Gardens.
Hire a boat and go sailing in St Georges Basin.
Have a BBQ at Greenfield Beach Picnic Area.
Walk the White Sands and Scribbly Gum tracks.
Go on a whale watching cruise during migration season.
See shipwrecks and historical vessels at the Jervis Bay Maritime Museum.
Catch a movie at the quaint Huskisson Pictures
Jervis Bay Events
December/January – Huskisson Carnival
The Huskisson Carnival is an annual event running from Boxing Day through to Australia Day. Every night, kids can enjoy retro roller skating, rides, inflatables, slides and more.
January – Kids Day Out
This annual family day is held in the nearby town of Nowra during the races, with all kids activities entirely free. Join in the fun with jumping castles, miniature train rides, live entertainment and a farmyard nursery.
February – Shimano Ultimate Husky Triathlon Festival
One of Australia's most loved Long Triathlon events, this action-packed program includes Sprint and Enticer distance triathlons, an Ocean Swim, Fun Runs and a kids triathlon.
April – The White Sands Festival
This market boasts over 100 stalls, all day entertainment, vintage and hot rod car exhibits as well as a parade including an amassed Scottish Band, marching groups and floats.
May/June – SeeChange Festival
This colourful festival celebrates all things creative including the wonderful food of the area, Indigenous culture, art, theatre and music.
October – The Shoalhaven River Festival
This fun community event offers something for everyone with a street parade, Artzone, entertainment, a colour run and dragon boat races, and wake boarding demos.
Read more
How to do a South Coast road trip with kids
Top tips for road trips with kids
Top weekend getaways from Melbourne
* Affiliate Disclosure: This post may contain affiliate links, which means we may receive a commission if you make a purchase through the links provided, at no additional cost to you. Thanks for supporting the work we put into FamilyTravel.com.au!