With more than 17,500 islands stretched between the Indian and Pacific Oceans, Indonesia offers visitors a variety of experiences, but it is the tiny island of Bali that is the most popular with visiting families.
Renowned for its unique and colourful culture, Bali is a destination unique from the rest of majority Muslim Indonesia. The welcoming island is home to the country's largest Hindu community, an abundance of Hindu temples and colourful religious festivals and ceremonies.
This tropical paradise is also naturally blessed. It is home to spectacular scenery, picture-perfect beaches, tangled jungles and terraced rice paddies that spill down mountainsides.
The popular tourist areas of Kuta, Legian, Seminyak, Nusa Dua, Sanur, Jimbaran and Uluwatu are famous for stunning beaches and a profusion of fabulous five-star resorts. But while beaches may be the island's biggest drawcard, Ubud, located at the base of the mountains about an hour's drive northeast of the capital, Denpasar, is the island's biggest cultural draw. As famous for its artworks as its natural beauty, Ubud's location amongst fields of rice paddies spilling down terraced mountains offers a laidback alternative to Bali's busier beachside towns.
There's also amazing resort scene catering to families. Free kids' clubs are available for guests of most major hotels, with many also offering family rooms with children's discounts. The growing alternative of serviced holiday villas is also great for families, as these spacious multi-roomed homes away from home are an ideal option for multi-generational holidays.
Bali with kids aged 0-4
Jimbaran Bay offers a laid-back beach break for families with plenty of kid-friendly resorts and villas. Start your day with an early morning visit to the Jimbaran fish market and watch as the local fisherman haul in their catch.
For adventures of the cultural kind, the stunning 11th-century temple of Uluwatu is only half an hour away by car. Perched on a steep cliff overlooking the ocean, the views are as stunning as the temple itself. It is an idyllic spot to view one of Bali's spectacular sunsets and watch a traditional kecak dance. The temple grounds are inhabited by some mischievous monkeys, which should be avoided with the littlies in tow.
Another great spot for sunset is down at the white sand beach at Jimbaran Bay where local families gather to play in the last light of day before filling their bellies with fresh fish from the many seafood shacks that line the beach.
Bali with kids aged 5-8
Home to some of the prettiest beaches in Bali, Seminyak is paradise for families. If you can drag the kids away from all the fun of your resort or private villa, head to the beachfront to swim, construct epic sandcastles, learn to surf or simply pull up a towel.
Seminyak's shopping is another drawcard with Jalan Laksmana the spot for cool kids' fashion. The area is also renowned for its abundance of fantastic western-style cafés and restaurants, which are perfect for fussy palates. For poolside food and oodles of fun for kids; Family Dayze at Seminyak's Ku De Ta is not to be missed on a Sunday.
Close by are a choice of attractions including epic water parks with slides, a lazy river and a fantastic water play park for younger children, plus museums, galleries and several world-class animal attractions.
Bali with kids aged 9-12
The Island of the Gods has no shortage of temples, with favourites amongst kids popular Tanah Lot and Uluwatu.
Less well known but equally well-loved by kids is Goa Gagah, a temple that is entered through the mouth of a monster, and Puru Luhur Batukai, which is shrouded in the dense jungle alongside a cool lake. Animal-loving kids will enjoy watching the Long Tailed Macaque monkeys that inhabit the many temples on the island but be sure to keep them at a safe distance unless you want to take home a rabies shot as a souvenir.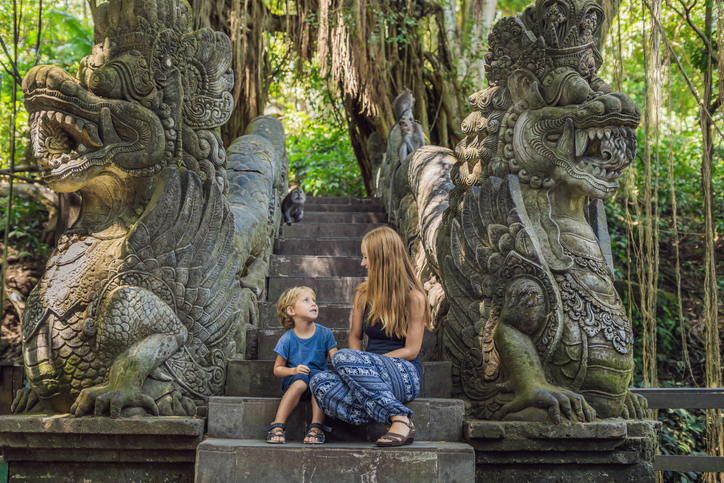 If the kids start suffering temple fatigue, there are water parks, treetop high rope courses and museums. Bali has an abundance of world-class animal parks featuring opportunities to get up close and personal with exotic and native animals. Then there are the dozens of fantastic family-friendly resorts offering incredible kids' programs and activities.
Bali with teens
Bali is one of the best places in the world for teens to get their grom on with world-class waves suited to every level. Some of the most popular hangouts for surfers are the stunning beaches of Uluwatu, Belangan Bingin, Dreamland and Padang Padang. Also growing in popularity is Canggu, which has several fantastic surf beaches including Echo Beach for experienced surfers and Pererenan Beach for younger or less confident surfers.
Ubud's delightful location amongst fields of rice paddies offers a lush and laid back alternative to Bali's bustling beachside towns, but teens can still go wild kayaking or rafting down the jungle flanked Ayung River. If your teens are after a complete break from the water, perhaps they'd prefer to get their adrenaline pumping on a canyoning adventure in the Kalimudah and Kalikecil canyons, explore a volcano or unleash their inner Tarzan in the treetops on a graded high ropes course.
Best time to go
Bali has a year-round tropical, warm and humid climate, especially along its gorgeous coastline. The central mountains are considerably cooler and wetter as it experiences higher year-round rainfall.
There are two distinctive seasons and the best time for families to visit is during the more comfortable dry season, from April to October, when temperatures are milder and there is less humidity. But this period, along with Christmas and New Year, is peak season so expect bigger crowds and much higher costs as most hotels and villas hike up their room rates by as much as 30-50%. Shoulder seasons can be more affordable and good deals can usually be found in March and October.
The wet season, from November to April, brings with it higher temperatures, extreme humidity and brief but heavy rainfalls during the day, though this rarely impacts tours and activities.
Getting around
Bali is small and getting around is relatively easy.
Metred taxis are everywhere, and you can easily wave one down on the streets in resort areas. They are reasonably cheap but make sure your driver turns the metre on or he may demand an inflated fare.
Bemos, a van with a row of low seats down each side, are another cheap option but they tend to be cramped and slow.
If you are brave enough to take on the crazy traffic, you can hire a car. But a better option may be a car with a driver, which can work out to be reasonably priced for a family.
Health
There are no specific vaccine requirements for entry into Bali but we advise checking with your family medical practitioner for recommended vaccinations and ensure everyone is up-to-date with routine vaccinations.
Mosquito-borne illnesses including Malaria, Japanese Encephalitis, Chikungunya and Dengue are a risk. Zika Virus has been reported in Bali so pregnant women should reconsider travel as infection can cause birth defects. Families should pack child-safe insect repellent (with no more than a 20% concentration of DEET) and apply regularly. Rabies is another risk so avoid contact with animals, especially monkeys.
The most common illness in Bali is Traveller's Diarrhoea. Drink only bottled water with an intact safety seal and avoid food that may have been washed in untreated water. Stick to eating well-cooked food that hasn't been reheated or allowed to cool. We advise packing rehydration salts as children can become dehydrated quickly.
Bali's medical infrastructure is good. Hospitals and clinics are run by well-trained staff.
Souvenirs
Barong is Bali's guardian spirit and a dramatic Barong mask, carved from local wood will make a cool reminder of your Balinese adventures. (Be sure any wooden items are treated or they may not be allowed back into your home country)
Bali's colourful hand-crafted kites can be found all across the country and are a perfect souvenir for kids.
Traditional batik sarongs make a cheap, colourful and useful memento of your Bali holidays
Traditional Balinese sterling silver jewellery is good value and an ideal gift.
Deus Ex Machina is a popular brand that designs much of its gear in Canggu, and purchasing a t-shirt or two is made even more memorable as customers can skate, eat and listen to live music while they shop.
Food
Balinese food is nothing if not diverse. A combination of indigenous traditions, Indonesian favourites and Indian influences (thanks to its predominantly Hindu culture) the cuisine uses a variety of spices, both hot and mild, and is based around rice, noodles, fresh vegetables, meat and fish.
Must-try dishes include the island's ubiquitous satay sticks with peanut sauce, succulent Ayam goreng (fried chicken served with rice), Gado gado (steamed cabbage, potato and vegetables served with peanut sauce), Sambal Udang (prawns in spicy sauce) and Bebek Betutu (duck, slow-roasted in banana leaves).
Balinese food can be spicy but if your kids are fussy, there are simple dishes like nasi goreng (fried rice topped with an egg) and mie goreng (fried noodles topped with egg), which most kids seem to enjoy. But if even these are too exotic for your kid's developing palates, resort areas are packed with pasta and pizza restaurants and burger shops.
Local Customs
Balinese people are predominantly Hindu and make many offerings to gods, demons and ancestral spirits. Canang sari (a small palm-leaf basket as filled with flowers and incense) are everywhere and visitors must be respectful and avoid stepping on these as many tourists do. It is also considered offensive to touch people's heads as the soul is said to reside in one's head.
Linked to their beliefs, ceremonial Balinese dance is uniquely beautiful and it is well worth taking children to see a bedeyo performance where gods, demons and warriors come to life through elaborate choreography.
The Balinese are modest people and it is considered polite to cover up when away from the beach and in rural areas of the island. When visiting temples, both men and women are expected to wear clothing that covers the shoulders and upper arms and a mandatory sarong and temple scarf around the waist. Larger temples have them available to borrow on entry.
Costs
Bali remains one of the cheapest destinations in Asia and offers bang for your family holiday buck. Accommodation, even at its most luxurious, is affordable so families can stay longer. For extended families, villa accommodation provides great value for money.
Transport is reasonably priced and taxis cost only a few dollars for shorter trips. Hiring an air-conditioned car with a driver for the day is good value, especially for a family, with prices starting at around $50.
Food and drink is cheap, and you can pick up a meal in a local restaurant for a few dollars per person. Meals in hotels, however, are far more expensive and comparable to other countries. Tipping is not expected in Bali, but if the service is good we suggest leaving a small tip.
Haggling is common practise but don't start negotiations unless you really want to buy an item as it is considered rude to bargain without the intention of purchase.
Read more:
The 10 "new Bali's" that Indonesia wants you to visit
How to do Bali with kids who surf
Family-friendly activities to try in Bali
* Affiliate Disclosure: This post may contain affiliate links, which means we may receive a commission if you make a purchase through the links provided, at no additional cost to you. Thanks for supporting the work we put into FamilyTravel.com.au!