Whether planning to watch the Tokyo Olympics or aiming to visit sooner, Japan will keep families entertained with countless activities and hotspots.
Here are the top 10 reasons you need to get your clan there, as chosen by the experts at Tourist Japan.
It's kid-friendly
A perfect destination for children of all ages and adults who are still young at heart. Japan offers endless activities and destinations that are specifically designed for kids.
Kidzania is an entire centre designed for children, creating a unique mini-world where kids can actively learn about and contribute to society through play-based activities.
Beyond this, Osaka Aquarium Kaiyukan is one of the best aquariums in the world. Upon entering, kids will be in awe of the eight-level facility that showcases marine life including sharks, whales and stingrays.
It's clean and safe
Japan is one of the cleanest countries in the world, which can be observed both in the streets and in the culture.
In most Japanese cities, there is very little graffiti or street art, and it is uncommon to see garbage strewn in the streets. The notion of cleanliness starts at a young age in Japan, where schoolchildren are responsible for cleaning up after themselves and, in some cases, tidying the school itself.
Having respect for the physical space and a collective understanding of the importance of cleanliness and responsibility is deeply ingrained in Japanese culture. As a result, the crime rate is very low; Japan is often referred to as one of the safest destinations for travellers, so parents can rest assured when travelling with children that there are minimal risks involved.
It has a dynamic history
One of the most exciting elements of exploring Japan is taking a look into its vibrant history.
Sites like the famous Meiji Shrine, Senso-ji Temple and Himeji Castle are all fascinating to learn about and admire together. Families will find Japanese gardens surrounding almost every cultural site, offering the perfect chance for a quick rest or picnic.
Near the famed Senso-ji Temple, families can also enjoy a stroll along Nakamise-dori, a pedestrian-only shopping walkway. There's also Lake Ashinoko in the Hakone region; with a view of the iconic Mount Fuji, it's where real-life pirate ships offer boat tours along the water so you can not only enjoy the view but also admire the Edo-era warships.
It's teeming with natural beauty
In Tokyo, places like Yoyogi Park offer endless green space with plenty of room to roam. From bike rides along the paths to games on the grassy fields, Yoyogi Park is a perfect place for families looking to enjoy a quiet break from the hustle and bustle of the city.
Ueno Park is another great outdoor park for families, complete with the National Museum of Nature and Science and Ueno Zoo.
But by far one of the most popular outdoor spaces for families is Nara Park in Nara – it's filled with friendly wild deer that frolic throughout the grounds.
It has amazing theme parks
Japan is home to two Disney parks, both of which provide families with days of fun. Tokyo Disney pays homage to American culture in many ways, notably during Halloween and Christmas when large parades and parties take place. Next door, Tokyo DisneySea caters to a more grown-up crowd, with a focus on culture, bigger rides and higher-scale dining options. Check out this story which compares Tokyo Disney to Tokyo Disney Sea.
Universal Studios Japan in Osaka is another great option for families, offering plenty of experiences for all ages. Visitors will feel as though they are stepping right into Universal's movies, with rides and attractions based on Hollywood hits. This themepark also has the closest Harry Potter World – so you can wander through Hogwarts. Check out our full review of Universal Studios Japan here.
In Nikko, families can visit the well-known and very popular Edo Wonderland for a wonderful cultural experience. The park exhibits history and culture in the Edo period and provides exciting insight into the past.
Legoland Japan in Nagoya is another popular attraction for families – it offers an extensive Lego-themed world and interactive experience.
Meanwhile, Tokyo Dome City is an extensive and interactive amusement park located in the city, for families who are looking for more local experiences closer to the centre of town.
Arcades, comics and more
Known for bright neon lights and colourful flashy signs, Tokyo is a sensory experience.
Beyond this, Tokyo offers endless arcade experiences – a dream for any gamer. The best part is that many arcades are designed to please a variety of ages so parents can enjoy some nostalgic games as well. There is a multitude of comic shops, arcades and even shopping centres dedicated to manga and anime.
Toyota Mega Web (www.megaweb.gr.jp/about/english) in Tokyo offers a mini racetrack and simulated driving experiences that are fun for the whole family.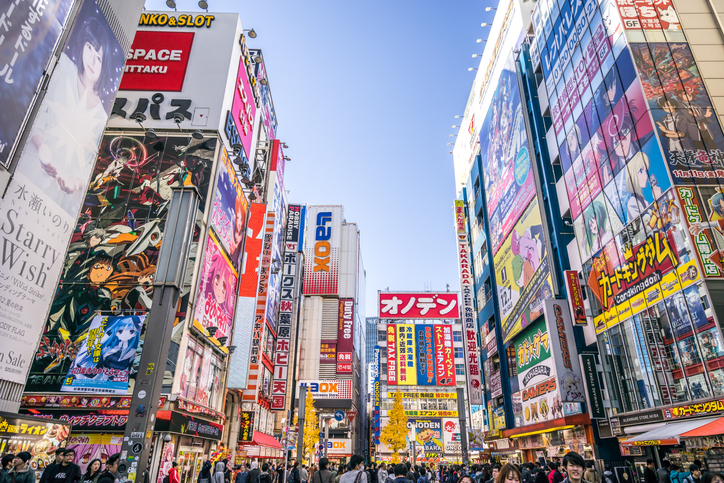 For an even more intense experience, visit the Akihabara district in Tokyo to find endless arcade options, including entire department stores dedicated to video games, toys, cards and collectables.
It has family-friendly food
Japan is known for its culinary advancements; cooks use of innovative modern techniques as well as traditional recipes and ingredients. There are many ways for families to eat well in Japan without breaking the bank. Plus, many restaurants and cafes offer kids' menus that are thoughtfully created and fun to eat.
For quick and easy meals on the go, families can shop in the many Japanese convenience stores to purchase bento boxes (premade meals served in a lunchbox-style package). Bento boxes are often fresh, healthy and packed with cute shapes, and make feeding children on the go much easier.
When dining out, Organic Cafe Lulu, situated near Toshi Ryokka Botanical Gardens, is popular among local families and tourists alike.
Another great family-friendly dining experience is conveyor-belt sushi – a fun and interactive way to enjoy authentic and delicious sushi. Kids will love watching the sushi pass by the tables, and parents will enjoy the variety and affordability. Check out Nemuro Hanamaru in Tokyo.
…and family-friendly accommodation
Whether you choose a hotel or an Airbnb rental, there are many family-friendly options in Japan that are comfortable and affordable.
Those booking an Airbnb can rest assured it will be up to standard; the Japanese government recently tightened the ropes on renters, ensuring that all rental units are approved and meet certain requirements. Apartments offer a kitchen and laundry and provide a more local experience.
Alternatively, there are many family-friendly hotels, many that offer free shuttles to the airport and Disney theme parks, as well as complimentary kids' meals and kids' clubs. Choosing to stay at a more traditional Japanese Ryokan often means Japanese mattresses can be added to rooms, creating an authentic experience for families.
There are themed activities
From cat or owl cafes to the famous Robot Restaurant, there are endless experiences. Themed restaurants and cafes provide a fun interactive experience that encourages children to interact respectfully with animals rather than viewing them behind glass walls or cages.
Cat cafes can be found all throughout Tokyo and are a great place to enjoy a quick coffee break so parents can relax and children can enjoy the cute kitties. Owl cafes also offer an exciting look at the majestic creatures in a respectful and meaningful way. It is important to note that many animal cafes have a minimum age requirement of 12, so they're not suitable for young children.
Beyond this, places like Alice in Wonderland Cafe and Hello Kitty Cafe feature specially designed creative dishes.
The attractions are 'must-see'
Even casually walking through neighbourhoods in Tokyo – like Harajuku and Shibuya – can be exciting and awe-inspiring.
Tokyo Skytree Town offers one of the most breathtaking views of the city, which is impressive to anyone regardless of their age. The famous Tokyo Tower should also be on your must-visit list – it features a glass-floor observation deck that makes looking both up and down exciting.

Need more Japan? Try these stories:
Why you need to ski Japan with kids
Should you take the kids to Hiroshima?
When you travel every day is different! You get to experience different cultures, meet new people, get lost, find cool laneway bars, try weird and delicious foods, snorkel with sea lions, fly over mountains carpeted in grass, laze about in hammocks immersed in Windex-blue water, horse ride alongside gauchos, call sleeper trains, igloos and yurts home for a night, cycle past giraffes, dance with Masai warriors, play with local school children.
* Affiliate Disclosure: This post may contain affiliate links, which means we may receive a commission if you make a purchase through the links provided, at no additional cost to you. Thanks for supporting the work we put into FamilyTravel.com.au!